---
The Roots Tracer is the quarterly publication of the Livermore-Amador Genealogical Society. The mission statement of the Roots Tracer is: "Instruct. Inspire. Inform." In keeping with this mission and in the spirit of our Society's motto, "Members Helping Members," we encourage members to submit articles for publication. Material can be e-mailed to: tracer@L-AGS.org or mailed to L-AGS, P.O. Box 901, Livermore, CA 94551-0901.
The deadline for each quarterly issue is the 15th of the previous month. Submissions must contain the name of the submitter, as well as the name of the author, publication and date of any published article that is being quoted.
Queries are free. Please send your queries to querymaster@l-ags.org.
---
Table of Contents
---
Welcome to Our New Members
Barry & Sandra Bowman

Larry Hale
Clarence & Pat Hoenig
John Pickering & daughter Denise Pickering
Kent Pryor
We are grateful for the generosity of these members of L-AGS:
Patron
David Steffes
Benefactors
James Bahls, Sandra Caulder, Sandy & DeLynn Clark, Ted & Gail Fairfield, Richard & Wanda Finn, Richard & Jean Lerche
Membership Report As of July 31, 2006
| | | |
| --- | --- | --- |
| Membership Types and Number | | Total Individuals |
| | | | |
| --- | --- | --- | --- |
| Individual Members | 114 | | 114 |
| Family Members | 43 | | 86 |
| Life Members | 9 | | 11 |
| Individual Benefactors | 2 | | 2 |
| Family Benefactors | 2 | | 4 |
| Honorary/Charter Members | 5 | | 5 |
| Honorary Members | 2 | | 2 |
| Patron | 1 | | 1 |
| Total Memberships | 178 | | 225 |
---
| | |
| --- | --- |
| | A Message from President Jane Southwick |
We have had three very interesting speakers this spring.In April, Margery Bell, Assistant Director of the LDS Family History Center in Oakland, spoke to us about "Reading Colonial Handwriting." Many of us have old documents that are very hard to read, but with Margery's explanations it has become easier. There is an article elsewhere in this Tracer from Margery about a new web site at the Oakland Regional Family History Center.
In May, Nancy Peterson talked about her new book, "Raking the Ashes," which deals with the 1906 San Francisco earthquake. With so many records being destroyed in the quake and fire, researching in San Francisco is not easy. Nancy provided us with other paths to pursue and information that may have been overlooked, such as church records. In June, Margaret Toth, president of the Tracy Genealogical Society, spoke about "How to Break Down a Brick Wall." She gave us many useful tips about where to look.
Many of you attended the Ice Cream Social given in honor of our friend, Barry Schrader, and his wife, Kay, who are moving back to De Kalb, Illinois. They grew up there and have many friends and family ties. Barry has contributed much to our Valley. He has been instrumental in many projects to preserve the historical part of the Valley. The last of his projects is the preservation of the Midway School. The Livermore Heritage Guild is working to transport the school to a place in Livermore where it can be used for historical purposes. Possibly grade school children will have a chance to see what school was like many years ago. If you would like to contribute to this project, and as a remembrance to Barry, you can send a check to the Livermore Heritage Guild, Attention: Midway School Fund, P.O. Box 961, Livermore, CA 94551.
Our participation at the Alameda County Fair was a resounding success. Our genealogy booth has proved to be very popular with the Fair Patrons. One of our greeters discovered that a family comes by every year to put pins on the map to show where they were born. We were there for seventeen days, from 11 in the morning to 8 o'clock at night. Besides L-AGS, fourteen other organizations were represented by volunteers working at our booth.
---
James Fish Descendant Chart

Sometimes It's Just Dumb Luck!

By Mary Dillon


1. James Shelby Fish (1790/NC-1858/KY)
m. Sarah Lake Roberts (1790/VA - 1862/KY)
Child:
2. Marenda W. Fish (1813/KY - 1853/KY)
m. (Judge) John Evans Carson (1806/KY - 1876/KY)
Child:
3. Joseph Joplin Carson (1842/KY - 1926/OK)
m. Emma Smith Stouffer (1849/KY - 1945/OK)
Child:
4. George Miller Carson (1873/KY - 1935/OK)
m. Florence Ruth Smock (1871/IN - 1927/OK)
Child:
5. Joseph Smock Carson (1904/OK - 1992/AZ)
m. Dorothy Alice Lowder (1906/KS - 1996/AZ)
Child:
6. Mary Carson (1947/CA - )
m. Michael Dillon (1947 - )
Sometimes all our researching isn't as productive as just plain dumb luck. In December of 2004 my sister got a call from a woman in Oklahoma City letting her know our father's cousin, Jim Carson, had died in July. Though both my sister and I had sent him letters regularly and had tried to see him the last time we were in Oklahoma City, in 2000, he would never respond to us and, as we found out later, told his friends that he had no living family. We had never met his second wife and hadn't seen Jim since our father died in 1991. Luckily my sister's name was on a bank account and that led a very nice woman named Judy to track her down. Judy and her husband had befriended Jim and his wife in their later years and made sure they were taken care of and moved into a nursing home when the need arose. So they were very surprised to find Jim did have family that cared about him and that he had closed us out for some reason.
This past May we finally were able to fly back to Oklahoma City to go over Jim's final papers that Judy had saved. His financial 'estate' was negligible and we signed it over to Judy for all she had done. His furniture was just old, not noteworthy, but Judy had realized there were numerous family photographs and other items that should stay with the family, so she was thrilled to find us and have us retrieve them.
On Saturday morning when we arrived at Judy's house we found a delightful, caring woman that we instantly liked. She had everything hauled up from her basement and ready for us to go over. In the next three hours we found everything from old coins (the oldest being an 1813 British pence), deeds for cemetery plots for Jim's parents and our great-grandparents, old maps and family papers, to an obituary for our great-grandfather that I'd given up hope of finding because the newspaper had burned and no place in the small town had a copy from 1926. There were a number of old photos of Jim's family and a genealogy of his mother's family. The best was a photo from 1915 of our great grandparents with their four children and spouses and all the grandchildren. It has our Dad at age 11 with both his parents. I was just ecstatic with all this new information, but the best was yet to come.
| | |
| --- | --- |
| | After we finished with all the photos and papers my sister picked up a portrait that was framed in carved wood. I didn't recognize the gentleman in it, so figured it was probably part of Jim's wife's family as numerous photos had been. But when she read the name on the back I knew I'd found the greatest treasure of them all. The name was James Fish. I know from my research that James Fish (7/5/1790 – 6/22/1858) was the father of my great-great grandmother, Marenda Fish who married Judge John Carson in Crab Orchard, Kentucky in 1839. James Fish had owned a tobacco plantation and was a prosperous man. A few years ago, when my husband and I were in Kentucky, we had found the graves of James Fish and his wife Sally Roberts Fish on their farm – and we also found their original two-story log home built in 1812! That had been exciting enough, but now I have a portrait of James, something I would never have expected to find. |
If Judy hadn't taken the trouble to find our family and if we hadn't seen the name on the portrait and if I hadn't researched that branch of my family, we could have lost it all so easily. Yes, sometimes it just takes dumb luck to bring family treasures back home where they belong.
---
Six Awards!!!

by Jane Southwick
There was an article in the May 2006 issue of Roots Tracer about Caroline Earhart, and the genealogy quilt she had entered in the 2005 Alameda County Fair. The quilt had won "Best of Show."
This year, 2006, Caroline entered her quilt in the quilt competition of the California State Fair and it won SIX AWARDS!!!!
The six awards were:
1. First place in its class
2. Best of Division
3. River City Quilter's Guild Award (Sacramento)
4. The Country Sewing Center Award (Elk Grove)
5. Mountain Mist Company Award (Cincinnati, Ohio)
6. Giltner-Moore Memorial Quilt Award for the most meaningful quilt (Rogue River, OR)
Caroline said she was flabbergasted and it feels really nice to win these awards. The quilt will be on display in Sacramento at the Fair from August 11 until September 4.
The members of the Livermore Amador Genealogical Society are very proud of Caroline. After she spoke at a L-AGS meeting, she has been invited to many genealogical groups and other organizations who wish to hear her talk about the fabulous quilt and family it represents.
---
Where Are the Wicked Folk Buried?
From Journal of the Association for the Preservation of the Memorials of the Dead in Ireland, Vol. 2, Part 1 (1895)
'Tell me, grey-haired sexton,' said I,
'Where in the field are the wicked folk laid?
I have wandered the quiet old graveyard through,
And studied the epitaphs, old and new,
But on monument, obelisk, pillar, or stone,
I read no evil that men have done.'

The old sexton stood by a grave newly made,
With his chin on his hand, his hand on a spade:
'Who is the judge when the soul takes its flight?
Who is the judge 'twixt the wrong and the right?
Which of us mortals shall dare to say
That our neighbor was wicked who died to-day?'

'In our journey through life, the farther we speed,
The better we learn that humility's need
Is charity's spirit that prompts us to find
Rather virtue than vice in the lives of our kind.'

'Therefore good deeds we record on these stones;
The evil men do, let it rest with their bones.
I have labored as sexton this many a year,
But I never have buried a bad man here.
---
Memories of the Alameda County Fair 2006

By Gail Bryan
Let us say "Thank You Very Much" to all the genealogy volunteers who served at the Alameda County Fair. Our Genealogy Booth completed its 6th straight year of introducing people to the many possibilities of finding their "roots" and getting them started on their own family genealogy. Our booth was staffed from 11 a.m. to 8 p.m. for all 17 days of the fair. We arranged schedules a little differently by overlapping shifts in the afternoon when visitors were typically more numerous. We had 170 volunteer slots and all were filled except one and a couple of cancellations.
A special Thank You goes to Renee Ramig who coordinated the Technology Building this year and gave us our best space ever. It was right inside the building to the left and well visible when people came in the door. With our increased space the maps were located so people could walk right up to them to put their pins in. Our posters were also more easily read. In fact, I got a picture of two guys really enjoying the enlarged "Family Chart" from a computer program.
| | |
| --- | --- |
| | As in the past we had four maps to have people put pins in the location where they were born. The "Bay Area" map was filled the most, followed by the state of California. But not far behind were the United States with every state being represented, and the World Map where Europe was most heavily represented. |
As in the past, our Livermore-Amador Genealogical Society (L-AGS) was joined by other organizations:

The Josefa Higuera Livermore Chapter of the National Society of the Daughters of the American Revolution (DAR)
Tracy Area Genealogical Society (TAGS)
San Ramon Valley Genealogical Society (SRVGS)
The Macintosh Users Group (TMUG)

We had additional organizations in our volunteer list this year. These were:

The California Genealogical Society (CGS),
The Contra Costa County Genealogical Society (CCCGS), and
The Amador Livermore Valley Historical Society (ALVHS)
Livermore Family History Center (LFHC)
Los Californianos/Moraga Historical Society
Some of our volunteers made the following comments about the patrons they worked with at the Fair:
The passenger list from Ellis Island gave the ship and city of origin of a father now deceased. The patron did not know where her father was born. It gave her renewed interest in finding her family in Spain.

One volunteer reported that he "had a large burly gentleman with tattoos come by and he left with a smile on his face because I located his grandfather. I felt I had done some good!"

Another volunteer reported; I had a poignant conversation with a young man Saturday. "I would like to find something about my mother, [Jane Doe]" "Is that her married name?" "No, she isn't married." "Is your father still living?" "No, he died in prison." I could not find anything for him, but he was amazed when I found 10 persons in CADI (California Death Index) with the same rare surname as his father. I gave him a printout of that list.

Another volunteer said: I helped one young woman find her grandfather and great-grandfather in the census. She had an extreme reaction: "I'm in shock! I worked on this for years and you found it in a few minutes on the Internet. This is SO cool!"

One gentleman sat down and said, "You can't find me, I was born in Mexico." I found his grandfather who was born in the United States and then I was able to find the gentleman. He was surprised and delighted.

My most touching moment was with a gentleman who had found the graves of his grandparents in St. Michaels cemetery. I was able to find these grandparents in a census and he learned much more about them. He left with tears in his eyes.
It was our best year ever. What can we do to make it better!!!!!
---
G.R.O.W.

Genealogy Resources On the Web - The Page That Helps Genealogy Grow!

Compiled by Frank Geasa
If your ancestry might include early settlers in Santa Clara County, California this site has short online biographies for many of those pioneer families.

This site of the Western Maryland Historical Library has a number of County & City directories available online from the 1890s to early 1900s. Also several civil war and jury lists. Use the photo icon next to an item to get a better view of the page.

This Library of Congress site has online directories of the USA newspapers for the years 1869-1919. Although the site is not easy to use, it is nevertheless an excellent resource.

Do you have German ancestors from Russia? This Odessa Library site, focused on Germans who went to Russia in the 1800s, has searchable digitized books and other material on these people. Go to the search page from the 'About Odessa' page and enter a surname as the query string.

The New Jersey department of State has online searchable databases of marriages in that state for the periods 1666-1799 and 1848-1867. It also lists other databases expected to be available soon.

A project with the seemingly overwhelming aim of transcribing and photographing every gravestone in every cemetery in the USA is at this site.

Digital searching of over 1,615,000 old newspapers from upstate, central and western New York State is available at this site.

The New Mexico African American Griots website has extensive list of the Buffalo Soldiers stationed at the forts in New Mexico in 1880. The site also has some cemetery records.

If you have Mennonite, Amish or other Anabaptist ancestry, this site of the Swiss Anabaptist Genealogical Association has extensive online databases, several with over 100,000 names.

This Genealogy Trails site offers free search lists of volunteer transcriptions organized by state and county. This project originated with Illinois but now includes data from several states.

The Archives of Nova Scotia, Canada site includes many searchable online databases including marriage bonds, land petitions, poll taxes, divorces and medical examiner reports.

The State of West Virginia has an ongoing project to transcribe its birth, marriage and death records. Many records with digital images are already available. These start as early as 1792.

The Genealogy Society of Craighead County, Arkansas has good cemetery lists, both groom and bride indexes (1878-1946), obituaries and census transcriptions (1860, 1870 & 1880).

An online index of the 1840 Pensioners List for Revolutionary or Military Services is available for all states at:

The Monroe County Library (Indiana) has a list of local newspaper obituaries starting from 1945.
---
Great Grandfather Graham's True Story

By Barbara Hempill
Shortly after I married my husband, Hugh Hempill, I began to hear tales about his Great Grandfather Hugh Graham.
Among the treasures Hugh brought into our marriage was a big gold watch and chain. It had belonged to his great grandfather who, my husband remembered, let him handle it with care when he was four or five years old.
Then when we visited New Castle, Pennsylvania, a few months after we were married so I could meet my husband's relatives, I was shown the site on Washington Street where the old St. Cloud Hotel had stood. Hugh Graham owned the hotel as well as an ice and coal delivery business. Sometime after he retired, the hotel burned to the ground and was replaced by G. C. Murphy Company, a small department store. But the family still owned the land, and great grandfather's heirs received income from it.
That is, heirs other than my husband. He explained that Hugh Graham had emigrated from Scotland. Since the tradition was for males to inherit the family wealth, my husband's uncle, Hugh David Graham, but not his mother, was named in the will.
However, women were not totally excluded from the will. Hugh Graham lived several years longer than his wife, Sarah Jeanette; and after her death he enjoyed the companionship of a younger woman, Edith Churchill, from Ohio who he included in his will.
It seemed a little unfair to me that even though my husband was the first grandson born, he was snubbed just because it was his mother, and not his father, who was a descendent of great grandfather.
Then in 1995 my husband and I went on a trip to Scotland. In a lovely old hotel, where we ate dinner, there were pictures on the walls of representatives of various clans. Hugh went from picture to picture, finally stopping in front of one gentleman in a kilt. He exclaimed, "It's my Great Grandfather Hugh Graham!"
Indeed, the caption under the picture read, "Hugh Graham".
"Are you sure? After all you were only five or so when you last saw him."
"I'm certain. It looks just like him in that old photo we have at home."
And any time we tell friends about our trip to Scotland, Hugh explains how he saw his great grandfather's picture on the wall of a hotel in Scotland.
Shortly after we returned home, I started researching my family's genealogy, and then Hugh's family. Hugh knew the name of the law firm that had written his great grandfather's will, so I wrote the Clerk of the Probate Court of Lawrence County for a copy.
My husband always talked about his childhood memories of roaming around the big, old brick mansion on Wallace Street. Consequently, I was surprised to discover great grandfather had left his house and lot on Wallace Street, as well as the furnishings, to Edith Churchill of Springfield, Ohio, together with $150 a month for the rest of her life. The latter came from the rent paid by the G. C. Murphy Company. This was "in recognition of the care and attention bestowed upon me during my recent infirmities."
One half of the remaining rent went to his son, Harry, for the rest of his life. The other half was to be paid to his grandson Hugh Graham.
The application for Proof of Will that accompanied the will indicated that Great Grandfather Hugh Graham died June 7, 1935, in Cincinnati, Ohio, at 87 years of age. There was also an appraiser's list of all goods, chattels, and credits. A schedule of debts and expenses noted Mrs. Edith Churchill was 58 years old on April 7, 1935. The Inheritance Tax Appraisement gave the Assessor's description of the home and hotel properties.
Now that I had the property descriptions, I wrote the Recorder of Deeds in the County Assessor's Office and received copies of the deeds. I found out that the indenture for the hotel property on Washington Street was dated November 27, 1875. David Harlan, Sarah Jeanette's father, who had bought the American House Hotel in New Castle in 1858, owned the lot to the west. In 1880 David Harlan built the St. Cloud Hotel which Great Grandfather Graham later owned and operated. Sarah and Hugh Graham purchased the house on Wallace Street in October 1907.
Since the will had given me Hugh Graham's date and location of death, I sent for his death certificate. It indicated he had been born August 21, 1847, in Allegheny County, Pennsylvania. His father, James Graham, was born in Massachusetts; and his mother, whose maiden name was Norris, was born in Pennsylvania. This information had been provided by Hugh's son, Harry.
While I was waiting for the death certificate, I looked at the 1880 census for Pennsylvania and found Hugh and Nettie [Sarah Jeanette] Graham living in Mercer County with their two sons, Harry and David. Hugh was listed as a hotelkeeper born in Pennsylvania, as was his mother; however, his dad's birthplace was unknown.
When I told my husband his Great Grandfather had been born in Pennsylvania, not Scotland, he said, "I'm sure he was born in Scotland. They made up things because they didn't trust the government."
Then, since New Castle is the Lawrence County seat, I sent to the library for any newspaper articles they had about the Grahams and Harlans. They sent me copies of several death notices. I discovered that Sarah had died Thursday, May 24, 1921, at the home of her son Harry, in Yakima, Washington. She had been in failing health, and she and Hugh had gone to Washington thinking the climate there would be beneficial. The notice for Hugh Graham said he was born in Sewickley Township, Allegheny County. It also gave the date of his marriage to Sarah as January 1, 1873. By this time, I'd looked at the 1900 and 1910 censuses, and they both confirmed what the 1880 census reported as to great grandfather's origins.
However, my husband waved it off with, "They didn't trust the government."
I decided to see whether there really was a James Graham in Allegheny County in 1850. Indeed James and Mary J. Graham had two sons, two year old Hugh and one year old Charles. James was a farmer, and both he and Mary Jane had been born in Pennsylvania. Since Hugh was born in August, he was only two when the census was taken.
When I looked for James Graham in the 1860 Pennsylvania census, he had disappeared. However, Hugh and Charles Graham, now twelve and eleven, were living with Charles Norris and his wife Sarah and their four sons. Charles Norris was evidently the brother of Mary Jane Norris Graham.
Now the question is do I reveal this latest discovery to my husband? If so, will he just say, "They made up lots of things because they didn't trust the government." Or should I just let him continue to happily believe his great grandfather came from Scotland, and that it's his picture that hangs to this day on the hotel wall in Scotland.
---
| | |
| --- | --- |
| | The Popularity of Your Last Name |
The following article is from Eastman's Online Genealogy Newsletter and is copyright 2005 by Richard W. Eastman. It is re-published here with the permission of the author. Information about the newsletter is available at http://www.eogn.com .
The U.S. Census Bureau counts the number of Americans every ten years. The same government agency also asks a lot of questions of those people, such as how many bathrooms are in their house and whether or not the family owns a computer. The Census Bureau even counts how many people have the same first or last names. You can see how popular your family name is at: http://www.census.gov/genealogy/names with the full list available at http://www.census.gov/genealogy/names/dist.all.last . The same site also shows the popularity of given names.
Editorial Note: As some lists appear in order of frequency, use the "find" option on your toolbar: Edit > Find. Enter the phrase you wish to locate. The "More" button provides advance search features. Use "Find Next" to continue your search for the same phrase. Use the "highlight" for quick searching at a glance, just look for the highlighted words as you scroll down the page. This is a Microsoft function and can be used with any written text.
---
At last fall's History Council meeting, Julie Casamajor of the Livermore Library mentioned a California Library Association conference being held that would look at how libraries could work with local groups to the benefit of both. She asked for interested volunteers who would like to form a team for the conference. With Julie as team captain, Don Meeker of the Livermore Heritage Guild, Elizabeth Isles of Dublin History Center, Terry Berry of Museum on Main, and Mary Dillon of the Tri-Valley Convention and Visitors Bureau set out to file the application. Only 19 groups from within the state were chosen and we were one of them!
On the first weekend of April we all met at the Oakland Airport for our flight to Ontario, then on to the City of Cerritos where the conference would be held at its spectacular library. Hotel, meals and conference were all included and we didn't have time for anything except the conference and sleep! Once we were settled into our rooms we managed to find the library. Only two blocks away, but not recognizable until you knew what you were looking for, is the 3-story building covered by a thin shell of Titanium so that it shimmered and reflected the sunsets and light. The Cerritos Library is every city's dream. The imagination runs wild with giant dinosaurs and light houses in the children's section, imaginative reading spaces (fully equipped with wi-fi) for adults, a whole floor of computers and a top-floor conference facility with a terrace overlooking the Civic Center grounds and fountains. There was even a robot that entertained the children and adults alike and escorted everyone out at closing time. You really have to see it to believe it.
The conference was first-rate with speakers from a variety of museum and entertainment backgrounds talking about how to get the public engaged in your enterprise and how to work together to fund projects to benefit all the organizations and the public. Our final day, Monday, was spent collaborating with our team members to decide on a project, design it, make a poster representing what we had in mind and then do a sales presentation to the group. It was amazing to see the creativity that came out - even from people like me!
Our project was to design a child-friendly map of historic sites in the Tri-Valley, get it published and be able to actually have it available to the public this year. Once we came home we reigned in our ideas, found a designer who would work with our plan and submitted a proposal to the Better Together leaders to see if we qualified for a grant. We received a grant for $1,000 which will cover the cost of designing the map, and the Tri-Valley Convention & Visitors Bureau is considering funding a first printing of the map with distribution to all the local museums and historic sites who want to have it to give out.
While we had lots of spectacular ideas, this was one that we could do in a short time-frame, with limited funds, and which will benefit all of the History Council members. It truly taught us how much better we are working together!
---
Linkpendium
The Definitive Directory
This often overlooked website is the creation of Karen Issacson and Brian Leverich, founders of RootsWeb which was sold to MyFamily.com in June 2000. This site links web sites, obituaries, biographies and other material specific to a surname. There are some international family histories, but its strength is United States genealogy and family histories.
The August 24 Study Group meeting will focus on this website. Remember, Study Group is now the 4th Thursday!
---
How L-AGS Helped Me Get an "A"

By Lynn Hildenbrand

Gravestone of Carlo, James Dougherty's "faithful companion"
Some of you may recall back in February, I put out an "all points bulletin" for a cemetery to document for a paper I had to do in my archaeology class at Las Positas College. I had been here less than a year and knew nothing about local cemeteries. Well, within seconds several members of my L-AGS extended-family responded. It was almost unanimous that I should investigate The Pioneer Cemetery in Dublin. Since I have ancestors in Texas, that had immigrated there as "pioneers," I thought it would be very appropriate to investigate the Dublin cemetery.
So within a few days, I took my trusty 35mm camera (still not into digital cameras) and a pad of paper up to Dublin. What a wonderful surprise when I drove up and saw first the Heritage Center which had been the old school and then to see the cemetery itself! I still wasn't sure exactly what I would find in the way of headstones, so I just walked through the cemetery trying to orient myself to the layout. The further back I walked, the more I got excited. Buried here were the true founding fathers of this part of California. It was a lot to take in at first, so I just continued to wander, mainly around the older burials. Then I saw the large wooden plaques telling the story of many of the families. While reading these narratives I tried to put into context what my ancestors were doing at that time in Texas.
After about half an hour of checking out the most interesting headstones, I decided to get to work. As I moved about the various family plots, the genealogist in me began to surface. I immediately recognized the name of one of the ships used to bring some of the immigrants from previous online searches I had done on my family immigration from Europe. I also noticed that several families had intermarried and that most of these early pioneers came here from either Ireland or Denmark. I loved reading the stories about some of the families which also made me feel more connected to them. In fact, and only someone who is into genealogy will understand this, I began to talk to them!
One of the "highlights" was finding a small grave of a dog named Carlo buried next to his owner, James Dougherty.
| | |
| --- | --- |
| | In fact, I found an intriguing symbol on James' headstone. There was a symbol at the top which appeared to be a Masonic symbol, but I couldn't find it in any book. The item is a keystone shape with letters around the perimeter and various symbols inside the form. A day or two later, while I was back at the cemetery, I met one of the volunteers at the Heritage Center. She gave me some background information on the cemetery, but wasn't sure what the symbol on James' grave meant. So she gave me the e-mail of the director, Elizabeth Isles. Elizabeth tried to explain the symbol on the grave stone. Finally I called the Masonic Lodge. The secretary of the Masonic Lodge in Livermore, Lloyd Garbutt, could explain some of the symbols, but told me to call the historian, John Cooper, at the main lodge in San Francisco. I did just that and got the whole explanation which I included in my paper. The keystone shape refers to the degree of James Dougherty's Masonic level. He was a Mark Master Mason which is one of the highest levels. |
The symbols inside are common Masonic markings such as the hourglass and the "all seeing eye of God." The letters around the perimeter represent abbreviations of things that were special to James Dougherty from the various degree levels he achieved. It's impossible to know what they stand for as they are personal, and unless he told someone, there isn't any way to know. Another very helpful item was the book of documented cemeteries that had been compiled by L-AGS several years ago, complete with map and explanations of some of the headstone symbols. It turned out another fellow student was working on the same cemetery. I passed along the online info and then told him about the book from L-AGS. By the way, he was also a history teacher from Las Positas.
So after documenting the required twenty-five headstones, plus all the information at the cemetery, what I found in the book by L-AGS, and some other information I obtained online that I knew about from doing genealogical searches, I handed in my paper. My archaeology teacher said it was the best paper she ever had from a student and put it on her website! Added to this, I learned a lot about the people who first settled this area and saw a connection between their stories and my ancestors.
Editorial Note: A search of the web found this as the "Mark of a Mark Master Mason." http://www.phoenixmasonry.org/duncans_ritual/mark_master.htm
Mason marks from many countries: http://freemasonry.bcy.ca/history/marks/marks.html
---
I went looking for an ancestor. I cannot find him still.
He moved around from place to place and did not leave a will.
He married where a courthouse burned. He mended all his fences.
He avoided any man who came to take the US census.

He always kept his luggage packed, this man who had no fame,
And every 20 years, this rascal changed his name.
His parents came from Europe, they could be on some list
Of passengers to the USA, but somehow he got missed.

And no one else anywhere is searching for this man.
So I play geneasolitaire to find him if I can.
I'm told he's buried in a plat, with tombstone he was blessed.
But the weather took the engraving and some vandal took the rest.

He died before the county clerks decided to keep records.
No family Bible has emerged in spite of all my efforts.
To top it off, this ancestor, who has caused me many groans,
Just to give me one more pain, betrothed a girl named JONES!
---
The Master Genealogist

Tri-Valley TMG Users Group
The Tri-Valley TMG Users Group meets every third Saturday from 9 a.m. to Noon at 7077 Koll Center Parkway, Suite 110, Pleasanton. Map to the meeting site:
http://www.l-ags.org/maps/Pls-KollCenter.html
Kay Speaks and Sue Johnston teach the monthly hands-on TMG mini-workshop. Bring your laptop if you have one. Check the L-AGS website for meeting agenda at http://www.l-ags.org/events.html#tmg.
Members attend from all over the Bay Area: Concord, Danville, Fremont, Livermore, Pleasanton, Palo Alto, Pittsburg, and Walnut Creek. Joyce Siason has been traveling from Marion, Illinois to attend our meetings.
---
101 Years Ago Attempts Were Made to Make Family History Important

Contributed by Kathleen Young

While working on the Tri-Valley Families History Project, I came across this article in a 1905 Livermore Echo Newspaper article which showed, even then, that attempts were being made to make family history important.

From The Livermore Echo, Livermore, Alameda County, Thursday, July 20, 1905, Vol. 23, Page 2, Col. 2
---
In their small Chinese village they were brothers. In America, they were "fellow villagers."

By Kay Speaks
Brothers, Fellow Villagers, Business Partners, "Paper Sons", Murderer
These words describe the many relationships between my grandfather and his two brothers. In reality, they were biological brothers who were born in a small Chinese village, although two said they were born in San Francisco. Today they are called "paper sons" (using borrowed identities and paperwork to claim "son of native" citizenship in the U.S). Two married a much younger second wife and brought her to America. Both wanted to find a better way of life for themselves, their family and for future generations. A third brother murdered one brother's wife. The quest to discover information about this 76 year old murder mystery is what started my journey into my personal family history.
As difficult as it was for the Chinese to live in America during the Chinese Exclusion era, it was even worse in China. At different times during these exclusionary periods, the Chinese were not allowed entry into the U.S. except under certain criteria, such as being a merchant or a government official. Wives of these privileged Chinese were allowed entry. All other Chinese women were considered "prostitutes," disease ridden, and thus denied entry. The Chinese are the only ethnic group to be excluded from entering the United States. The INS (Immigration and Naturalization Service) as we know it today was created to keep the Chinese out of America. Many important laws came out of the Chinese Exclusion period.
I will be the guest speaker at the Museum on Main on October 19 and at the L-AGS general meeting November 14. The presentations will be about my Chinese genealogy research.
Chinese Genealogy Exhibit Wins Blue Ribbon
Kay entered her Chinese genealogy into the Alameda County Fair as an educational collection and won first place for her class. It garnered much interest. According to the building supervisor, "There were people standing in front the display reading the information during the entire fair."
---
E-Mail Messages for Research
Messages are sometimes received by Genealogy societies that could be helpful to genealogy researchers.
Pauline Viano e-mailed: "I have a marriage certificate that was found in my grandmother's attic. I cannot find any relation to our family. It is in a pretty, old frame backed by thin wood panels with no glass. The paper is very fragile and in fair shape but is in color and beautifully done. The information is:
Valley Center Kansas, 17 of June 1888.
Samuel Shatto of Valley Center, Kansas and Jennie Davis of Wichita, Kansas
Witnesses: E. E. VanGundy and Sankey VanGundy
Pastor: W. A. VanGundy, Pastor M. E. Church, Valley Center, Kansas
Dimensions: Outside edge: 19 x 23 1/4
Inside document: 14 1/2 x 19 1/2
Would love to give it to someone who would really appreciate it.

Pauline Viano
pviano@cs.com
Editorial Note: There are web sites on line for unidentified photographs such as the popular www.deadfred.com . Check Cyndi's List, www.cyndislist.com for more suggestions to help identify old documents and photographs.
---
Dee sent the following e-mail:
"John Enos and family, of Livermore, listed on your records site is my family. Thank you for listing that info, as I wondered why they weren't baptized at the Catholic church. My ggg grandmother was Swiss and her husband, John Enos was Portuguese. I just assumed that they would be Catholic, but now I know. Any info that I can provide re: this family?"
Editorial Note: Can this be your relative? Call Dee at 916-455-3889 to learn more about this local family.
Copies of these church records may be ordered in paper form for a donation of $3.50 for members and $5.00 for non-members from: L-AGS, P.O. Box 901, Livermore, CA 94550.
---
| | |
| --- | --- |
| | Seminars |
San Mateo County Genealogy Society Fall Seminar: Saturday, October 28, 2006, 9 a.m.-4 p.m. Propelling Your USA Research

Federation of Genealogical Societies Conference, August 30-September 2, 2006, Hymes Convention Center, Boston. Birthplace of American Genealogy

California Genealogical Society Special Event. Speaker: Stephen Morse will talk about his website, Saturday, October 14.

San Francisco Bay Area Jewish Genealogical Society, Sunday, November 26, 2006, 1 p.m. Dr. Stephen Morse on NY Census using his One-Step Census website.
---
New Resources at the LDS FHC in Oakland

From Margery Bell, Assistant Director
The Oakland Regional Family History Center is pleased to announce we have a new website http://www.oaklandfhc.org. Check here for schedules of classes being offered, hours, special closures, etc.
Of Special Note
Coming soon!! Thanks to the generous donation of the Silicon Valley Computer Genealogy Group, we will be putting our catalog on line at our website. This will give you access at home to the catalogs not only of the Oakland FHC but eventually to those of our satellite centers including Antioch, Concord, Danville, Fremont, Hayward, Livermore, Pleasanton, San Francisco, and San Francisco West.
Please watch for a coming announcement of August hands-on classes in using PAF Insight. We will be restarting our regular class schedule in September with new classes in beginning genealogy and specific classes in some of the most used source material for genealogical research, basic computer programs and using some of our subscription websites.
Editorial Note: Located in the lower level of the Visitor's Center, the library is open Tuesday through Saturday. For times and information phone 510-531-3905 or check their website. Free subscription sites include Ancestry.com, Heritage Quest, NewEnglandAncestry.org (New England Historical Genealogical Society), Genealogy.com, and VitalSearch-Worldwide.com (premium). Their collections include approximately 9,000 books, 37,000 reels of microfilm and 9,000 microfiche. There is also a workstation dedicated to Chinese language family history research. Docents are available to assist patrons. Call to determine work schedules for docents with specialized areas of research.
---
U. K. Port Embarkations On-line

RMS Titanic
The following article is from Eastman's Online Genealogy Newsletter and is copyright 2005 by Richard W. Eastman. It is re-published here with the permission of the author. Information about the newsletter is available at: http://eogn.com. Source of the article is located at: http://blog.eogn.com/eastmans_online_genealogy/2006/04/uk_port_embarka.html
1837online.com has signed a £2.5 million ($4.32 million U.S.) deal to scan and place online the National Archives' entire historical database of passengers who embarked on sea voyages from Britain's shores between 1890 and 1960. The estimated 30 million individual records include details of emigrations to Australia, North and South America, India and Africa. 1837online.com will begin scanning the originals this month and aims to have the records online towards the end of this year. The records to be scanned and placed online will include those of the Titanic's maiden voyage.
Wikipedia images have been released into the public domain by the copyright holder, its copyright has expired, or it is ineligible for copyright. This applies worldwide.
---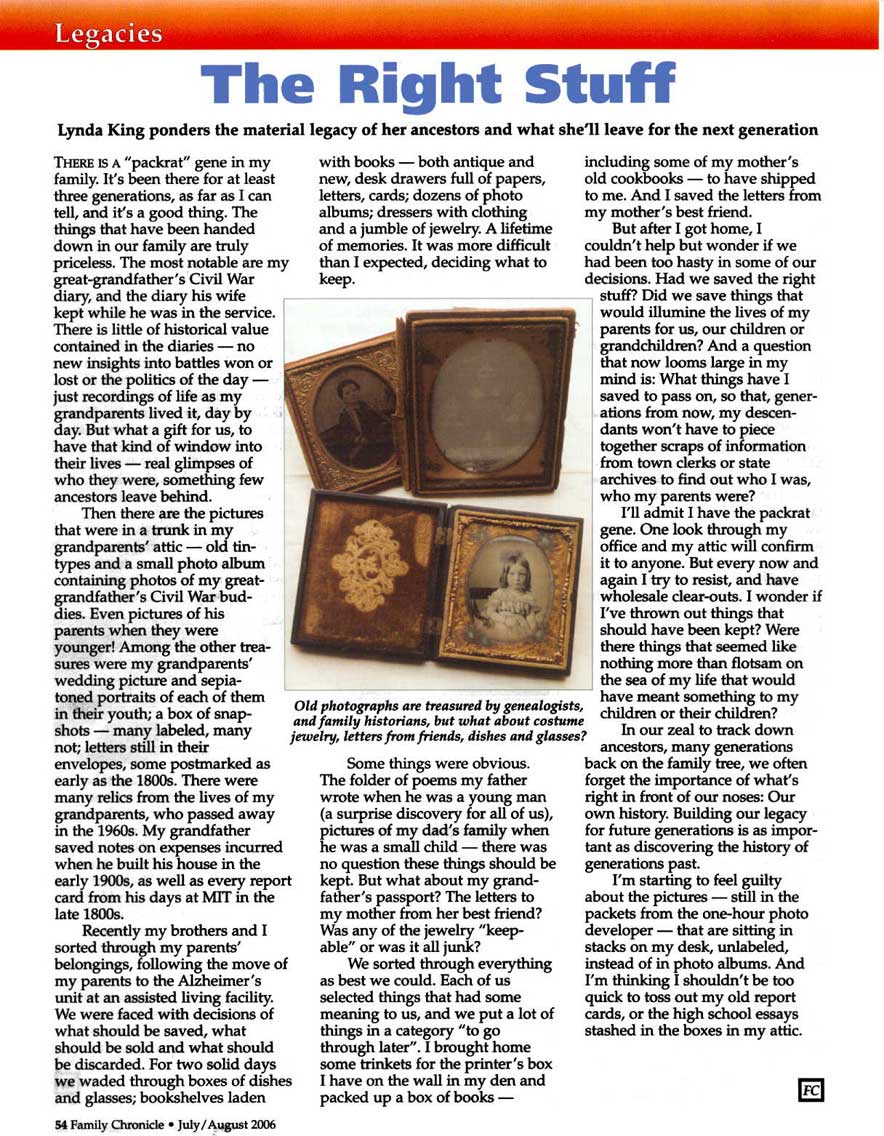 Printed with permission from Family Chronicle, July/August 2006, Page 54
---
Betty and the Birds

By Betty Ryon
In doing my family history, I have come across articles about my grandfather, Frank Holmes, and how he got interested in birds, and also how he taught himself to do taxidermy.
On June 7, I was invited to a luncheon for Y.S.I. (Youth Science Institute), a private non-profit organization dedicated to providing and enhancing science education in schools and the community. There are three locations of the Y.S.I. in the Santa Clara Valley. The location I am very interested in is the Alum Rock Park just outside of San Jose where they have the Holmes Bird Collection of over 100 birds, many that are now extinct.
This collection was done by my grandfather, Frank Holmes. I lived in the home with six big cases of birds until I was 16. My grandfather died when I was four, so it has taken awhile for me to learn more about the birds. As a young girl and teenager they were just birds. There was also a polar bear rug, a grizzly bear rug and many mounted heads of animals. My seat at the table was under a moose head, which may explain why I collect moose items.
Some time after my grandfather died, the family donated the collection to the San Jose State College. At a later date the collection was given to Y.S.I. New cases were made for the collection. Many experts came from other states to identify the birds, and now they are all labeled. My favorites are a snowy white owl and a big flamingo.
Because of this, my children and grandchildren now have all had the chance to see the birds that I grew up with.
---
So That's What Happened

By Patricia Northam
Recently, the Hayward Area Genealogical Society newsletter, Informer, led me to a website for the Missouri Death Certificate Database, http://www.sos.mo.gov/archives/resources/deathcertificates.
I eagerly searched the site, which is still in the process of adding more data. The index can be searched by first name, last name, county, and year and month. Once a name is selected, a digitized image of the original certificate is displayed.
Much to my pleasure, it contained my great grandmother's certificate of death as well as that of her youngest son. I was able to print digitized images of the original certificates.
These two death certificates confirmed some known information about our family ancestors. Mary Wiber's certificate verified her birth, her age at death, that she was widowed at the time of her death, her parents' names, and her parents' birthplaces. Albert's certificate verified his birth and his wife's name.
Additionally, I learned the cause of both deaths as well as the date of Albert's death. The death certificate told me that Mary Charlton Wiber died of nephritis (chronic interstitial), which is kidney failure. My mother always assumed that it had something to do with Mary's heart, so this was a surprise. Her youngest son Albert also died of nephritis (acute) less than a year following his mother's death. He was only 27 years. With both of them dying of kidney failure it makes me wonder about other factors. I researched a little about nephritis and found that there could be many things that trigger kidney failure.
Both Mary and Albert were buried in the same cemetery and by the same undertaker. This is information we did not have previously. I now have some other threads to follow thanks to the posting of this website in the HAGS Informer.
---
Strangers in the Box
Pamela A. Harazim, ©1997

Come, look with me inside this drawer,
In this box I've often seen,
At the pictures, black and white,
Faces proud, still, and serene.

I wish I knew the people,
These strangers in the box,
Their names and all their memories,
Are lost among my socks.

I wonder what their lives were like,
How did they spend their days?
What about their special times?
I'll never know their ways.

If only someone had taken time,
To tell who, what, where, and when,
These faces of my heritage,
Would come to life again.

Could this become the fate,
Of the pictures we take today?
The faces and the memories,
Someday to be tossed away?

Take time to save your pictures,
Seize the opportunity when it knocks,
Or someday you and yours could be,
Strangers in the box.
Editorial Note: This poem is listed as "Unknown Author" on many websites. The author, Pam Harazim, originally wrote the poem when her mother had dementia, and realized the stories her mother loved to tell about her youth and her family were locked inside her, and Pam didn't remember them like she was so sure she always would. Hence, the box of strangers. This is definitely one of those moments when knowing the original story behind the poem brings more insight to the reading.
---
NARA Proposes Changes in Hours

by Sue Johnston
If you don't subscribe to Eastman's Online Genealogy Newsletter or the NEHGS eNews, you might have missed the July 25th announcement that the National Archives and Records Administratin (NARA) is proposing to eliminate evening and weekend hours in the research rooms at Archives I in Washington and Archives II in College Park, effective October 2, 2006. Changes in extended hours are also planned for some of the regional archives branches (see http://www.archives.gov/locations/proposed-hours.html). Comments on this proposal will be accepted until September 8, 2006. Effectively, NARA is reducing the available weekly research hours from sixty hours per week to forty. If you're planning a research trip to our nation's capital, your cost per research hour will increase dramatically!
For further information, and if you would like to comment on this proposal, I suggest you start with Eastman's announcement and follow the links:
http://blog.eogn.com/eastmans_online_genealogy/2006/07/nara_proposes_a.html - more
[Editorial Note: Kay Speaks was at NARA, San Bruno on July 28, and was told by Rosemary Kennedy that "the national budget for NARA has been cut virtually in half. All of NARA only had an approximate $23 million budget to begin with. These budget cuts will also definitely affect the Regional NARA operations." Please respond with your comments as Sue Johnston's article indicates regarding these planned cuts.]
---
| | |
| --- | --- |
| | Livermore Roots Tracer Staff |
| | |
| --- | --- |
| Reporters | Marie Ross, Lois Barber, Jane Southwick |
| Compositor | Kay Speaks |
| Web Editor | Vicki Renz |
| Printing/Distribution | Scott Gagnon |
| Staff Contributors | |
| G.R.O.W | Frank Geasa |
| | |
| | |
---
[ Roots Tracer Menu ] [ L-AGS Home Page ]
Last modified 28 march 2007 vlr