---
The Roots Tracer is the quarterly publication of the Livermore-Amador Genealogical Society. The mission statement of the Roots Tracer is: "Instruct. Inspire. Inform." In keeping with this mission and in the spirit of our Society's motto, "Members Helping Members," we encourage members to submit articles for publication. Material can be e-mailed to: tracer@L-AGS.org or mailed to L-AGS, P.O. Box 901, Livermore, CA 94551-0901.
The deadline for each quarterly issue is the 15th of the previous month. Submissions must contain the name of the submitter, as well as the name of the author, publication and date of any published article that is being quoted.
Queries are free. Please send your queries to querymaster@l-ags.org.
---
Table of Contents
---
Welcome to Our New Members
| | | |
| --- | --- | --- |
| Lyn and Bill Adams | Sandra Caulder | Peggy Dearman |
| Mike Dillon | Patrick Lofft | Yvonne McNamara |
| Ed and Elsie Pierce | Emily Bailey | Heather and Chris Rizzoli |
| Nancy Southwick | | Herb Borchers |
We are grateful for the generosity of these members of L-AGS:

Benefactors
James Bahls, Lois Barber, Dick and Wanda Finn
Membership Report As of April 27, 2005
| | | |
| --- | --- | --- |
| Membership Types and Number | | Total Individuals |
| | | | |
| --- | --- | --- | --- |
| Individual Members | 126 | | 126 |
| Family Members | 50 | | 100 |
| Life Members | 9 | | 12 |
| Benefactors | 3 | | 3 |
| Honorary/Charter Members | 5 | | 5 |
| Honorary Members | 2 | | 2 |
| Total Memberships | 195 | | 248 |
---
| | |
| --- | --- |
| | A Message from President Jane Southwick |
I think there is an expression that says both good and bad things can happen. Well, the bad thing that happened was my contracting pneumonia and being out of commission for a while. The good thing that happened was the way the many members of L-AGS stepped in and took care of what needed to be accomplished. Thanks to Barbara Huber who chaired the March meeting and to everyone else who kept everything running smoothly.
Another good thing that happened was the Mixer that took place in February at the Radisson Hotel. Many of you worked to set up displays, greet guests and put our L-AGS name out there. Other organizations who joined us were Connie Pitt who explained the concepts of Scrapbooking that can be used so effectively with genealogy; the San Ramon Genealogical Society; and two chapters of NSDAR: the Jose Amador Chapter of Pleasanton and the Josefa Higuera Livermore Chapter. It was a very successful venture and one that could be repeated.
Thanks to George Anderson, our Cook Book, "Heritage Recipes," is now complete and may be purchased from Donna Fleckner, our Publications chairman. The book contains recipes contributed by Members of the Livermore-Amador Genealogical Society and has many interesting tidbits relating to family stories and traditions.
The Livermore Heritage Guild held a retirement reception honoring Barbara S. Bunshah on Sunday, April 10, 2005. At this time, as a representative of L-AGS, I was able to present her with a plaque in honor of her work in indexing the local newspapers. These indexes were placed on CDs for people researching families of the Tri-Valley Area. There is an article about the reception and her work elsewhere in this Roots Tracer.
We were sorry to hear about the death of one of our members, Gary Bradley. We offer our heartfelt sympathy to his family.
---
| | |
| --- | --- |
| | L-AGS Programs for the Remainder of 2005 |
| | | |
| --- | --- | --- |
| Date | Speaker | Subject |
| May 10 | Dick Finn | Heritage Family Project |
| June 14 | Bill Harlan | Harlan Family |
| July 11 | Cath Madden Trimble | Lists, Indexes and Special Collections |
| August 8 | Don Dickenson | Mayflower Presentation |
| September 13 | Linda Garrett | Tombstones |
| October 11 | Chuck Knuthson | Research Facilities in the Golden State |
| November 8 | Frank Geasa | Research at the Pleasanton Library |
| December 13 | Mary Dillon | 101 Ranch Genealogy |
---
Tri-Valley Heritage Families Project

By Dick Finn
Families from Anthony to Zimmerman, settlements from Alamo to Sunol, from Palomares to Mountain House to Midway — all are being included in the Tri-Valley Heritage Families Project, a new master directory of early local families and their descendants. We believe the compiled information will be of great benefit to all Valley history centers, genealogical groups, museums, libraries, historians, journalists and other interested researchers.
We are creating a series of binders that will contain a descendants chart for each of the pioneer Valley families. Following each chart will be a few pages of history for that family: when and why they came to the Valley, exactly where they lived, what they did for a living, etc. Our hope is that a descendant or local historian will write these pages. Numbers of Valley families have done this already – the others should!
Following the history pages, we will have pages of photographs of the pioneers. In the future, we plan to have this information available on computers at Valley museums and libraries.
We already have information on over 300 pioneer Valley families (over 8400 individuals) in our database, thanks to your support and the great input from descendants of a number of pioneer Valley families. What we need from you: If you descend from one of the early Valley families, please contact us so we may include your information in our database. If you know descendants of these families, please have them contact us so we can work with them. Please be on the lookout for obituaries of early family descendants. You can help us scan old photos at the Museum on Main Street in Pleasanton. If you have copies of old books with biographies of Valley families, please let us know.
If you can help with this worthwhile project, please contact Dick Finn at <rwfinn@wecare.net> or at 925-447-9652.
---
| | |
| --- | --- |
| | National Digital Newspaper Program Announced |
Bruce Cole, chairman of the National Endowment for the Humanities, announced in a speech at the National Press Club in November that the U.S. Government will post 30 million digitized pages from papers published from 1836 through 1922 on the Web. The first of the digital newspapers will be available in 2006.
The project, called the National Digital Newspaper Program, aims to further the founding fathers' belief that knowledge of history is a necessity for government by the people. … The National Endowment for the Humanities is working on the project with the Library of Congress, which has embarked on the broader project to preserve records of American newspapers dating from the late 1600s.
From the Monterey County Genealogy Society Newsletter January/February 2005.
---
Image of the 1910 census page for Phoebe Apperson Hearst, living at "Hearst Castle" with her grandson and 46 servants.

This image was downloaded at home from Heritage Quest, via the Pleasanton Library computer.

Big News at the Library

By Frank Geasa
Five recent improvements in the genealogy section of the Pleasanton Library are giving us, and the general public, major new capabilities: two new dedicated computers, high-speed Internet access, free access to three huge databases, free access at home to one of the databases, and a threefold increase in docent hours.
The two new computers, paid for by the library, are much faster than the ones they replace. They are hooked into the library's high-speed network and have access to the Internet. The three new databases are available to individuals only for a hefty fee. Recently L-AGS paid to have a subscription to the New England Historical Genealogy Society (NEHGS) online databases available to genealogy patrons at the library. The NEHGS claims to offer some 109 million names included in 2,200 databases. The library, with the help of the Friends of the Library, has also added subscriptions to Ancestry.com and Heritage Quest, and the very extensive databases offered by those two vendors. These give online access to US census records, immigration records, old newspapers and a myriad of other genealogical resources. All three of these can be accessed directly using the Favorites pull-down menu on the computers. No passwords are required. The ability to access the Heritage Quest databases from home is described in the adjacent article.
The other new capability we owe to a generous donation of time by Connie Pitt. She is now on duty at the library on Wednesday evenings from 6 p.m. until 9 p.m., and on Saturday from 10 a.m. until 1 p.m. This is in addition to the current docent hours on Wednesday from 10 a.m. until 1 p.m., staffed by Connie, Frank Geasa, Jon Bryan, Leo Vongottfried and Dick Finn.
All the older resources associated with genealogy at the library remain – the book collection, the microfiche, the 1880 US and 1881 UK census indexes, and the large CD collection.
---
Heritage Quest at Home

By Frank Geasa
The Pleasanton Library now has the Heritage Quest genealogy subscription service available for use from home for those patrons possessing a current library card. If you have an older card, it may not work to access this service and you will need to apply for a new card. Try it first to find out. The Pleasanton Library encourages residents of other communities to use its services and obtain library cards.
The process for accessing the service from home is to first connect via the Internet with the library using the following link: <www.ci.pleasanton.ca.us/library.html> This will connect to the library's home page where you will find a choice of links. Click on the one labeled "Information Resources." This will then bring up another page with three boxes on it. From the rightmost box, click on the menu item labeled "Genealogy." This will bring up yet another page with a choice of five links, the bottommost being "Heritage Quest." Clicking on it will result in a Prompt box popping up at the top of the page. It will ask for your library card number. This is found on the back of your Pleasanton Library card under the barcode. Enter the numbers without any spaces and then click the OK button. If there are letters with the numbers, ignore them and enter only the numbers. This should bring up the Heritage Quest page with options of viewing census records, digital books, PERSI or Revolutionary War records.
Note: If on your first entry into Heritage Quest, it brings up a box requesting an ID and password and will not let you enter without them, back out to the point where you are asked for your card number, enter it again and proceed as before. Also note that if you are at the library, Heritage Quest will also ask for your library card number, at least for the present.
---
Seminars

Compiled by Eileen Redman
May 13–14, Burbank. 36th Annual Genealogy Jamboree and Resource Expo. Sponsored by the Southern California Genealogical Society at the Burbank Airport Hilton and Convention Center. Registration form can be obtained at: www.scgsgenealogy.com.
May 21, Sonora. Tuolumne County Genealogical Society is sponsoring a Spring Seminar with Rosemary Kennedy of the National Archives and Records Administration, San Bruno. $27.00 includes lunch. Contact Judy Herring at 209-532-6056 or <herring@lodelink.com>, or Bonnie Stevens at 209-962-7317.
May 21, Sunnyvale. Ancestor Seekers will be presenting a seminar on British Ancestry, with classes on English, Scots, Welsh and Irish Research at the Sheraton Sunnyvale Hotel, Sunnyvale, California. In an effort to advertise the seminar, the company is offering a $7 donation per attendee ($11 for a double registration) to California Genealogical Societies. Societies may obtain donation cards for registered members by contacting Cath Trindle <Catht@aol.com> or 650-207-2747. Details at www.ancestorseekers.com.
June 1–4 Tennessee. NGS and GENTECH Conference. Nashville, Tennessee. Details at http://www.eshow2000.com/ngs/.
July 22, National Archives, San Bruno. Military Service Records Research. Part 1: Revolutionary War to the Civil War. To register call Rosemary Kennedy at 650-238-3485.
August 19, National Archives, San Bruno. Military Service Records Research, Part 2: Spanish American War to Vietnam. To register call Rosemary Kennedy at 650-238-3485.
September 7–10, Salt Lake City, Utah. Federation of Genealogical Societies Annual Conference, in cooperation with Utah Genealogical Society, "Reminders of the Past, Visions for the Future." Details at: www.fgs.org/2005conf/FGS-2005.htm
---
Meeting the Dam Cousins in Denmark

By Arleen Sogaard Wood
Meeting cousins for the first time in a foreign country can cause more than a little anxiety. We wondered, what do we say? Can they speak English? My limited Danish of "God morgen" (Good morning), "Tak skal du have" (Thank you!), and the little hand nursery rhyme of "Tommeltot, slikkepot, …." wouldn't get us very far into a conversation! Will we be able to understand one another? What will they look like? Trilby, our tour coordinator, arranged for them to meet us at the Viking Museum in Ribe that afternoon at 4 p.m.
It was nearly 25 years ago that I made the genealogical "bridge to Denmark," when I found where my grandfather, Lars Sogaard, had been born on the farm called Æskholt, Ovsted Sogn (parish), in Skanderborg Amt (county) on the Jutland Peninsula. I wrote to the Ovsted church to see if any of my ancestral family was still living in the parish. Though none were living in that area, the Sogn Priest gave me the name and address of my second cousin, Herluf Dam, who lived in Varde. About a year after writing to him I received a letter from his widow. Herluf had died from cancer shortly after receiving my letter. His mother, who was a Sogaard, died when he was a baby; his father had remarried and consequently, Herluf knew little about his Sogaard ancestors. His wife did send me the names of their four children, and of interest to me was the fact they each had 'Sogaard' as their middle name. They were about the same ages as my three sons. Their great grandfather, Nicolai (brother of Lars) had remained on the farm Æskholt until 1934. I entered that information into my database and went on researching by using the microfilms of the Family History Center, and in the past few years, finding more information on the Internet.
Last year, armed with a wealth of information, my three sons and I were ready to take that long-dreamed of trip to Denmark to visit the ancestral farms and churches. I wondered whether, after all these years of not communicating, they would be interested in meeting us, their Danish-American cousins. Thanks to the Internet and e-mail, I was able to find their names and addresses and wrote to the oldest son, Torben Dam. I explained that we would be near their location on our impending trip to Ribe, the oldest Viking city in Denmark, and would like to meet them.
Now the moment had arrived! We came out of the museum and there they were – eleven (11) new found relatives – four cousins, their spouses and three of their children! After introductions, we broke into small groups of three or four and started walking and talking as we strolled through the old town of Ribe, which dates back as far as 700. Thank goodness, they could all speak English. Their children were eager to try out their English in conversation. The atmosphere became more relaxed as the cousins bantered back and forth, much as my three sons did.
We had hoped to sit in the outdoor patio area of the Hotel Dagmar until our scheduled dinner at 6 p.m., but the weather turned cold and blustery; so we retreated to the beer cellar under the Hotel for our happy hour. The room was small and had a lot of character. Our group of 17 people filled the room, which made for cozy seating and conversation. When in Denmark, do as the Danes do, so we ordered a round of beer, and as we raised our glasses, I was able to use another Danish word, "Skål."
I presented each of the four cousins with a booklet that I had put together using the Family Tree Maker software. I included pictures, ancestral charts, and some family history. The booklets were well received and stimulated a lot of conversation.
My cousin, Torben, sat across from me. He had brought along a packet of pictures and documents, including the original deed to the farm Æskholt, and his grandparents' marriage certificate. Then he brought out an old leather billfold and handed it to me. It was very fragile. Inside, written on the leather, were the signatures of my great-great grandfather, Søren Christensen Soegaard, (1794–1821), who had drowned in Mossø in 1821, and below that was the signature of his son, my great grandfather, Niels Sørensen Soegaard, (1821–1886) and the date 1839. The billfold had been given to Niels when he was 18 years old. I was in awe and exclaimed, "Oh, we'll have to have Trilby take a digital picture of this!" Torben said, "It's yours!" I was completely overwhelmed! I just looked at him and clutched my heart; nothing would come out of my mouth. We just looked at each other, and soon all of us were crying! What a gift! I have a priceless treasure!
The billfold that belonged to my great-great grand-father, who died by drowning in 1821.
We had a wonderful dinner together, took lots of pictures, exchanged addresses and e-mail addresses and said our farewell, with the hope we would meet again! It was a very positive experience.
---
If You Go, Hire a Pro!

Arleen Wood
I started planning the logistics of our trip to Denmark about eight months before our departure. Frustrated by the lack of tours to Denmark that offer more than a brief stop in Copenhagen, it was our intention to rent a car to visit the ancestral churches and farms on the Jutland peninsula and Fyn. I submitted a query to DENMARK-D@rootsweb.com asking for a web site where I might find the addresses of churches in Denmark. One of the fellow readers e-mailed me off-site to tell me about Scandgen Tours in Copenhagen, who put together a genealogical tour for him the year before. Scandgen Tours ads can be found in several genealogical magazines and on the Internet.
I contracted with Trilby Gustafson, of Scandgen Tours, who did an outstanding job. She planned our tour based on what we wanted to see, arranged our travel by van, did all of the logistics of where we stayed, where we ate, what special attractions we visited. We were able to communicate quickly by e-mail. She found out the names of the present owners on my ancestral farms and arranged for us to visit them. She contacted nine ancestral churches and arranged for them to be open. She contacted my cousins and made all the arrangements for a beautiful dinner in a private room at our hotel. Trilby not only plans tours, but is also an accredited genealogist who understands the passion for genealogy and enthusiastically helped us have a wonderful experience. She did some advance research at the archives and presented me with a large packet of copies of legal documents (which still need to be translated). She took over 800 digital photos and presented each of us with a CD.
We accomplished more in those ten days than we could have done on our own in a month — and with no hassle. It was the genealogical experience of a lifetime for a Danish-American! You just can't put a price tag on memories like that!
---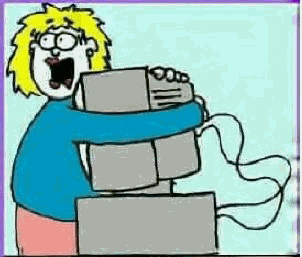 NO! NO! Take my kids but not my ancestors!
---
G. R. O. W.

(Genealogy Resources On the Web – The Page That Helps Genealogy Grow!)

Compiled by Frank Geasa
If you have Polish ancestry, you will want to visit this Polish Genealogy Society of America site which offers numerous good online search indexes and links to sites both in its Chicago local area and to others world-wide.

The Research portion of the Contra Costa County (California) Historical Society site has indexes of newspaper obituaries and probates for the county, both roughly covering the period 1855-1920.

The University of Wisconsin Digital Collection includes Badger yearbooks going back to the late 1800s and Alumni directories going back even further.

If you are chasing ancestors in England you may want to periodically check this site of volunteer transcribers. Its stated purpose is to provide a growing source of elusive genealogy data.

This site has many lists of people heading to California 1848-1873. The lists, taken from various newspapers, cover groups traveling by wagon as well as by ship.

If you are researching in Missouri, that state's Soldier's Database lists individuals who served in wars from the War of 1812 to WW1. There is a good chance you have never even heard of some of the wars covered. Courtesy of George Anderson.

This site provides a quick guide to finding county vital records in the USA and links to state archives.

An interesting approach to getting help in solving your genealogy brick walls is presented by this site.

This personal site of Luis del Pino offers lots of good information and tips related to Hispanic genealogy both in Spanish and in English.

The Canadian Genealogy Centre is a single window providing electronic access to the genealogical resources of Canada. Online are indexes for the 1881 Ontario census, immigration, naturalization, land records and other areas of genealogical interest.

The Northwest Arkansas Genealogical Society site has many on-line cemetery search lists for 4 counties in the northwest corner state as well as several in nearby Oklahoma and Missouri. A pension list and a deeds list are also offered.

If any of your ancestors migrated to or through Australia, you will want to visit this site created by Jenny Fawcett. It has search lists and links galore. While these are primarily for Australia there are also many for New Zealand, Ireland and other locations.

The Maryland State Archives Online offers a number of city directories for Annapolis and Baltimore including 33 annual editions of The First Colored Professional, Clerical and Business Directory of Baltimore City.

If your ancestors happen to be from Cornwall, England, this site has over 130,000 transcriptions of church records from that area.

An explanation of the Daughters of the American Revolution ongoing GRC indexing project and the opportunity to search that index can be yours by making a visit to their site.
---
Tri-Valley TMG Users Group

By Kay Speaks
The TV-TMG Users Group meetings are more like mini-workshops as we meet for three hours monthly, allowing for in-depth training sessions. Since we added video viewing capabilities, where all users with laptops are connected to the digital projector, we are able to quickly assist users with questions. It has become a great learning tool and a fun way to learn The Master Genealogist software.
L-AGS TMG group is quietly becoming known for its teaching expertise. Sue Johnston and Kay Speaks believe in making each session a fun interactive experience. We now have members, or potential members, attending from Hayward, Palo Alto and Pittsburg as well as our local cities. Several TMG users from the San Ramon Valley Genealogical Society attend our meetings. In fact, Peggy Dearman recently joined L-AGS and attends regularly with her new laptop!
If you are a TMG user, but haven't attended our meetings, you should consider doing so. Sue Johnston was a beta tester for Wholly Genes since before Version One was published, and brings a great deal of knowledge and expertise to our sessions. TMG is a true database software package. Because of this, there aren't limitations as to the number of names and events attached to a person. Sentence structures can be personalized. Event tags and flags can be created to adapt to your personal research and documentation requirements.
A trial version of the Wholly Genes software can be downloaded at: www.whollygenes.com.
We meet the third Thursday of every month at 7077 Koll Center Parkway, Suite 110, Pleasanton, CA from 9 a.m. – Noon. If you have questions, please send an email to tvtmg.chair@L-AGS.org.
---
L-AGS Study Group

By Kay Speaks, Co-Chair
Effective January 1 of this year, the Study Group made a number of changes. First, the Study Group and Computer Interest Group were combined under the Study Group name. The other change is that a committee now coordinates the meeting agenda. In recent years, I served as chairperson. Now George Anderson, Dick Finn and I are co-chairs. We can be contacted through study.chair@L-AGS.org. We welcome suggested topics.
The Study Group's principal objective is to enhance both beginning and advanced genealogists' research skills – sharing techniques, research methodology, computer skills and much more. The group members share their experiences and knowledge with each other via our monthly meetings and our group e-mail list. Whenever possible, meeting presentations are shared with this list so those living in other states and locales, or those unable to attend meetings, can still benefit from the meeting topics. If you aren't on the list, you can contact postmaster@L-AGS.org.
If you find a useful tool or Internet site, have a computer related problem or challenge, or have finally found your long-lost Aunt Martha – please share it with the Study Group list. We would like to hear from you. Don't be shy about posting questions or other information to our list. Why not add <study.group@L-AGS.org> to your contacts.
Watch for a special Study Group Meeting to be held at the Oakland FHC Regional Library in Oakland. The date and time will be announced at a later date.
We meet on the third Thursday of every month, from 7:30 – 9:00 p.m. The meeting location is the LDS Church, 950 Mocho Street, Livermore, California. For a map to the church, go to www.L-AGS.org/maps/Liv-FHC.html.
---
Where is Mausau?

By Bill and Virginia Loewe
This is the question that we were asking in December 2000.
Earlier that fall we had decided to tack a "roots" trip on to the Baltic cruise we would take the next summer. With three ancestors emigrating from Germany, we thought we would like to visit their birthplaces. Grandfather Hermann Loewe seemed a hard one to research. He had said he was an orphan, but we did have his birthplace, Leipzig. Grandmother Agatha Benzing appeared to be a problem because we had only a birthdate besides a birthplace, Swenningen am Neckar, for her. But it looked like great grandfather Valentine Holzhauer should not be difficult. He had left a record in the style of the Pennsylvania Dutch fraktur, an unofficial "certificate," which said that he came from Mausau, Germany, in August 1857.

Detail from the fraktur stating that Valentine Holzhauer was born in Mausau, Germany.
We had only to find Mausau. (Incidentally, family members had been reading Mausau as Wausau until 1999). Our first step was to post a message on RootsWeb, asking for information about Valentine Holzhauer. While we waited for a response to this, we joined L-AGS and began the process of examining maps of Germany. We had a quick course in using Meyer's Orts Lexicon, and were rewarded with plenty of help from dedicated L-AGS members.
But we were not having luck finding Mausau anywhere. Doug Mumma suggested that we join the Sacramento German Genealogy Society. Their Betty Matyas went right to work as our mentor, but still no Mausau. We attended an all-day session of their group and listened to a professional genealogist, Dr. Roger Minert, explain how to read old German script and what to expect. We were so impressed with him that later we wrote asking him to see what he could find about old Valentine. About $1700 later he was still writing letters to churches in Germany and we had to leave for our trip without anything more to go on. It was an excellent holiday and with help from several e-mail correspondents whom we met in Germany, we learned a great deal about Hermann and Agatha, but we came home still wondering about Valentine. Although Bill wrote this off as a mystery we would never solve, from time to time I tried to get back to this research problem. Early in 2004, I found a ship's manifest that had been extracted. It contained a Valentin Holzhausen traveling with three other Holzhausens: Anna C., 44, Conr. N., 13, and Anna, 7 1/2.
Valentin was listed as 26 and a shepherd. The ship was the R. Jacob arriving in New York from Bremen on July 30, 1856. Usually the place of embarkation is listed only as Germany or Prussia. For these persons the place was specific: Woelferbot. We wondered if this could possibly be "our Valentine" but could not understand who these other persons were. The family folklore is that his father, with two older sons, had immigrated earlier. The woman was too young to be his mother. But there were supposed to have been two half-brothers, Conrad and Niklus. While we were debating whether this bit of information deserved a trip to NARA in San Bruno to look for a copy of the original manifest, we got out the big atlas of maps of Germany that is printed by ADAC for their auto club, and looked up Woelferbot. We checked all the surrounding towns and there, just about three kilometers away, was a tiny hamlet called Mosa. Could this be our Mausau, despite the authenticity and clarity of the fraktur? (See photos). We were temporizing over this possibility, when we received our first and only response from that RootsWeb query sent in November 2000.
A young man, introducing himself as the great great grandson of Jacob Holzhauer, wrote that he had information about Valentine. In his e-mail he said that his grandmother, Gloria Holzhauer Shenk had gone to the town of Wölferbütt along with her husband and they had found records for Holzhauers there and that the Mosa records were in the nearby town of Sünna, not in Mosa. We were very excited by this news and contacted Gloria and John Shenk at once to find out how they had learned about Wölferbütt.
It had been a very fortunate accident that led them to find the location of the Holzhauers in Germany. In the spring of 2004, they had attended a family reunion in Pennsylvania of another branch to which Gloria was related. In the course of a conversation with the host and hostess, she mentioned that she had been a Holzhauer before she married. At this bit of information the hosting couple became extremely excited and asked the Shenks to come upstairs in their house to see an old wooden chest that had been there for several generations. These people did not know the history of it. Words on the chest read, "The Traveler to America, George Holzhauer, Wölferbütt 1854." Gloria realized that it was the traveling chest of George Holzhauer, the father of her ancestor, Jacob, and Valentine.
| | |
| --- | --- |
| | |
| The chest that solved the Mausau mystery. The inscription reads, "The Traveler to America, George Holhauer from Wölferbütt 1854." | Gloria Holzhauer Schenk, center, with Mr. and Mrs. Hess, owners of the emigration chest. |
In the fall of 2004, the Shenks flew to Germany, and with a German business contact, visited Wölferbütt and Mosa. Church records explained Valentine's traveling companions. He had been with his stepmother and two of his half siblings. We learned that Valentine had lost his mother at the age of nine. Since these revelations, which the Shenks have so generously shared with us, we have learned much more about this family, going back two more generations to 1732. It is satisfying to have this mystery solved. An explanation for the presence of the chest in the Hess's home is that George left it there when he moved on to Iowa. It had served its purpose: to get him from Wölferbütt to America.
We are grateful to all of the L-AGS members who gave their attention to this mystery. We know that many of you will be pleased to learn that there has been an interesting and successful conclusion to this five-year search. We may always wonder why Valentine said Mausau. Could it have been his little joke, since Mausau can translate, "Mouse-meadow"? Or could he not read the plaque he had commissioned?
---
Free Book

By Jon Bryan <gailvb@aol.com>
I have a book, "Three Pioneers of Stark, Herkimer County, New York," that is available free to anyone interested in any of these surnames:
| | | | | | |
| --- | --- | --- | --- | --- | --- |
| Backus | Bauder | Bronner | Caspares | Champion | Conklin |
| Countryman | Deck | DeGarmo | Drain | Ecker | Eckler |
| Ellsworth | Elwood | Fetterly | Fikes | Filkins | Fort |
| Guiwits | Geywits | Hall | Harrad | Harwick | Hawn |
| Hollenbeck | Jordan | Kelly | Kinter | Lathrop | Maxfield |
| Miller | Mowers | Moyer | Pincknet | Price | Roof |
| Sawin | Shaul | Shaut | Shaver | Shimel | Siver |
| Sloughter | Smith | Snyder | Springer | Suits | Tilyou |
| Tunnicliff | Van Auken | Van Horne | Vedder | Wagner | Walrath |
| Walts | Ward | Weeks | Welden | Wick | Wigley |
| Willsey | Wormuth | Wright | Young | | |
---
Members Helping Members

By Jane Southwick
The following article shows an e-mail exchange between members of our L-AGS organization, and its successful conclusion. It also shows research techniques and sources.
---------------------------------------
Dear Members,
I'm trying to find out what county in CA I would find a town called Minerville in the 1860 census. Can anyone help?
Thanks, Linda [Garrett]
---------------------------------------
Linda,
There was a town of Minersville (notice the "s") in Trinity County. It was inundated by a dam.
Here's how to find:
http://www.L-AGS.org
Useful Internet Links >
Maps and Geography >
National Mapping Information >
Query GNIS - U.S. and Territories
Enter: Feature Name=Minersville
State or Territory=California
Feature Type=Populated Place
Send Query.
If this is not the right place, go to the Pleasanton Library, and find these books:
912.794 BERLO
317.94 BERLO
The L-AGS library is one of the few in the country privileged to have these massive books, written by Bob Berlo of Livermore, and donated to L-AGS by Jon and Gail Bryan.
George [Anderson]
---------------------------------------
Thanks, George.
I also found a reference since I posted of an obit that had a Minerville in Sierra Co. CA
Linda [Garrett]
---------------------------------------
Linda,
A search of the California Genweb site finds no Minerville, but it does find a Minersville in Trinity Co. Here is its description from an 1885 directory on that site. About 40 names are listed in that town.
MINERSVILLE - A Mining camp and post office, situated on the East Fork of Stewart's Fork of the Trinity River. Gold taken in this vicinity is coarse and of fine quality. The population is about one hundred.
I found Minersville in Trinity County in an 1870 census index from Ancestry.com, but not in the 1860 census. The Genweb site for Trinity County says the county was formed in 1850, and that it did not take land from other counties. I would guess Minersville is listed under some other town name in the 1860 census.
Paul [Kasameyer]
---------------------------------------
Hi Linda,
Using Google I found two matches spelled "Minerville, CA" and nine matches spelled "Minersville, CA." Those Barlo books that George mentioned can be useful in the Pleasanton Library, especially for CA.
In our Merriam Webster Geographical Dictionary (3rd Ed), 1997, we find one Pennsylvania entry: "Minersville - Borough, Schuylkill Co., E. cen. Pennsylvania, 4 mi (6 km) WNW of Pottsville; pop. (1990c) 4877." Since California did not show a "Minersville" in this book, I suspect it is likely a ghost town now.
Best wishes, Jon [Bryan]
--------------------------------------
Eureka! I found who I was looking for on the 1860 census living in Minersville, Trinity Co. CA !!! All I had was this couple married in 1860 in San Francisco and in 1861, their daughter, Erin, was born in Minerville, from a 1955 DAR application.
Thanks for all your help, wonderful members of L-AGS.
Linda Garrett
---
Merle Eugene Parker and (?). Is this a wedding picture? Who is she?

Fact or Fiction?

By Lois Barber
As the stories go I had a very interesting Great Uncle. His name was Merle Eugene Parker. He was born 4 Apr 1877, Vernon County, La Farge, Wisconsin. His parents were Archibald Duncan and Lavina Jane (sometimes shown in error as Jane Lavina) (Getty) Parker. This I know from a delayed Birth Certificate. Ancestry is incorrect when they show that he was born in 1866. He had four brothers and one sister. This information was obtained from any one of several obituaries, cemetery records and personal memory.
This picture may be a wedding picture but I do not know where the marriage took place or the name of the woman. The photographer was A. O. Sloulin, Viola, Wisconsin; this could be a useful clue. His wife was a very jealous woman, suspicious of her sisters-in-law and her nieces. She made life miserable for everyone. One story says that Merle simply walked away from this first marriage. Was he a bigamist?
For many years his family did not know where to find him. When his mother passed away on 2 Nov 1918 the family did not know where to contact Merle. It would have been much more difficult to locate him in those days than it would be today.
A second story says that he was a cook for the railroad and also cooked on a showboat. A Grandnephew, his namesake, has the knife and steel that he is said to have used as a cook. I believe that this part of the story is true because these items were originally entrusted to my parents.
Merle was the third husband of his second wife, Emma Radl. They were married 16 Jun 1930 in Winona, Minnesota. Their witnesses were Earl E. Parker (nephew) and Mabel N. Parker (niece). This information came from an announcement in the local newspaper.
Emma was a woman who had a fair amount of money and controlled every penny. I remember that if Merle wanted to buy a package of cigarettes he asked her for a quarter. She shared with my Mother that her second husband, Joseph Radl, had told her before he died that she had enough money to last her until death if she didn't let some man take it away from her. She always carried a large, black leather handbag that was never out of her sight.
Merle and Emma lived at 270 Central Avenue, Oshkosh, Wisconsin. He worked at the Winnebago State Hospital in Oshkosh and died in the Alexian Brothers Home in that city on 18 Nov 1959. He is buried in Riverside Cemetery in Oshkosh. This information came from a personal letter written by Merle to my parents dated 17 Feb 1954 (letter is in my possession) and from his obituary.
What I would like to know: who was the first wife, where did the marriage take place, was there a divorce, did he really cook for the railroad and a showboat. I'll keep trying to find the answer to these questions. Thus far, census records haven't been of very much help. He never served in the military so that isn't a useful tool. If you have any advice or guidance please let me know at <LMBLMB@msn.com>. I'll let you know what happens with my research in a future issue.
---
The Elusive Uncle Pat from County Tipperary, Ireland

By Frank Geasa
My maternal grandfather, John Dwyer, was born in the townland of Briarfield (later named Druminda), Cappawhite, County Tipperary, Ireland on December 24, 1879. He came from a large farming family of 14 children. Of these, three stayed in Ireland, two migrated to Australia, two went to England and the remaining seven came to the United States. Over several years, I had managed to find some information on my grandfather's family from Irish church records and from the 1901 Ireland Census. Beyond that information, however, I could find nothing about my grandfather's siblings.
In early 2000, a Dwyer first cousin mentioned that she occasionally had written to a cousin of her father's whose name and address she had come across in his papers when he passed away. I asked for the name and address and, by writing, made the acquaintance of a very gracious lady, Josephine Dwyer McMullen, then 96 years young. Jo, as she liked to be called, had a good memory and she was willing and able to fill me in on her own family and on several of the Dwyer uncles who had come to the United States. An Uncle Pat that she spoke of, however, was hard to pin down in spite of the fact that she knew he had lived in East Rutherford, New Jersey. She was just sure he had moved there shortly after coming to the United States. She could remember only one of his children, a daughter Mary, who was a bit older than Jo and who had come to her house to have Jo's mother fix her hair for some special occasion.
I looked for Uncle Pat in the censuses for 1900, 1910 and in what was then the last census available, 1920. No Patrick Dwyer was to be found in East Rutherford, New Jersey. I could find any number of Patrick Dwyer families in the New York metropolitan area but without any further information, it seemed impossible to pin any one of them down as the right one.
During this same time frame, Jo introduced me to a lady in Ireland who, it turned out, was a Dwyer second cousin to me. After exchanging several letters with this lady, she sent me a number of pictures she had inherited, all of people she could not recognize. She had already sent copies of these to Jo, but Jo hadn't been able to recognize them either. One photo carried the annotation on the back: "Dad, Irene, Mrs. J Dwyer, Mary Whalen, Edward, Thomas, James Whalen." I couldn't recognize Dad or any of the others.
When the 1930 census became available, I again looked for a Patrick Dwyer in East Rutherford. This time I did find one but there was no wife and no daughter Mary. I passed the names of the five children listed on the census by Jo but she didn't recognize them. I did notice that two of the children's names were Thomas and Irene, matching two names on that photo we hadn't been able to identify. I also noticed, however, that Thomas, the oldest, was listed as having been born in Ireland 25 years before. This made him a year younger than Jo, which left some question as to whether this could be the right family. I did notice that the next oldest child, Irene, was four years younger and was born in the United States.
Doing the arithmetic, if Thomas was indeed born in Ireland, it meant he might have come through Ellis Island and he would have been less than four years old. It was a long shot, but worth a try. Using the Steven Morse site at www.stevenmorse.org to search on name and age at arrival, it took just two tries to locate a Thomas O'Dwyer, an infant arriving in New York on May 31, 1907 on the ship SS Oceanic from Queenstown, Ireland. He was traveling with his mother, Bessie, and two older children, Mary, age five, and Joseph, age three, both noted as having been born in the United States. They were coming back from Castlerea in County Roscommon to rejoin the father, Patrick O'Dwyer, living at 1585 2nd Avenue in New York City. Apparently, Bessie had returned to Ireland with the two older children for some reason and while there, Thomas had been born.
Jo was now able to remember that Uncle Pat's wife was her Aunt Elizabeth and Mary was about the right age for the Mary she remembered having her hair fixed. With this new information, it was easy to trace the family back on the 1920 and 1910 census to Manhattan, New York City and then to Jo's hometown of Passaic, New Jersey on the 1900 census. We had not only found Uncle Pat but now had a photo of him and some of his children as well. We also found my grandfather, John Dwyer, still single at that point, living with Uncle Pat's family in Passaic in 1900.
---
Barbara S. Bunshah Honored

By Jane Southwick
On April 10, 2005, the Livermore Heritage Guild held a Retirement Reception for Mrs. Barbara S. Bunshah, at the Carnegie Building in Livermore. Mrs. Bunshah was honored for her outstanding service, accomplishments and contributions to the Livermore Heritage Guild, and her remarkable commitment to "Help Save Yesterday for Tomorrow." A representative of the Arts and Crafts Section of the building presented her with a thank you and a gift. Julie Casamajor, head research librarian of the Livermore Public Library, presented her with a basket of flowers and praised her for the great help she has been and continues to be in answering research questions. The highlight of the day was the unveiling of the plaque above the door to the research room that now reads "Barbara S. Bunshah Research Room."
Mrs. Bunshah also worked for many years at the Livermore Library as a researcher and while there she took it upon herself to index the local newspapers dating from 1875. With a grant obtained by the Library, it was possible to place the indexes dating from 1899 to 1960 on two CDs, which may be purchased at the Livermore Library. This information has proved invaluable to genealogists and people researching families of the Tri-Valley area.
Because of the tremendous effort put forth by Mrs. Bunshah, The Livermore-Amador Genealogical Society presented her with a plaque which reads,
Livermore-Amador Genealogical Society

BARBARA S. BUNSHAH

Special Recognition

For Outstanding

Contributions to Researching

The History of the Tri-Valley

April 2005
---
| | |
| --- | --- |
| | The Surgeon General wants Americans to compile a family health history and is even offering a free computer program to help guide you along. |
---
Negative Search Yields Positive Results

By Linda Garrett

Middleton Place, near Charleston, South Carolina, home of Arthur Middleton, signer of the Declaration of Independence. Middleton Place is now a National Historic Monument. The whole plantation is a major tourist attraction.
While visiting my sister awhile back, her husband showed me some documents he had on his parents and grandparents. He asked me if I could research his family from that information. Well, we all know the answer is YES!
My brother-in-law's name is Arthur Middleton and there was a signer of the Declaration of Independence by that name. He had always wondered if he was related to this famous man.
What he knew was that his grandfather's name was Lewis and he was born in Ohio. I found Lewis on the 1860 census living in Wayne Township, Champaign County, Ohio, age 4. His parents were J. C. and Mary A. Middleton, both born in Ohio. I then decided to see if there were others searching this family, so I checked on the RootsWeb World Connect Project: http://worldconnect.genealogy.rootsweb.com/.
There were several who had this couple posted and one had the father as John Cyrus Middleton and the mother as Mary Ann Blue.
Going back two more generations, I found a John Middleton, born July 13, 1778, Fairfax, Virginia, died August 12, 1873 in Champaign County, Ohio. His wife's name was Elizabeth West.
As many of you know, I always include collateral research. When I looked at Elizabeth West's side, I found notations that her father, John West of Fairfax, Virginia, and his father-in-law, James Edwards, both fought in the Revolutionary War.
My next step was to check on the DAR (Daughters of the American Revolution) members-only site to see if these two men were listed. As a member of DAR, I have access to this information. Another place to find it is in the three volumes called the Patriot Index.
Finding both men listed, I then contacted my DAR chapter membership chairman, Jane Everett, to see if she was sending for any application papers. Members' application papers are available to members in order to do supplementals on another Patriot Ancestor or for helping a woman to join as a new member on an established ancestor. The cost for sending for them is $10.00 each if you fax a request for at least three at a time.
A few weeks later, I had applications for these two men. You might wonder why I would be interested in having these applications since they are not direct ancestors of mine. I have them for documentation on the service each of them did in the Revolutionary War for my brother-in-law's family. He has three daughters, so if any of them might be interested in joining DAR, this will certainly help them with their applications. These papers also contain dates and places that I can add to this file for his family. I was also fortunate to find this interesting piece of information about his ancestor, James Edwards:
James was kidnapped (?) in 1740 and brought to Virginia where he was sold as an indentured servant to Rev. James Keith. Parson Keith is perhaps more famous as the grandfather of James Marshall, first Chief Justice.
Although I found that my brother-in-law was not descended from the famous Middleton who signed the Declaration of Independence, what I did find was certainly of interest to him and his family. The furthest back I have on my brother-in-law's Middleton family is a John Nelson Middleton, born September 13, 1778, Fairfax County, Virginia; died August 12, 1873 in Wayne Township, Champaign County, Ohio. He is the earliest ancestor known to the researchers of this line that I have been in touch with. Arthur Middleton of South Carolina was the son of Henry Middleton, 1717–1784, Charleston, South Carolina, and Mary Williams, and therefore it appears to be a different family. Of course, the two lines may come from a common, as yet unknown, ancestor.
---
Microsoft Time-Saving Keyboard Shortcuts

By Kay Speaks
We often think of Windows as a mouse environment. However, it's often easier to get from place-to-place, from application-to-application, or file-to-file, using a set of keyboard shortcuts. What happens when your mouse stops functioning? Don't despair - try these mouseless shortcuts.
A few comments about Windows keyboards: The Windows key has the Windows logo. The Application key is the one with the illustration of a mouse pointer selecting from a menu - some shortcut key combinations work with one but not the other.
When you see a command such as Ctrl-A, it indicates you should press and hold the "Ctrl" key while simultaneously tapping the "A" key once. This action is performed as one quick motion, you don't need to hold the keys down for long - and you don't need to use the mouse.
Start faster: Ctrl-Esc then select the underscored letter. For example, Ctrl-Esc, D would open the Start Menu and then the My Documents folder because the D was underscored. Ctrl-Esc, M would open the Start menu and place the cursor on the first word beginning with M in the Start Menu, continue hitting M to move the cursor to subsequent words beginning with the letter M.
Start faster: Windows button (if using a Windows keyboard) will open the Start Menu. Select a menu item by hitting the underlined letter in the menu option's name (or the first letter if none is underlined). You can also navigate the menus via cursor keys (Home, Page Down, the arrow keys, and so on). Note, some menu items can be directly accessed with the Windows button. For example, you can get directly to the Run box by typing Windows-R. Tip: Hold down Windows while you repeatedly press Tab to cycle through the buttons on your taskbar.
Desktop: Holding down Alt while you repeatedly press Tab cycles you through opened applications. Pressing Alt-Space opens the control menu in the upper-left corner of the current application window. Alt-F4 will close the current application. If your document hasn't been saved, you will be asked if you want to save the document. Tip: To open the control menu in the upper-left corner of the current document window in Office and in some other applications, press Alt-Hyphen. Close the current document, type Ctrl-F4. If you have a frozen mouse, you should try Alt-Space or Alt-Hyphen before you kill your job. Ending a frozen session using Ctrl-Alt-Del, Task Manager, and End Task, will result in the loss of any unsaved files. If your computer is frozen, you may not have an option. However, if the problem is with your mouse then this might successfully save your document, if you have the opportunity use the save shortcut, Ctrl-S.
Shift-F10 or Application - Will access context menu (similar to mouse right-click).
Windows-M and Windows-D - Will minimize all windows and return to the desktop. Shift-Windows-M reopens all windows (Windows-D will restore them if that's the key combination used to minimize them.) Tip: In Windows Explorer, folder windows and the desktop, press Alt-Enter to open a selected object's Properties dialog box, and Windows-Break to open System Properties (the Break key is on the upper right of most keyboards).
Menus: Use Alt and F10 for the current window's menu bar. Once there, you can navigate with the arrow keys, or open a menu item by pressing its underlined letter (i.e., V to open the View menu). Once the menu is open, click the option's underlined letter to select it. For instance, in many programs, pressing Alt followed by F followed by P opens the File menu, and selects the Print option - no key combinations needed.
Look for more keyboard shortcuts in future issues of Roots Tracer.
---
Where Might California Populations Help Us Locate an Obituary?

By Jon Bryan
Recently we had a query about an obituary for Luther R. Lusk who passed away in Alameda County, California in 1991. Our initial look on our L-AGS website at http://www.l-ags.org did not find this Mr. Lusk. Our searching in the Barbara Bunshah newspaper indices found a few Lusks, but not Luther.
In the California Death Index database (CADI) [1940–1997] at http://vitals.rootsweb.com/ca/death/search.cgi we find:
Name: Lusk, Luther Raymond
Birth Date: 09/11/1907
Mother Maiden: Cannon
Father Last: -
Sex: M
Birth Place: Arkansas
Death Place: Alameda (01)
Residence: -
Death Date: 11/30/1991
SSN: 561-14-6479
Age: 84 yrs
From the Social Security Death Index database (SSDI) at http://ssdi.genealogy.rootsweb.com/cgi-bin/ssdi.cgi we find:
Name: Luther R. Lusk
Birth: 11 Sep 1907
Death: 30 Nov 1991
Last Residence: (none specified)
Last Benefit: (none specified)
SSN: 561-14-6479
Issued: California
Over five years ago one of our L-AGS speakers, Robert C. Berlo, produced several useful books that we have in our Pleasanton Library collection. One I use frequently is Population history of California places: an edited compilation and analysis of all known population figures for California cities, towns, counties, urban areas, and the state total, including the Spanish and Mexican era, 710 pages, January 2000. Call number: REF (Library Use Only), 317.94 BERLO. This book is on 8.5 in. x 14 inch paper with removable bolts so it can be copied page by page.
Using Berlo Tables 3 (page 78) and 13 (page 622) for Alameda County, I constructed the following information for a date close to 1991 when Luther passed on.
1990 Berlo data for Alameda County

Oakland

372,242

29.2%

Fremont

173,339

13.6%

Hayward

111,343

8.7%

Berkeley

102,724

8.0%

Alameda

73,979

5.8%

San Leandro

68,223

5.3%

Livermore

56,741

4.4%

Union City

53,762

4.2%

Pleasanton

50,570

4.0%

Castro Valley

48,619

3.8%

Subtotal

1,111,542

87.1%

Remainder

165,160

12.9%

County Total

1,276,702
When we were checking our Valley, we were actually checking only about 12 percent of Alameda County population! Since we found no obituary for Luther in our Valley, where might be the next newspaper to search? With 29%, 13%, 9% and 8%, Oakland, Fremont, Hayward and Berkeley newspapers might be places to start.
Where can we find a list of Alameda County newspapers? Dan Mosier has a convenient list at www.katpher.com/alamecty/Lists/Alamnews.html with both dates and some archive locations (apparently last updated January 2003). Here we find the Oakland Tribune; Fremont, The Argus; Hayward, none found for 1991; and Berkeley, none found for 1991.
Finally - Not Everyone Leaves an Obituary!
Recently one of our friends passed away. At her request, no local newspapers (Tri-Valley Herald, Valley Times or The Independent) had an obituary for her. We can't say if her hometown newspaper carried one, but our initial look with Google on the Internet didn't find one. Obituary Daily Times (ODT) at http://www.rootsweb.com/~obituary/ doesn't carry her name. Note, we tried this for Luther Lusk (found none), but it basically covers only 1995 to the present!
---
The L-AGS Genealogy Mixer, February 8, 2005

The crowd in front of the L-AGS table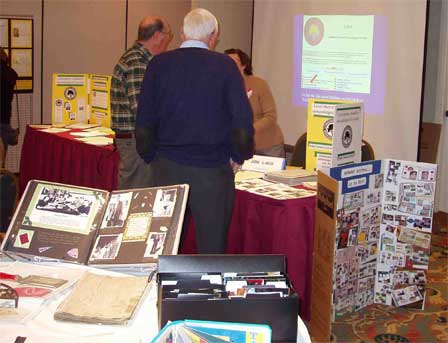 Frank Geasa, George Anderson and Jean Lerche at the L-AGS table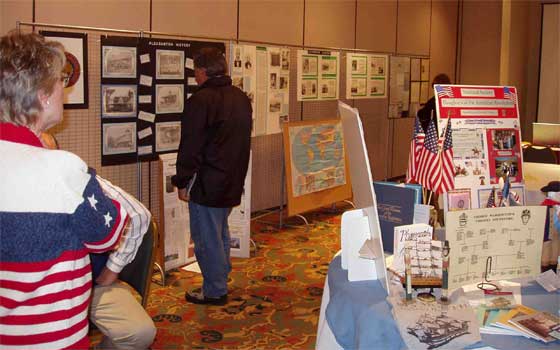 L-AGS wall of posters, Livermore DAR table in fore­ground
---
| | |
| --- | --- |
| | Livermore Roots Tracer Staff |
| | |
| --- | --- |
| Reporters | Marie Ross, Lois Barber, Eileen Redman |
| Advisor & Editor Emeritus | Mildred Kirkwood |
| Compositor | George Anderson |
| Web Editor | Vicki Renz |
| Printing/Distribution | Eileen Redman |
| Staff Contributors | |
| G.R.O.W | Frank Geasa |
| Family Tree Maker Group | Dick Finn |
| Study Group | Kay Speaks |
| Tri-Valley TMG User Group | Kay Speaks |
| Local History | Gary Drummond |
| | |
---
[ Roots Tracer Menu ] [ L-AGS Home Page ]
Last modified 19 May 2005 vlr