[ L-AGS Home Page ] [ About L-AGS ] [ The Roots Tracer ] [ Local Records ] [ Internet Links ]
[ Students ] [ Past Events ] [ eBulletins ] [ Publications ] [ Libraries/FHCs ] [ Members' Publications ]
---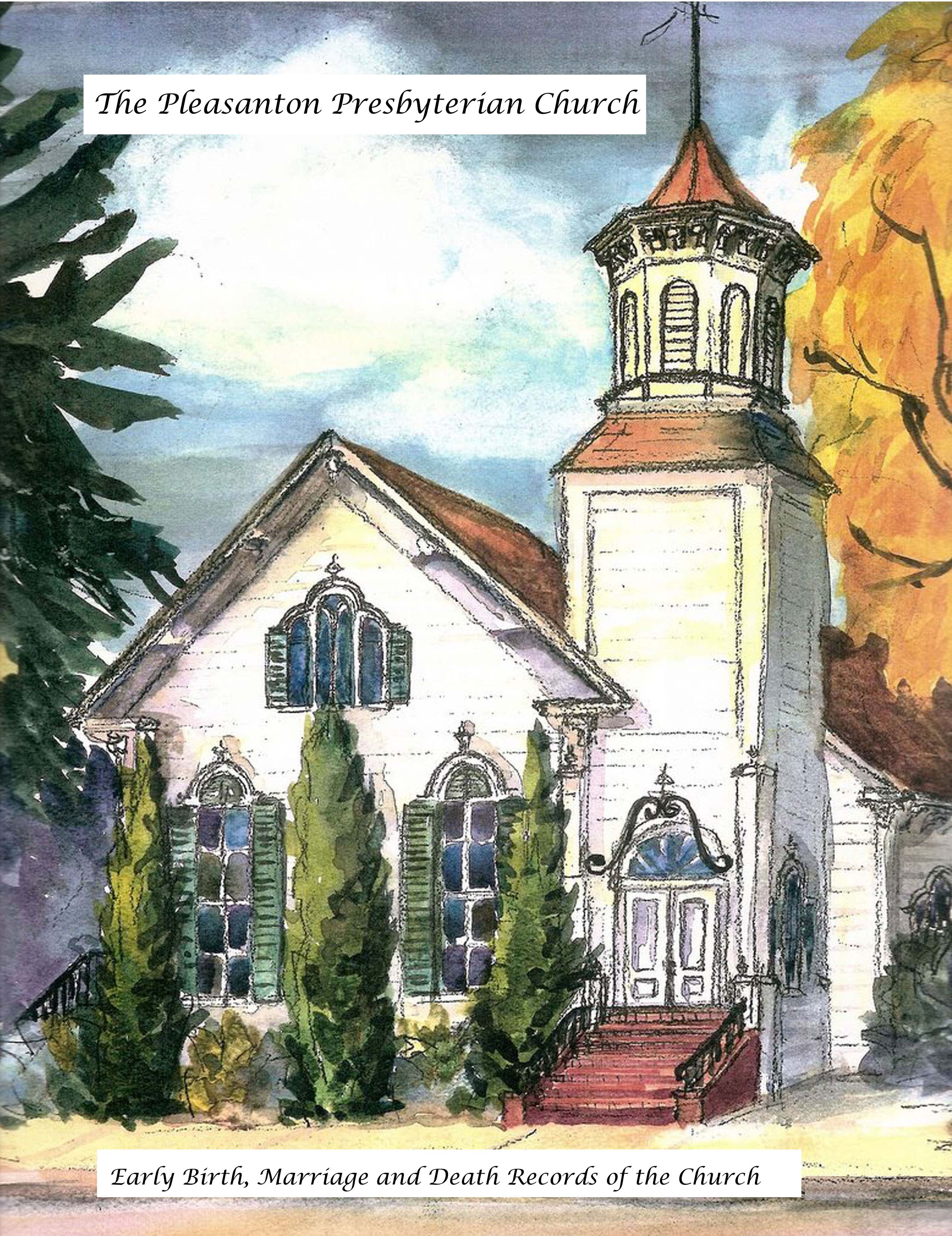 Cover of printed version of this book. Painting by Charlotte Severin.
---
Early Records of the Presbyterian Church
Pleasanton, California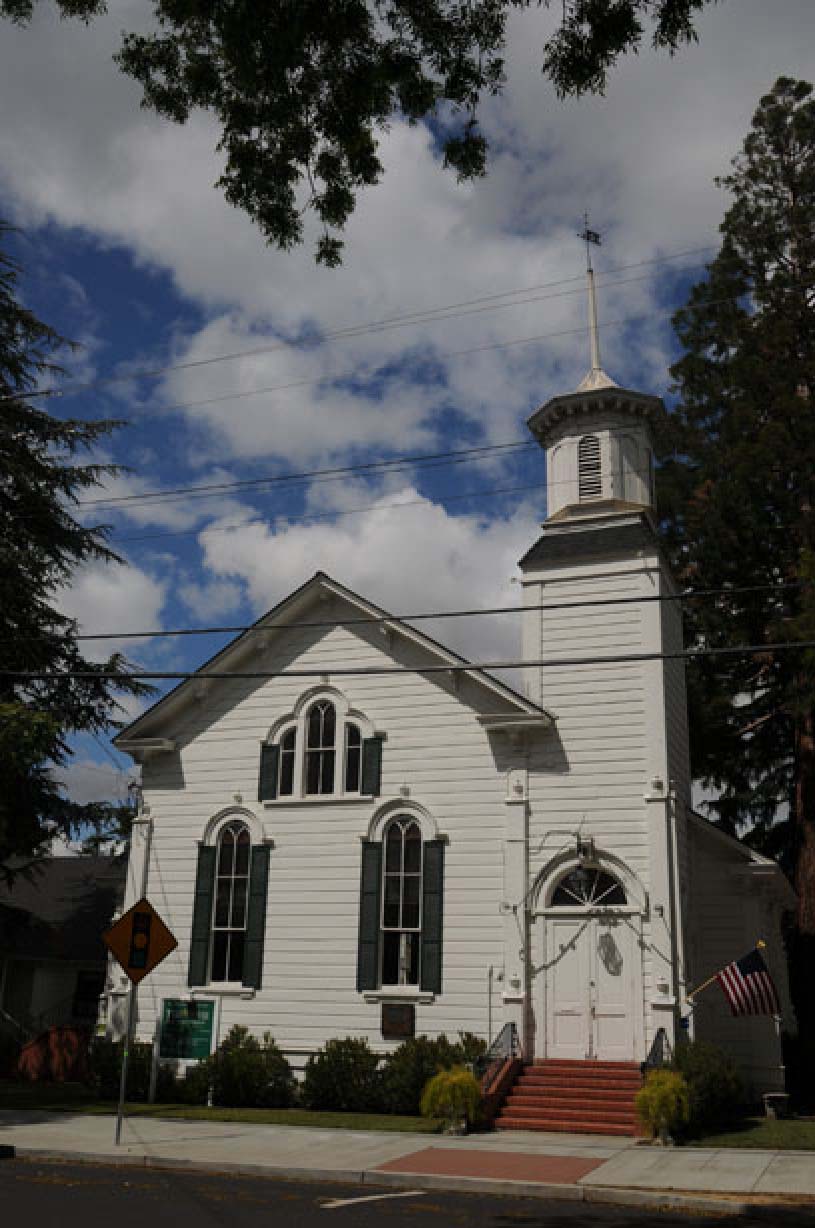 Photo by Richard Finn
A public service project of
The Livermore-Amador Genealogical Society
P.O. Box 901
Livermore, CA 94551-0901
E-mail: President@L-AGS.org
http://www.L-AGS.org
Transcriber and Project Leader: Richard Finn
Transcribers: Emily Bailey and Marilyn Cutting
Publisher: George Anderson
Cover Art: Charlotte Severin
Centerpointe Presbyterian Church
3410 Cornerstone Court
Pleasanton, CA 94566
Senior Pastor: Mike Barris
http://www.centerpointechurch.info
---
Contents
Pastors of Pleasanton Presbyterian Church 1876-1942
Pleasanton Presbyterian Church History
Register of Baptisms - Pleasanton Presbyterian Church
Photograph: The congregation in 1929
Register of Marriages - Pleasanton Presbyterian Church
Register of Deaths - Pleasanton Presbyterian Church
Photograph: The church in 1920
---
Introduction
Records from 1891 through 1942 of the Presbyterian Church of Pleasanton, including records of baptisms, marriages, and burials, have been transcribed and indexed. Additional information has been added by transcribers including such details as parents, spouse, birth year, etc. The additional information comes from a wide variety of sources including census records, family and local histories, and obituaries. Specific references can be supplied on request.
We would like to thank Barbara Hempill for making contact with the church staff that allowed us access to the original church records. We would also like to thank the Rev. Mike Barris, Dixie Johnson, and Debra Barris of Centerpointe for their help in this project.
Note that the information was read from the original handwritten records. No attempt to correct spelling errors was made. Therefore, the names and dates may not match exactly between the Pleasanton Presbyterian records and other local records.
The records were transcribed by Emily Bailey, Marilyn Cutting and Richard Finn as a part of an ongoing project of the Livermore-Amador Genealogical Society (L-AGS) to transcribe and publish early historical records of Eastern Alameda County. George Anderson is our publisher and also created the index.
We thank Charlotte Severin for permission to use her painting on the cover of this book. The building, at Second and Neal Streets, is the original structure used by the First Presbyterian Church of Pleasanton. In 1979, the congregation moved to a much larger building on Mirador Avenue. The original painting is a watercolor , about 16x20 inches, created in 1995. The original as well as prints are available from Ms. Severin.
If you have information on pioneer families you would like to share as part of the Tri-Valley Heritage Families Project, please contact Richard at (925) 447-9652 or rwfinn@wecare.net.
Go to http://www.L-AGS.org to see other local history databases published online and in print by L-AGS.
Richard Finn, Project Leader
July 1, 2011
---
Pastors of Pleasanton Presbyterian Church 1876-1942
| | |
| --- | --- |
| William Wallace Brier | 1876-1880 |
| Charles W. Anthony | 1876-1880 |
| P. J. Phelps | 1881-1885 |
| H. H. Benson | 1885-1886 |
| J. M. Smith | 1886-1891 |
| William Baesler | 1891-1893 |
| D. T. McClelland | 1893-1894 |
| Richmond Logan | 1895-1900 |
| R. W. Reynolds | 1900-1901 |
| George Bigelow | 1901-1903 |
| Eugene Avery | 1903-1907 |
| H. W. Harbaugh | 1907-1912 |
| W. H. Darden | 1912-1918 |
| Loren Hanna | 1918-1919 |
| John Stutchell | 1919-1925 |
| Robert Cross | 1925-1936 |
| Addison Moore | 1936-1939 |
| Carroll Pederson | 1940-1947 |
---
Pleasanton Presbyterian Church History
Reproduced with permission from History
God used an unlikely man to start what is now known as Centerpointe Presbyterian Church. William Wallace Brier was driven by wanderlust and often stepped on other people's toes. Nevertheless, his Scottish descent and godly heritage were driving forces behind his enormous energy and sanctified stubbornness that God used to plant churches in Ohio, California and Nevada.
About the time that Pleasanton was beginning to develop upon the completion of the Central Pacific Railroad, Brier was serving as the Alameda School Superintendent. The new town must have caught Brier's eye in 1872 as he passed through on his walk home after an official trip to Livermore. By 1876, God's timing was right. In a meeting hall on Main Street on August 11th, a small group of Pleasanton citizens met as a result of Brier's invitation to start a church. That group of people met in Centennial Hall on Main Street and decided to start a Protestant Church. Just a few days later, 35 of the 47 people in attendance voted to organize a Presbyterian Church, the first church in the community of Pleasanton.
By October, the First Presbyterian Church of Pleasanton was founded. Two lots on the corner of Neal and Second were purchased from J. A. Neal for the site of the new church. Before construction of the church, the congregation met at times in a grammar school located on First and Abbie Streets. The original church structure was "a general type patterned after the School House." Completely remodeled in 1923, the clapboard building resembled a quaint New England village church. Today this structure houses the Amador Valley Baptist Church. In 1979, the congregation moved en masse to its second site on Mirador Avenue. At the Mirador site, the congregation grew in mission and ministry and rich traditions and cherished memories were formed.
Some 25 years later, the church (renamed Pleasanton Presbyterian Church) found itself planning to move again. This time the vision took the congregation back down the hill to a newly purchased site on the corner of Busch Road and Valley Avenue. The collective hope and vision of the congregation was to once more be a church clearly visible and accessible to the community in order to reach out and touch the lives of the people throughout the Tri-Valley area.
The true heritage of a church is not in its buildings but in the faithful work of its members. At the very service on October 15, 1876, Rev. W.W. Brier used John 1:1 as the text: In the beginning was the Word and the Word was with God, and the Word was God. On that day 15 people committed to serve God and devote themselves to His Word through charter membership in the newly formed church. Pleasanton Presbyterian owes its heritage to God calling a small group of people who trusted that He wanted not only to grow them spiritually but also to invest in the spiritual well-being of the community. Those men and women boldly took the very first step of our corporate spiritual journey.
Through the years, there have been exciting periods when God has manifested His Presence through fruitful evangelism, life-changing social action and service, awakenings within the church that have strengthened body life, and miracles of spiritual, emotional and physical healing. As the church continues its march into the 21st century, men, women and children continue to walk by faith, trusting God for His gracious intervention within them and through them. During the 125th anniversary of the church, Pastor Mike Barris reflected,
"...this church's life and ministry have been under-girded through consistent, heartfelt prayer by a wonderful group of saints. These faithful ones have prayed quietly but effectively for God's guidance, blessing and spiritual power. This ministry of intercession has been extraordinary and its impact is beyond measure. One of my prayers for our congregations is that we would continue growing in being a people who pray with Kingdom intensity and vision."
---
Time Line
1876 - Rev. William Wallace Brier founds the church with 19 original members. Rev. C. W. Anthony joins church as senior pastor. Serves through 1880.
1877 - Infant Leah Miller, daughter of Jane and Peter Miller, is first child baptized in the schoolhouse.
1885 - Ladies' Aid Society purchases the Gilson property and donates it to the church for the manse.
1894 - Church forms Missionary Society to support mission work overseas.
1922 - Church remodels with $8,000 in raised funds.
1929 - Loyalty Crusade youth movement lasts for several Sundays in the fall. Sunday school enrollment reaches 244, driving the need for an education building.
1930 - Congregation votes $10,000 to build a combined Social Hall and Sunday School.
1933 - Mr. and Mrs. Arthur Hansen organize a church school in Dublin, which grows to 29 children.
1936 - Schooner Club, predecessor of Mariners, begins.
1946 - Church purchases organ with $1,000 donation from William Kuhl and $2,500 in subscriptions.
1948 - Church rebuilds manse at a cost of $10,000. Various women's organizations unite to become the Women's Guild.
1949 - Church redecorates Social Hall. Men's Club is formed.
1950 - Church school opens at Komandorski Village to serve needs of soldiers at Camp Parks.
1957 - Mariners begin at the church.
1958 - Rev. Robert S. Vogt joins as senior pastor. Serves through 1987
1963 - Church starts campaign Sharing to Build, Building to Share to raise funds for a new site, with its first buildings to be used for Christian Education. Campaign receives pledges of $89,000 in its first month. Church makes offer on the Hansen-Weil property on Mirador, after the congregation authorizes the land purchased at a special meeting on July 21.
1965 - New Christian Education buildings on the Mirador site open for school.
1966 - Local churches found Pleasanton Gardens Inc. to provide housing for the elderly in Pleasanton.
1967 - HUD funds $475,100 to build Pleasanton Gardens. Pleasanton Gardens opens. Church receives loan to expand Pleasanton Gardens. Pleasanton Greens Inc. opens to provide housing for indigent families.
1976 - Church breaks ground on construction of a sanctuary on the Mirador site.
1977 - Congregation moves into the new sanctuary on April 1.
1984 - Church adds three offices to the administrative building at Mirador.
1988 - Rev. Carl Bosteels joins as senior pastor. Serves through 1995.
1995 - Rev. James Hewitt joins as interim senior pastor. Serves through 1997.
1997 - Rev. Betty Jean Young joins as interim senior pastor. Serves one year. Rev. Mike Barris joins as senior pastor.
2001 - Church starts Walking by Faith campaign to raise funds for a new site and facility. Gifts exceed $1,600,000. Church celebrates 125th anniversary. Church makes an offer on 6-acre site at the corner of Valley and Busch.
2004 - Church purchases 6-acre tract at Valley and Busch from Ponderosa Homes. Initiates Building by Faith campaign to raise funds to finalize purchase of property and build the first phase of the church campus, which was planned to include the sanctuary. Members and friends pledged $1,088 215 and the total received was $1,119,571.
2005 - Church receives final City Council approval for the master plan for the site.
2006 - St. Mary and St. John Egyptian Orthodox (Coptic) Church enters into purchase agreement to buy the Mirador site. The agreement allows the Presbyterian Church to continue to occupy the site until November of 2008. The contract closes before the church takes its proposal for the Sprung structure to the planning commission.
Pleasanton Planning Commission unanimously approves 10-year use permit for a unique worship center built as a stressed-membrane (Sprung Corporation) structure.
2007 - Construction commences on Phase 1 of the Ironwood campus that includes full Sunday school complex that also will house the preschool, two meeting rooms and a coffee shop and the Sprung structure Worship Center. The third phase of the capital campaign, Growing in Faith, is launched and pledges received total $980,000. In November, members bid farewell to the Mirador site and worship for the next five months in a corporate meeting center.
2008 - In May, the congregation moves onto its new site with its new name, Centerpointe Presbyterian Church. Centerpointe Christian Preschool, a full-service pre-school, opens as well.
---
Minutes Of Session
with comments in brackets from transcribers
Organization of the First Presbyterian Church of Pleasanton in Alameda County, State of California
On October 15, 1876 the Committee appointed by the Presbytery of San Jose to organize a Church at Pleasanton met at that place - Rev'ds W. W. [William Wallace] Brier and C. W. [Charles W.] Anthony being present and Rev. S. [Silas] S. Harmon absent and in pursuance of the following request presented to Presbytery at Santa Clara Oct 4, 1876, proceeded to organize a Church of Christ.
Copy of Request
Pleasanton Alameda Co.
Sept. 27, 1876
To the Presbytery of San Jose
We the undersigned desiring the ordinance of God's House request that you organize us into a church to be known by the name of the First Presbyterian Church of Pleasanton and to be under the care of the Presbytery of San Jose. Signed

George Cannon
Susan Cannon
Carrie G. Gilson [wife of Jewett Gilson]
James M. Burbank
Mrs. [Elizabeth] J. H. Burbank
John MacRae
Annie MacRae
John Johnston
Elizabeth Johnston
Peter Miller
Jane Miller
Phoebe A. Gilson
Mrs. Mary E. Gilson
L. [Leonard] T. Hayden
Lizzie [Elizabeth Severance] Hayden
Florence Hayden
H. [Hiram] S. Safford
Mrs. [Elizabeth] H. S. Safford
Mrs. N. E. Boydston
[There seems to have been some misunderstanding what the above letter meant. The following was sent to the Presbytery of San Jose listing the charter members. Note that John and Annie MacRae, John Johnston, and Peter Miller were not on the second list. Mrs. Anna M. Stover was added.]
Several of the above named persons not realizing the full extent of the act at the time of signing were not prepared to join the church.
At 11 o'clock a congregation was gathered in the School House at Pleasanton and after a sermon by Rev. W. W. [William Wallace] Brier from Jno. 1:1. In the beginning was the Word and the Word was God. The applicants present were examined as to their church connection or Christian experience by the above named Committee.
At 2 1/2 o'clock P.M. the following persons were organized into a church by usual form and by solemn act of prayer.
George Cannon received by letter from Pres. Ch. Livermore
Susan Cannon received by letter from Presby. Ch. Livermore
Mrs. Mary E. Gilson by letter from Presy Ch Livermore
Elizabeth Johnston by letter from Presy Ch Livermore
L. [Leonard] T. Hayden by letter from Pres Ch Milpitas
Lizzie Hayden [Elizabeth Severance Hayden] by letter from Pres Ch Milpitas
Florence Hayden by letter from Pres Ch Milpitas
Mrs. [Elizabeth] J. H. Burbank from Ch of England by Examination
Carrie G. Gilson from 1st Pres Ch of Almond N.Y.
Jane Miller By Examination
Mrs. N. E. Boydston By Examination
Phebe A. Gilson by profession of faith and examination
H. [Hiram] S. Safford
Mrs. [Elizabeth] H. S. Safford
Mrs. Anna M. [Winger] Stover by letter from the Reform Ch Mercersburg, Pa
The Sacrament of Baptism was administered to Philbe A. Gilson and Elder L. [Leonard] T. Hayden [was] unanimously elect[ed] Ruling Elder of newly organized church. After which the Sacrament of comfort and strengthening of those assembled.
C. Anthony
Mod and Clerk of Session
---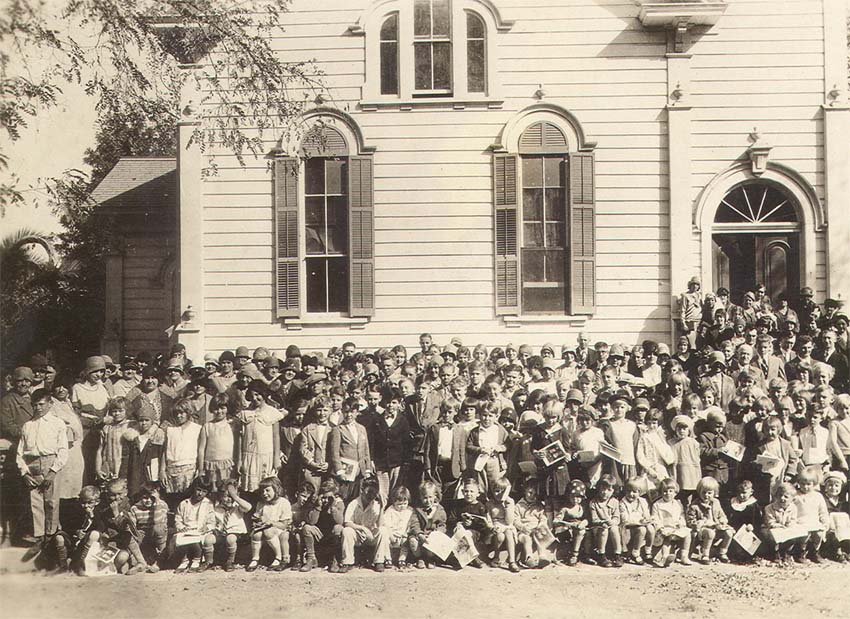 The congregation of the Pleasanton Presbyterian Church in December 1929. Out of 244 members, 230 were present. Courtesy of The Museum on Main, Pleasanton.
---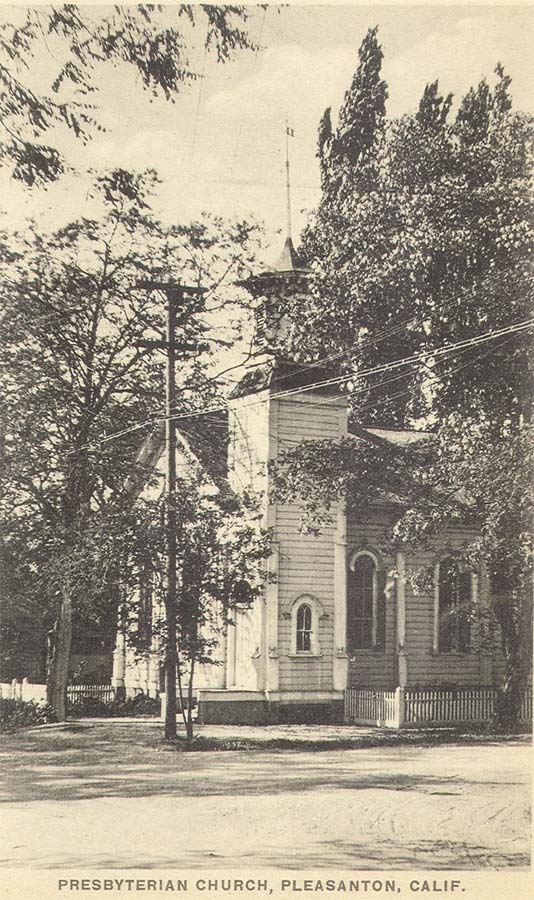 The church in 1920. Postcard published by F. E. Hartzell. Courtesy of The Museum on Main.
---
Other L-AGS Books on Lulu

To browse the catalog of books by The Livermore-Amador Genealogical Society that are published-on-demand by Lulu.com, go to:
http://www.lulu.com/
and enter "L-AGS" in the search box. Our books can be ordered online and delivered to your home with details handled by Lulu. Every book also has an optional file download available from Lulu at a modest price. Finally in addition, every book, with a few exceptions, is available in full text for free on our Web site at:
http://www.L-AGS.org/databases.html
Several databases not published in print are also accessible at this address.
---
[ L-AGS Home Page ] [ About L-AGS ] [ The Roots Tracer ] [ Local Records ] [ Internet Links ]
[ Students ] [ Past Events ] [ eBulletins ] [ Publications ] [ Libraries/FHCs ] [ Members' Publications ]
23 Aug 2011, 06:06:36