---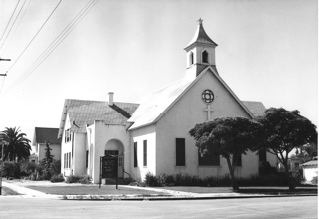 Asbury Methodist Church - Established 1867
This church building at Third and I Streets, Livermore, California,
was dedicated in January 1884 and used until sold in 1961.
A public service project of
The Livermore-Amador Genealogical Society
P.O. Box 901
Livermore, California 94551-0901
Transcribed by Gail Bryan, Kathy Chase and Jean Lerche
November 20, 2007
Web Editing and Publishing by George Anderson
The Asbury United Methodist Church
4043 East Avenue
Livermore, California 94550
Web page - Asbury Methodist Church
---
Church Organization History
Asbury Methodist Church was organized in Livermore, California, in 1867 by T. H. Tooker. Mr. Tooker and six members gathered in a home to worship. In 1868 Independent Hall (also referred to as Exchange Hall) became the meeting place. In 1870 William Mendenhall donated a large lot (on the corner of Third and I Streets) for a church building and parsonage. The following years were difficult ones. It wasn't until 1883 under the leadership of Rev. Eli A. Winning that plans were finally made to build a church. Rev. F. F. Jewell dedicated the church on January 13, 1884. The total cost of the church was about $3,100. In September of 1885 it was voted to build a parsonage. And in 1890 all indebtedness was cleared. The church and property have been described as very pretty during 1911-12. There was a lovely green lawn edged with a white picket fence.
The church grew slowly and in the 1920s one-half block of land was sold in order to build some Sunday school rooms and a social hall. The original church and the added rooms served for 77 years. The average attendance in the 1930s was 15 to 18 people and the Livermore population was 3,000.
In 1961 the church sold the property at Third and I Streets and moved to its present location on East Avenue. The original church was taken down.
The Transcribed Records
The purpose of this project was to transcribe the early Asbury marriage, baptism, and funeral records to be used for genealogical purposes. They were found in a Ledger Book that is the property of Asbury United Methodist Church. We thank Asbury's Church Council and its pastor, Rev. Charles D. Johnstone, for making the records available for transcription and publication.
While the Baptism and Marriage Records cover forty-seven years (1883-1930), the Funeral Records recorded in the Ledger Book were for a short span of time (1918-1920) under the pastorate of Rev. Peter Ruf. It is not known if more records exist. No more were found at the church for the time frame of the project, which was from the start of the church to 1930.
The information presented in this database was transcribed as closely as possible from the original handwritten entries without changes to spelling. Names and dates may not match exactly with other local or census records. Entries enclosed in square brackets [ ] are the transcribers' remarks.
---
Contents
Baptism Records - April 1883 to April 1930
Marriage Records - March 1884 to August 1930
Funeral Records - October 1918 to July 1920
Pastors - 1867 to 1934
Combined Index
[ L-AGS Home Page ] [ About L-AGS ] [ The Roots Tracer ] [ Local Records ] [ Internet Links ]
[ Students ] [ Past Events ] [ eBulletins ] [ Publications ] [ Libraries/FHCs ] [ Members' Publications ]
20 Nov 2007, 08:32:34