Note: The Web version of this issue of The Roots Tracer contains all of 
the words and all of the non-decorative graphics of the original paper 
version, but does not preserve the original typographical formatting.

---

ISSN0736-802X

THE LIVERMORE ROOTS TRACER

VOLUME XIV		AUTUMN 1995		NUMBER 4

Livermore-Amador Genealogical Society
PO Box 901, Livermore, California 94551

---

TABLE OF CONTENTS
VOLUME XIV	NUMBER 4

Calendar of Selected Events	572
Library News	573
Queries	574
Computer News	575
L-AGS Computer Interest Group Resources	577
L-AGS Study Group	579
Obituary	579
Holiday Letters for Special Occasions	580
L-AGS Members who are Members of Other Genealogical Organizations	581
Meet the Members	584

---

LIFE MEMBERS OF L-AGS:

Beverly Schell Ales
Anastasia Alexander
Carrie Alexander
G. E. "Robbie" Robinson	
Harriett & George Anderson
Judy Person
Harry and Kip West

BENEFACTORS:

Addie Martz	
Doug Mumma

WELCOME TO NEW MEMBERS:

Joan Miles
Vicki Renz
Patricia Futch
Linda Trudeau
Ken and Denise Varallo

---

LIVERMORE-AMADOR GENEALOGICAL SOCIETY
P. 0. Box 901, Livermore, CA 94551

President 	Fran SAMANS 	510-447-0761
1st VP and Membership Chair 	Erma McCUE 	510-443-1512
2nd VP and Program Chair 	Katherine BRIDGMAN 	510-846-4898
Recording Secretary 	Harold NORRIS 	510-447-6067
Corresponding Secretary 	David CURRY 	510-447-7589
Business Manager 	Chuck ROCKHOLD 	510-455-5911
Roots Tracer Editors 	Jolene & David ABRAHAMS 	510-447-9386
Library Chair 	Judy PERSON 	510-846-6972
Publicity Chair 	Felicia ZIOMEK 	510-847-9260
Livermore Cultural Arts Council Rep 	Don JOHNSON 	510-447-4746
Computer Interest Chair 	Doug MUMMA 	510-447-5164
Historian 	David LINDSEY 	510-447-6351
Publications Chair 	Leo VONGOTTFRIED 	510-447-3597

The Livermore-Amador Genealogical Society is exempt from Federal Income 
Tax under Section 501(c)(3) (literary and educational) of the Internal 
Revenue Code and California Taxation Code 237020.

---

The Roots Tracer is a quarterly publication with articles of interest to 
the genealogist. Members are encouraged to submit their "Profiles" as 
well as articles of general interest. Queries are free to members, $ 1. 
00 to nonmembers.

The deadline for each quarterly is the 15th of June, September, December, 
and March. Send to:

Roots Tracer, P. 0. Box 901
Livermore, CA 94S51

Any book presented to the Society will be reviewed in the quarterly along 
with the purchase price and address of the publisher.

Our Library is located in the Pleasanton Public Library building, 400 Old 
Bernal Ave., Pleasanton, CA.

Meetings are held on the 2nd Tuesday, monthly, 7:30 PM, at Congregation 
Beth Emek, 1866 College Ave., Livermore, CA.

Membership in LAGS is open to any individual, library, or society. Our 
fiscal year is January 1 through December 31. Membership includes a 
subscription to the quarterly Roots Tracer.

Publications                            Members  Non-Members   Postage

Surname Index (1994)                    $9.00    $14.00        $2.00
Livermore Cemeteries (1988)            $12.00    $17.00        $2.00
Pleasanton, Dublin Cemeteries (1990)    $8.00    $12.00        $2.00
Roots Tracer Index                      $3.00    $4.50         $1.50

The above publications are available on diskette (IBM or Mac) for the 
same price as the paper copies. When purchased with a book, they are half 
price.

Members Handbook	$4.00	$6.00	$2.00
	(Prices subject to change)

Send check or money order to:

Livermore-Amador Genealogical Society
	P. 0. Box 901, Livermore, CA 94551
DUES
Individual        $12.00
Family            $18.00
Life             $125.00
Benefactor        $30.00
Patron            $60.00
Life (Couples)   $185.00

---

CALENDAR OF SELECTED GENEALOGICAL EVENTS
(From various sources)

12 OCT 1995	CONTRA COSTA Co. Gen. Soc.: Mr. Bernard Freedmand speaking on 
Ellis Island. Concord Chapel of the LDS Church, 3700 Concord Blvd., 
Concord 7:30 pm.

14 OCT 1995	CENTRAL CA GEN. CONFERENCE: John Philip Colleta speaking on 
They Came in Ships, Italian Research, Immigration and Passenger Lists, 
and various topics of immigration. Four classes/hour on many topics 
including Bulletin Boards, Computer Databases, Scots-Irish Research, 
Canadian Sources, Portuguese Research and Common Surnames. Monterey 
Beach Hotel, off Hwy. 1 at Canyon Del Rey Exit. Contact Stan or Ellen 
Koskinen at 408-758-5488.

14 OCT 1995	EAST BAY Gen. Soc.: "Digging for Your Roots" Seminar at LDS 
Church, 3700 Concord Blvd., Concord. Keynote speaker is Margery Bell. 
Registration at 8:30 AM.

21 OCT 1995	LIVERMORE-AMADOR GENEALOGICAL SOCIETY: A one-day 
seminar/workshop in conjunction with the Livermore & Pleasanton Mormon 
Churches. Bette Kot is the keynote speaker. The program includes 
several ethnic presentations, computer program demonstrations, 19 classes 
and much more. At the LDS on Valley Avenue and Paseo Santa Cruz, 
Pleasanton. Registration at 8:00 AM. Call Jolene or David Abrahams, 
510-447-9386, Dean at 510-447-3497 or Garth at 510-828-9308 for details.

28 OCT 1995	SANTA CLARA FHC Seminar "Finding Your Family History". 
Keynote speaker Jimmy Parker, Director Family History Library. Program 
includes 60 different classes. Family History Library, 875 Quince Ave., 
Santa Clara. Call 408-241-1449.

2 NOV 1995	MONTEREY Co. Gen. Soc.: "How Lineage Societies Can Help with 
Genealogical Research". A panel discussion at the Family History Center, 
corner of Noche Buena & Plumas, Seaside, 6:00 PM. Call 408-484-9695 for 
information.

11 NOV 1995	SAN MATEO Gen. Soc.: Class, "Census Records" 12:30 - 2:30 PM, 
SMCGS Library. $7.00 per class or $21.00 for 4-class series.

25 NOV 1995	SONOMA Co. Gen Soc.: "Major Resources for Southern Genealogy" 
by John Palmer. Lark Hall, Santa Rosa Jr. College, Room 2009 Santa Rosa, 
1:00 PM.

---

LIBRARY NEWS
Judy Person

The following books have recently been added to the L-AGS book 
collection, which is housed in the Pleasanton Public Library.

---

U.S. Military Records, by James Neagles. Ancestry Publications, 1994. 
Purchased by LAGS.

	Types of records, National Archives resources, other centers in 
Washington, D.C. and the states, and a list of other published sources. 
Also includes a list with one or two paragraphs about each of the 48 
American conflicts.

---

Settlers of the Beekman Patent; Dutchess County, New York. Volume 1: 
Historical Records, by Frank J. Doherty. Published by author. 1990. 
Gift from author.

	An historical and genealogical study of all the 18th Century 
settlers in the patent area by the author, who became interested when he 
bought an old property in La Grange, New York, where Pearl Buck had lived 
briefly. A really thorough work; includes the present towns of Beekman, 
Dover, Pawling, Union Vale, and about half of La Grange.

---

Virginia Genealogist, Volume 23, 1979. John Frederick Dorman, Editor. 
Heritage Books, 1994. Gift from publisher. 

	This is a "Heritage Classic", reprinting contents from the magazine 
for 1979. It includes tax records, marriage bonds, family records, 
church records, and military and court records for various localities, 
mostly from the late 18th and early 19th centuries. A taste of this 
should send a searcher to PERSI, the Periodical Source Index, at the 
Mocho LDS library, to search for more articles on their areas of 
interest.

---

Ohio Genealogical Research, by George Schweitzer. Published by author, 
1994. Bought by LAGS.
	Another very complete and highly recommended work by the genial 
scholar, Dr. Schweitzer. Discusses Ohio history and types of records, 
then goes through, county by county, to show how to go on. Definitely 
the one to use for Ohio research.

---

Recollections: Early Life in the San Ramon Valley as related by 
Professor James Dale Smith, Headmaster, Livermore College. Edited by G. 
B. Drummond. Great Book Printing, 1995. Gift from George and Harriet 
Anderson. 

	Memoirs, history and biography from Martinez to Nortonville, Walnut 
Creek, Danville and Livermore. A very interesting, pleasing book for 
local history and color.

---

"Of good and perfect remembrance:" Bolton Wills and Inventories, 1571 to 
1600; Surnames N to Z. Published by Bolton and District Family History 
Society, Bolton, England, 1994. Gift from Jolene and David Abrahams.

	 The second volume for this area, just north of Manchester in the 
Midlands, with about fifty records of wills.

---

Genealogical Register of the First Settlers of New England, by John 
Farmer. Genealogical Publishing Company, 1989, reprint of 1829 work. 
Gift from Fran Samans. 

	An alphabetical list of "known and distinguished" individuals from 
the 1600s to the early 1800s: magistrates, ministers, court officials, 
Harvard graduates, freemen, and those who came to the Massachusetts 
colony before 1643.

---

International Vital Records Handbook, third edition, by Thomas Kemp. 
Genealogical Publishing Company, 1994. Gift from Judy Person.

	One of the most useful books for genealogists, this has all the 
forms and information for sending for all vital records from all places. 
MANY more countries are included, from 355 to 417 in the new edition, and 
the U.S. states are all updated. This new edition includes forms for 
passport and Social Security Number Record searches. A most excellent 
resource, now better than ever.

---

Finding Italian Roots, by John Philip Colletta, Ph.D. Genealogical 
Publishing Company, 1993. Bought by LAGS.

	Both practical teaching and lists of resources, with plenty of 
hints on just how to do it. A glossary is included. For example, find 
out 3 big facts: Exact name at birth, date of birth, and commune, or 
town the ancestor came from. Not lengthy, no wasted words and a very 
pleasant writing style.

---

Davidson County, Tennessee, Deed Books "T" and "W", 1829-1835, by Mary 
Sue Smith. Heritage Books, 1994. 

	This is a wonderful piece of work, being a listing of the deeds of 
two of the books for this county in middle Tennessee. Its chief benefit 
is an every-name index, so that all the people mentioned in these 
personal property deeds and their relationships are identified. This is 
also a look into the property owned by the families of this period.

---

Welsh Family History: a guide to research. Edited by John Rowland and 
others. Genealogical Publishing Company, 1994. Bought by LAGS.

	A very thorough treatment, covering record repositories, census, 
the role of the non-Church-of-England churches in Wales and their 
records, Welsh surnaming, the International Genealogical Index for Wales, 
and much, much more.

---

QUERIES

Barbara GRIMSHAW, P. O. Box 517, Benton City, WA 99320

Born and raised in Livermore; would like to correspond with L-AGS 
members.
Livermore ancestors: SIERCK, McPHERSON

---

Dr. & Mrs. George C. DUNNE, 10901 Key West Ave., Northridge, CA 91326

Researching MORRILL and SEEBAND families who lived in Livermore last part 
of 1890's and early 1900's. Dr. Dunne writes: "My father's natural 
parents, Harry MORRILL and Tilly SEEBAND Morrill, evidently died in 
separate events between 1914 and 1919, at which time my father, George 
Morrill Dunne and his older sister, Alta (both now deceased) were 
orphaned. Both children were later adopted, but stayed in touch with 
some of their original family, including his favorite aunt, Mabel 
Morrell, a spinster lady, and Aunt Emma (Seeband) Budworth, who lived in 
his grandparents' former home at 3rd and McCloud in Livermore."

NOTE: The Dunne's also provided some background history and family group 
records, which are currently in the possession of your editors. The 
Dunne's would appreciate any help we can give them.

---

Computer News
Doug Mumma

Computer Interest Group August Meeting

Thirty-two L-AGS members attended the Computer Interest Group's first 
meeting after a nine month hiatus. During the meeting, the various 
computer resources available to all members were explained and discussed. 
This information is printed in another section of this newsletter. Garth 
Ludwig has volunteered to conduct a PAF class that will consist of about 
nine, two hour modules beginning with how to load PAF for new users and 
will continue through more advanced sorting and reporting topics. These 
classes will start in November and be held on the 2nd and 4th Mondays of each 
month at 7 p.m at the Mormon Church on Mocho Street in Livermore. While 
the class will predominately discuss the DOS version of PAF, program 
differences for Mac users will be addressed. A class syllabus will be 
distributed at the next meeting. A drawing for was held at the conclusion 
of the meeting for a DOS software package, "Family Origins," which was 
generously donated by David Abrahams. Isabel Nolte was the lucky winner.

The genealogy resources that our members have found useful on the 
Internet was the topic of the September meeting.

---

Future Meetings

October 26

CD-ROMs.	L-AGS member, Robbie Robinson, is a distributor for the 
Broderbund/Banner Blue/Automated Research CD-ROMs. He will give us a 
glimpse into the future of CD-ROMs. A CD-ROM door prize will be given 
out. At the end of the meeting, Robbie will do specific searches for 
people.

November 23

Thanksgiving	No meeting. Have a joyous time with your family. Give 
your grandchildren (or children or significant other) a hug!

December 28

General sharing and help session. How do I install the new CD-ROM or 
other item that I just acquired for Christmas? Come and share your latest 
program or problems you have.

1996

The topics have not been established. We need your input and ideas and/or 
willingness to lead a session. Please give Doug Mumma a call if you can 
help or have some input!

---

Computer Usage Survey Results

We conducted a computer usage telephone survey of our membership in 
August. One hundred people were contacted out of a total membership of 
one hundred and ten. Of the ten people not contacted, nine live outside 
the local area.

The results are quite interesting. We found that 87% of our members use 
computers, 30% use Macs and 56% use DOS based computers. The overwhelming 
choice for a genealogy program is PAF with a 52% usage. Family Tree Maker 
came in second with 23% usage. The remaining members used a variety of 
other programs or no genealogy program at all. The favored word 
processing program was Microsoft's Word with 48% usage. Word Perfect is 
used by 28% of the members with nine other programs sharing the balance.

The results also show that the membership is becoming more sophisticated 
in their computer hardware with 39 (45%) have CD-ROM players. Modems are 
installed in 55 (62%) of the computers, but many of them are not being 
used.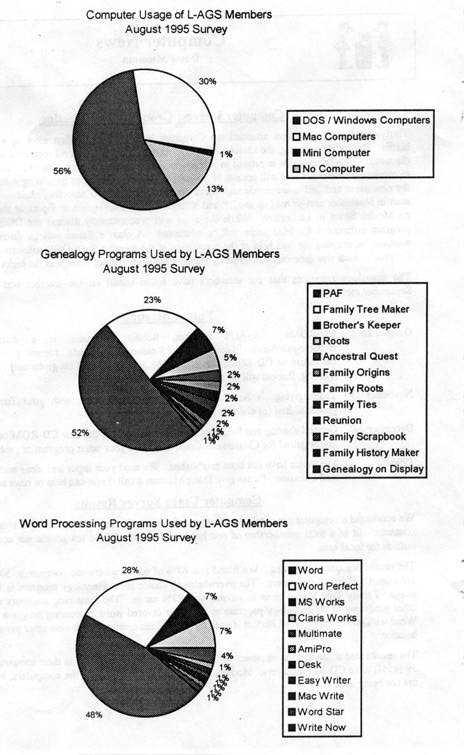 ---

L-AGS Computer Interest Group Resources
Doug Mumma

The following resources and recommendations are available to all L-AGS 
members for the asking. If you have something you can contribute to the 
list, please contact me at 447-5164.

1)	Computer Interest Group Meetings - The computer interest group 
holds meetings on the 4th Thursday at 7:00 p.m. at the Mormon Church, 950 
Mocho Street, Livermore. Each month has an announced theme or topic for 
discussion. Time is reserved at the end of each meeting for hands-on 
problem solving and individual interaction with other members.

2)	Computer Classes - Computer classes are available through the local 
schools and by the Computer Interest Group. The Livermore and Pleasanton 
Adult Education have excellent programs to teach "beginning computer" and 
various application programs, such as word processing and spreadsheets. 
The club's teaching efforts are focused on software programs and issues 
related to genealogy. Periodically, a class is offered on using the 
genealogy program, PAF. Other classes will offered where there is 
interest.

3)	Mentoring Program - To assist our members use their computers and 
software more efficiently and provide help when they are having problems, 
we have established a Mentor program. The dictionary defines a Mentor as 
a "wise and trusted counselor." The Mentors are member volunteers who are 
willing to assist you in an area of their specialty when you call them on 
the telephone. In many cases, they are willing to have you come to their 
house or go to your house to provide "hands-on" support if needed. We 
hope you find the program useful and profitable. A special list of 
mentors and their areas of specialty is available from the Computer 
Interest Group chairman.

4)	L-AGS Computer Disks - Special L-AGS computer diskettes are 
available which contain a variety of information including genealogy 
programs, utilities, tutorials, as well as computer versions of L-AGS 
published information. Publications are available in diskette form for 
the same price as the hardcopy version. If you want both the hardcopy and 
diskette, the price is only 50% more than the cost of the hardcopy 
version. The Pleasanton Library Catalog files are formatted as Word files 
as well as plain ASCII text files. Diskettes are available in both DOS 
and Mac formats.

DOS-LAGS #1	This diskette is for IBM compatible computers and contains 
over 1.4 megabytes of information. There are two tutorials about 
genealogy, two tutorials about using PAF and recommended guidelines for 
documentation, a nice tutorial about using the INTERNET, a demonstration 
program about using CompuServe's genealogy forum, a relationship chart, a 
listing of all genealogy bulletin boards in the U.S., a listing of all 
U.S. genealogical societies, and finally, a listing/review of 144 
PAF/GEDCOM shareware programs that are available. The diskette size is 
3 1/2", high density. Note, some programs require a color monitor. - IBM 
only [Donation of $5.00 members, $7.50 non-members.]

MacLAGS #1	This diskette is for Macintosh computers and contains four 
programs that George Anderson wrote as useful utilities for himself. 
Ahnentafel Q makes an ahnentafel chart from a PAF file with the option of 
including all, some, or no notes. Narrative v2 puts all of the data in a 
PAF file into compact narrative form. Chart Q produces a compact 
descendants chart of fine typographic quality on a PostScript printer. 
Soundex Q instantly converts any name to Soundex code. These programs 
come with a 10 page manual. - Mac only [Donation of $5.00 members, $7.50 
non-members.]

Catalog of the L-AGS Genealogical Holdings at the Pleasanton Library - 
This diskette contains the "Catalog of the Pleasanton Genealogy Library," 
and the "Database for the Pleasanton Genealogy Library," covering 605 
books with complete bibliographic information. The diskette also contains 
a "Catalog of the Vertical File of the Gayle Pipes Memorial Library of 
the Livermore-Amador Genealogical Society." - Mac & DOS versions 
[Donation of $3.50 members, $5.00 non-members.]

Surname Index - This diskette contains an index to the 5861 surname being 
researched by members of the Livermore-Amador Genealogical Society (June 
1995). - Mac & DOS versions. [Donation of $9.00 members, $14.00 non-
members.]

Roots Tracer Index - A ten year (1978 to 1988) cumulative every-name 
index and index to major subjects published in the Roots Tracer. - Mac & 
DOS versions. [Donation of $3.00 members, $4.50 non-members.]

Livermore Cemeteries - A listing of over 5800 names of persons buried in 
the four Livermore, cemeteries are contained on this diskette. The four 
cemeteries are Oak Knoll (A pioneer cemetery now abandoned), Roselawn, 
Memorial Gardens, and St. Michael's. - Mac & DOS versions. [Donation of 
$12.00 members, $17.00 non-members.]

Pleasanton/Dublin Cemeteries - This diskette contains 4668 names of 
persons buried in the cemeteries of Pleasanton and Dublin, California. 
The cemeteries are Pleasanton Memorial Gardens, St. Augustine's Catholic 
Cemetery, and the Dublin Cemetery. Published in 1990. - Mac & DOS 
versions. [Donation of $8.00 members, $12.00 non-members.)

These diskettes are available from the Publications Chairperson at the 
regular L-AGS meetings and at the Computer Interest Group meetings.

5)	CD-ROM Sharing - Many of our members now have CD-ROMs and various 
genealogy related CDs. In the interest of sharing resources, a list is 
maintained by the Computer Interest Group Chairperson of the CDs that 
people are willing to share or do data look-ups. If you acquire a CD that 
you would be willing to share, please call Doug Mumma and register your 
CD. Note: most of the genealogy CDs will only work on DOS machines.

6)	Sample Genealogy Program Reports - If you are considering 
purchasing a new genealogy program, but would like to first see sample 
reports that it creates, then this notebook is for you. It contains 
representative reports from eleven different genealogy programs, 
including Family Roots 4, Roots IV, Family Tree Maker for DOS and 
Windows, Family Origins for DOS and Windows, PAF, Brother's Keeper for 
Windows (new) and DOS, Ancestral Quest, and Family Scrapbook. This 
notebook is available from Doug Mumma.

7)	Shareware Programs for PAF. Over 144 shareware programs are 
available for use with PAF and for general genealogy use. This collection 
was assembled by Mike St. Clair of Salt Lake City and he updates it from 
time to time. This collection is contained on 10 3 1/2" IBM, high density 
disks. A notebook contains descriptions of the programs. Most of the 
programs were written by people who have been frustrated by the lack 
specific utilities within PAF and have written them themselves. You can 
try any of the programs yourself to see if it has value to you. If you 
like it and continue to use it, you are expected to pay the author a 
nominal fee. The shareware concept is "try it, if you like it, buy it!" 
DOS versions only. The notebook is available from Doug Mumma.

8)	DOS 286 Computer. A DOS, 286 IBM clone computer with color monitor 
is available for checkout to use if your computer is having problems or 
you would like to evaluate some particular genealogy software. The 
computer has the following DOS software titles available for use and 
evaluation: PAF 2.3 1, Family Roots 4.313, Family Origins 3.2, Family 
Tree Maker 3.0, Brother's Keeper 5.2, and Family Scrapbook 2.02. Sorry, 
this machine will not support windows programs so none are included. 
Contact Doug Mumma, 447-5164. If you are interested in windows programs, 
please contact me for a demonstration at my house. The windows programs I 
have available are Family Tree Maker, Brother's Keeper (beta version), 
Family Origins, and Ancestral Quest which uses the PAF data files 
directly.

9)	Silicon Valley PAF Users Group. This is an outstanding organization 
that is worth joining, even if you don't use PAF! Their monthly 
newsletter is full of interesting articles that cover a wide range of 
information. You also get a copy of their documentation guide that has 
now been adopted by the Mormon Church as its official documentation 
guideline. The membership cost is only $15.00 per year. The membership 
entitles you to attend their monthly meetings which include teaching 
classes, full access to their outstanding Genealogy BBS (bulletin board 
system), a copy of their documentation guide, and their world-class 
newsletter. It is a great bargain and I recommend it to everyone. Their 
address is: SV-PAF-UG; 4417 Pitch Pine Court; San Jose, CA 95136. Sample 
copies of the newsletter are available at the CIG meetings.

---

L-AGS STUDY GROUP
Jolene Abrahams and Jeanne Tanghe

Due to a rapid growth in attendance at L-AGS regular meetings, many 
members expressed the idea of meeting in a smaller group so that their 
burning questions could be answered. People stated they would get 
"pumped up" at the regular meetings because of the speakers' subjects. 
However, once they were home the enthusiasm went away. Thus, the L-AGS 
Study Group was formed. The purpose of the Study Group is not to compete 
with the regular L-AGS meetings and programs but to enhance the benefits 
of belonging to L-AGS.

The Study Group meets the 3rd Thursday of each month, 7:30 PM, at the 
Mormon Church, 950 Mocho Street, Livermore, California. We meet from 
September through June. A group leader has a subject for each meeting, 
with a research assignment (homework). Not everyone has to do this part. 
Handouts are available for each class. Besides a group leader teaching, 
there is always an active question and answer session which is very 
helpful. We will assist members with specific problem-solving needs. By 
combining the talents of our many members we hope to help each other with 
our family research problems.

	The following is a tentative agenda for the next ten months:
 
*	Beginning Genealogy (pedigree charts, family group sheets, 
organizing, historical societies, genealogical societies, libraries and 
archives).
*	Social Security Records and using the Social Security Death Index, 
how to use the Soundex Coding System and how to access census records.
*	Documentation and Vital Statistics (writing letters for these 
documents).
*	Court Sources, Probate, Land Records, Insurance Records.
*	Church Records, Cemeteries/Mortuaries, Newspapers and the value of 
City Directories.
*	Ship/Passenger lists, Immigration/Naturalization records, 
Passports.
*	Syllabus Value, Writing Queries, using Maps and Gazetteers.
*	WPA Records, Draft Registration Records, Military Records.
*	First European Contact, Letters to foreign countries.
*	Family History Centers and their value to you.

The subject for each month will be announced via the L-AGS telephone 
tree. If there are any changes you will be notified through this source.

In addition we have several docents, through the guidance of Judy Person, 
at the Pleasanton Library to teach you how to use our holdings. Plus we 
have the experience of George Anderson to help you maneuver through the 
computer system of various libraries available at the Pleasanton Library.

---

OBITUARY

Ruth Leila Beach Dierks passed away on 1 August 1995. Born on 7 July 
1918, in Salem, Oregon, Ruth was a charter member of L-AGS and an active 
"Sweetheart" in the Pearl Harbor Survivors Association.

She is survived by a daughter, Linda L. McGarry of Livermore; a son, John 
E. Dierks of Colorado and four grandchildren.

Ruth was preceded in death by her husband, John F. Dierks, on 19 June 
1995.

Graveside funeral services were held at Belcrest Memorial Park, Salem, 
Oregon.

---

HOLIDAY LETTERS FOR SPECIAL OCCASIONS

The following article, Family History Found in Christmas Letters, was 
written by Shirley Siems Terry, a member of L-AGS now living in Houma, 
LA, and published in the NGS/CIG DIGEST, Nov. - Dec. 1994.

Advice columnists may hate receiving photocopied letters from their 
friends at Christmas, but these same letters are a wonderful resource for 
the family historian. Whether they are our own or those received from 
relatives, photocopied letters provide details and reminders of family 
stories we might otherwise forget when writing our family histories or 
working on other family history projects.

Even if you have been writing and saving annual letters, are they all in 
one place and easily accessible? I once had a big box for all Christmas 
cards and letters received, including my own. When the box got full, I 
discarded the cards and kept only the letters and the custom photograph 
cards, organizing them into a notebook by family. It was at this point 
that I realized these letters were really little family histories.

I recently took thirty years of my own letters to my local photocopier 
and had three copies made of each. In addition to the annual holiday 
letters, I included copies of the letters I had sent after each of our 
many moves, most vacations, and other special events. I also added an 
introduction covering the five years of our marriage prior to the 
letters, a family time-line including our 25 moves and addresses, the 
names of schools and grades attended by our three children, plus their 
birth, graduation and marriage dates, a few other pertinent dates, and an 
attractive cover on card stock. I then had the three copies bound for my 
children, who are all away from home now and starting to write their own 
annual letters. I chose spiral binding because the books are I 1/2' 
thick and I wanted them to lie flat for readability. I later wished I 
had one more copy when I found my husband's step-mother trying to read it 
cover to cover to catch up on all the years she missed in our lives.

Our oldest daughter and her husband were especially appreciative of this 
book. I expect the younger ones to enjoy it more as they get older. 
Fifteen years separate our two daughters with the younger still in 
college. Her book will remain on my shelf until she is married and has a 
family of her own.

---

Jolene Abrahams has responded to Shirley's article regarding what became 
of her family's holiday letters.

I remember 31 years ago when, as a new bride, I would be expected as my 
mother did, to write a letter for each holiday card. After three or four 
years of keeping up with tradition I read a newspaper column stating 
"Forget those holiday letters, no one cares."

However, by the time we adopted our son it was time to write "that" 
letter again. We wanted to tell family and friends about our bundle of 
joy. So we continued with the letters, for 26 years.

In August 1994 our son, Joel, received a telephone call from a woman. 
She asked him a few questions. But before she could identify herself he 
asked her if she was Janet, his birth mother. "Yes I am," was her reply.

A few months later David and I traveled to meet her. I carried a 
briefcase full of photos and documents concerning the important events in 
Joel's life. How were we going to tell her so many other little details 
of his life? No problem, we had holiday letters, 26 years worth!

Because we didn't listen to the columnist we were able to provide a 
lifetime to a woman who chose a better life for her child, but always had 
him in a corner of her heart.

Along the same line, when I searched for my birth family seven years ago, 
I went with photos, documents and holiday letters. I was 47 years old at 
the time - so my birth mother received the letters representing the 25 
years that David and I had been married.

Both women, having been birth mothers, said they have read the letters 
over and over. Through these letters neither I nor my son are strangers 
to the women who gave us life.

---

L-AGS MEMBERS WHO ARE MEMBERS OF OTHER
GENEALOGICAL ORGANIZATIONS

ABRAHAMS, David	British Isles Family Hist. Soc. of LA, CA
	CA State Gen. Alliance
	Jewish Gen. Soc. of Great Britain
	Silicon Valley PAF UG
	SF Bay Area Jewish Gen. Soc.
ABRAHAMS, Jolene (Knoles)	CA State Gen. Alliance
	Contra Costa Co. Gen. Soc., CA
	Gibson County Hist. Soc., IN
	Knowles/Knoles Family Assn.
	San Ramon Valley Gen. Soc., CA
ALLEN, Bernice	Dubuque Gen. Soc., IA
ANDERSON, George & Harriet	Blue Earth Co., MN, Hist. Soc.
	National Gen. Soc.
	News of Norway (free)
	North of Ireland Family Hist. Soc.
	Silicon Valley PAF UG
	Vesterheim (Norwegian) Gen. Center
BARR, Vernon & Bonnie	South Umpqua Gen. Soc., Canyonville, OR
CODEY, Lori	KY Gen. Soc.
	Monroe Co. Chapter of the OH Gen. Soc.
	Northeastern NE Gen. Soc.
	Northern CA Chapter of the OH Gen. Soc.
	Stark Co. Chapter of the OH Gen. Soc.
 	Tuscarawas Co. Chapter of the OH Gen. Soc.
CURRY, Dave & Linda Markham	Blair Co. Gen. Soc., Altoona, PA
	CA Gen. Soc.
	Clackamus Co. Gen. Soc., Oregon City, OR
	Mazomanie Hist. Soc., Mazomanie, WI
	Milwaukee Co. Gen. Soc., Milwaukee, WI
	New England Hist. & Gen. Soc.
	Santa Clara Co. Gen. Soc., Santa Clara, CA
	Shasta Hist. Soc., Redding, CA
	WI State Gen. Soc., Milwaukee, WI
	Willamette Valley Gen. Soc., Salem, OR
DOUCETTE, Mildred Kirkwood	Hewitt-Matheney-Cooper Family, OR
	Marion County Hist. Soc., OR
	Modoc County Hist. Soc., CA
	Owen County Hist. & Gen. Soc., IN
	Sons & Daughters of Oregon Pioneers, OR
	Willamette Valley Gen. Soc., OR
	Yamhill Country Hist. Soc., OR
FOXWORTHY, Donald F.	CA Gen. Soc.
	Devon Family Hist. Soc.
	East Bay Gen. Soc., CA
	Fountain County Hist. Soc.
	Irish Ancestral Research Ass'n.
	KY Gen. Soc.
FOXWORTHY, Donald F.	Mason County Gen. Soc.
	Prince William Co. Gen. Soc., VA
	VA Gen. Soc.
FREITAS, Mildred E.	Contra Costa Co. Gen. Soc., CA
	Contra Costa Co. Hist. Soc., CA
	East Bay Gen. Soc., CA
	Portuguese American Gen. & Hist. Soc.
	Portuguese Ancestry
	San Ramon Valley Gen. Soc., CA
	San Ramon Valley Hist. Soc., CA
	Solano Co. Gen. Soc., CA
GRAHAM, Nancy L.	Gen. Soc. of Linn Co., IA
HAGA Enoch John	Friendship Soc., Norwegian Emigration Center, Stavanger
	Norwegian-American Hist. Assoc.
	Rogaland Historie- og AEttsogelag, Stavanger
	Sons of Norway
	Vesterheim Gen. Center & Naeseth Library, WI (Museum IA)
	Vestlandslaget, MN
HELMS, Dorothy	American Gen. Lending Library
	Genealogical Center Library
	Howard Co. Gen. Soc., IN
	Kaufman Co. Gen. Soc., TX
	Marshal Co. Hist. Soc., TN
	Miami Co. Gen. Soc., KS
	Nevada Co. Gen. Soc., CA
	Newton Co. Hist. Soc., MO
	Placer Co. Gen. Soc., CA
	Rowan Co. Gen. Soc., NC
	Van Zandt Co. Gen. Soc., TX
HILL, Barbara	Fellowship of Brethren Genealogists
	Lancaster Mennonite Hist. Soc.
HOLBROOK, Elmond D	Hogg Family Gen. Soc.
	NASH Notations
	The Castor Assoc. of America
HOMAN, Anne	Contra Costa Co. Hist. Soc., CA
LANDSITTEL, Jode	Western NY Gen. Soc.
MCCUE, Erma	Burlington Co. Hist. Soc., NJ
	Cornerstone Gen. Soc., Greene County, PA
	Cumberland Co. Hist. Soc., NJ
	Fayette Co. Gen. Soc., PA
	Krans-Buckland Family Assoc.
	Monongahela River Buffs Assoc. Washington Co., PA
	National Gen. Soc.
	San Ramon Valley Gen. Soc., CA
	The Gen. Soc. of Southwestern PA
	Welsh-American Gen. Assoc.
	Western PA Gen. Soc.
MICHELS, Charles	Cuyahoga West Chapter of OH Gen. Soc.
MUMMA, Doug	Beyond Germanna
	Clan Gunn Soc. of North America
	Fellowship of Brethren Genealogists
MUMMA, Doug	Lancaster Mennonite Soc.
	Memorial Foundation of Germanna Colonies
	Montgomery Co. Chapter OGS
	OH Gen. Soc. (OGS)
	Silicon Valley PAF UG
PERSON, Judy	Cook(e) Family Assn.
	Cooper Family Assn.
	De Kalb Co. Gen. Soc., IL
	McLean Co. Gen. Soc, IL
	New Hampshire Gen. Soc.
	Rowley Family Assn.
	Sharp Family Assn.
RENSLOW, Larry	Nodaway County Gen. Soc., MO
	Northwest Missouri Gen. Soc., MO
	San Luis Obispo County Gen. Soc., CA
	Weld County Gen.l Soc., IL
	Whiteside County Gen. Soc., IL
RENZ, Vicki	Mayflower Society
SAMANS, Frances Fowles	DAR (Lineal Line Only)
	National Gen. Soc.
	NY Biog. & Gen. Soc.
	PA Hist. Soc.
SCHAEFER, Regina	Central NY Gen. Soc.
	Polish Gen. Soc. of America
	Polish Gen. Soc. of Poland
SCOFIELD, James	Ancestry Soc. of Stamford, CT
	Leeds & Grenville branch Ontario Gen. Soc., Canada
	Silicon Valley PAF UG
STOWERS, Irving F.	New England Hist. & Gen. Soc.
STROUD, John	CA Gen. Soc.
TANGHE, Jeanne V.	American Portugese Gen. & Hist. Soc. 
	Ancestry
	Federation of E. European Family Hist. Soc.
	National Gen. Soc.
	Polish Gen. Soc. of America
	Polish Gen. Soc. of MI
	Polish Gen. Soc. of WI
	Polish Heritage Awareness Soc., Stevens Point, WI
	Portage Co. WI Hist. Soc.
	Rudolph Co. Gen. Soc., IL
	Sacramento German Gen. Soc., CA
	Stevens Point Gen. Soc., WI
	Stevens Point, WI-Gulcz, Poland Sister City Comm.
	Towarzystwo Genealogiczno Herldyczne-Posnan, Poland
	WI Old Cemetery Soc.
WALDEN, John C.	Brake Family Assoc.
	Hacker's Creek Pioneer Descendants
	Rose Family Assoc.
WEST, Harry & Kip	New England Hist. & Gen. Soc.
	Peabody & Essex Museum, Salem, MA

---
Return to the L-AGS Home Page
Last modified: 16jan03.0805