Note: The Web version of this issue of The Roots Tracer contains all of 
the words and all of the non-decorative graphics of the original paper 
version, but does not preserve the original typographical formatting.

---

ISSN0736-802X

THE LIVERMORE ROOTS TRACER

VOLUME XIII				SUMMER 1994				NUMBER 4

Livermore-Amador Genealogical Society
PO Box 901, Livermore, California 94551

---

LIVERMORE-AMADOR GENEALOGICAL SOCIETY
P. O. Box 901, Livermore, CA 94551

TABLE OF CONTENTS

VOLUME XIII	NUMBER 4

Editors' Notes	491
Calendar of Events	492
Witter Ranch Historic Farm	492
The Bookshelf	493
Computer News	495
Umbilical Lines and The mtDNA Project	497
Conference News and Notes	499
Catholic Records	499
Notes From All Over	500
Addendum to "Cemeteries of Pleasanton and Dublin, Calif. (1990)"	503
"Livermore Cemeteries", Livermore, California 94550 Additions and Errata 504
Resource Notes	505

---

LIVERMORE-AMADOR GENEALOGICAL SOCIETY

Co-Presidents	 Beverly Schell ALES	 510-846-5297
	 Harriet ANDERSON	 510-846-4265
1st VP and Membership Chair	 George ANDERSON	 510-846-4265
2nd VP and Program Chair	 Isabel NOLTE	 510-447-4062	
Recording Secretary	 John WALDEN	 510-443-2057
Corresponding Secretary	 Beverly MORRIS	 510-846-4952
Business Manager	 Chuck ROCKHOLD	 510-455-5911
Roots Tracer Editors	 Jolene & David ABRAHAMS	 510-447-9386
Library Chair	 Judy PERSON	 510-846-6972
Publicity Chair	 Felicia ZIOMEK	 510-847-9260
Livermore Cultural Arts Council Rep	 Don JOHNSON	 510-447-4746
Computer Interest Chair	 Doug MUMMA	 510-447-5164
Historian	 David LINDSEY	 510-447-6351
Publications Chair	 George ANDERSON	 510-846-4265

The Livermore-Amador Genealogical Society is exempt from Federal Income 
Tax under Section 501(c)(3) (literary and educational)
of the Internal Revenue Code and California Taxation Code 237020.

---

The Roots Tracer is a quarterly publication with articles of interest to 
the genealogist. Members are encouraged to submit their "Profiles" as 
well as articles of general interest. Queries are free to members, $1.00 
to non-members.

The deadline for each quarterly is the 15th of June, September, December, 
and March. Send to:
	Roots Tracer, P. O. Box 901
	Livermore, CA 94551

Any book presented to the Society will be reviewed in the quarterly along 
with the purchase price and address of the publisher.

Our Library is located in the Pleasanton Public Library building, 400 Old 
Bernal Ave., Pleasanton, CA.

Meetings are held on the 2nd Tuesday , monthly, 7:30 PM, at Congregation 
Beth Emek, 1866 College Ave., Livermore, CA.

Membership in LAGS is open to any individual, library, or society. Our 
fiscal year is January 1 through December 31. Membership includes a 
subscription to the quarterly Roots Tracer.

Publications (Prices are postage paid):

Surname Index (1988)	$7.00
Livermore Cemeteries (1988)	$19.00
Pleasanton, Dublin Cemeteries (1990)	$14.00
The Bookshelf (1992)	$3.00
Roots Tracer Index	$6.00
Livermore Cemetery Index	$6.00
(Prices subject to change)

Send check or money order to:
	Livermore-Amador Genealogical Society
	P. O. Box 901, Livermore, CA 94551

DUES 
Individual...................$12.00
Family.......................$18.00
Benefactor...................$30.00
Patron.......................$60.00
Life.........................$125.00

---

EDITORS' NOTES

Now that summer is upon us, and perhaps our winter projects have slowed 
or ended, it might be a good time for all of us to catch up on our 
reading. We would urge members to go through your "catch-all" box to see 
if anything you have received or written recently should be published in 
The Roots Tracer. We are always on the lookout for interesting 
genealogical articles, letters and tidbits. We would also like to 
publish first-person reports of exciting finds, reunions and research 
trips, etc. Please feel free to drop us a note or give us a call.

The L-AGS Executive Board would like to thank the volunteers who form the 
Telephone Tree to contact members about upcoming events. They are: 
Lawrence and Bernice Allen, Katherine Bridgman, Albert and Carol Bueche, 
Alleda and De Lynn Clark, David Lindsey and Norm and Marge Stout.

George Anderson, our Membership Chairman, would like to be notified of 
members' changes of address and phone numbers. George would also like to 
know if you want him to change your membership badge (to reflect a 
nickname, for example).

Regarding the article we wrote in the Spring 1994 edition of The Roots 
Tracer titled "Civil War Grave Location Project", Florence Lawson wrote 
to the address shown. Her letter came back with a note saying that the 
"Forwarding Order had Expired". We would like to pass this information 
on to all Civil War researchers. Does anyone have a valid address for 
this Project?

---

LIFE MEMBERS OF L-AGS:

Beverly Schell Ales
Anastasia Alexander
Carrie Alexander
Terry Crane
G. E. "Robbie" Robinson

BENEFACTORS:

Judy and Don Person
David and Linda Curry

WELCOME TO NEW MEMBERS:

Gerald & Joanne Reynolds
Tom McCormick
Nancy L. Graham
Jerree
Jim Bahls
Louise W. Throop
Sandra Wrinkle

---

CALENDAR OF GENEALOGICAL EVENTS
(From various sources)

5 July 94	NATIONAL ARCHIVES. Beginning genealogy.
	$12 in advance or $15 at the door.
	Contact Rose Mary Kennedy (415) 876-9009
12 Aug 94	NATIONAL ARCHIVES. Passenger Arrivals and
	Naturalization. $12 in advance or $15 at the door.
	Contact Rose Mary Kennedy (415) 8676-9009.
17 Sep 94	CONTRA COSTA GEN SOC presents an all day seminar
	featuring James W. Warren and Paula Stuart
	Warren at the Concord Bible Church, 4975 Concord
	Blvd, Concord, Ca. Contact CCGS, P.O. Box 910
	Concord, Ca. 94520. Contact Stan Roberti, P.O. Box
	910 Concord, Ca. 94522-0910
21 Oct 94	NATIONAL ARCHIVES. 9:00-12:30. Chinese Immigration
	Records. $12 in advance or $15 at the door.
	Contact Rose Mary Kennedy (415) 876-9009

---

		WITTER RANCH HISTORIC FARM

		The award-winning Witter Ranch Historic Farm is a private, 
non-profit historical and educational foundation. It is preserved by the 
NATIONAL REGISTER of HISTORIC PLACES. It has hosted over 17,000 guests in 
its first 2 1/2 years of community availability, over half being 
elementary school children.

		The farmstead consists of a barn, tankhouse, dwelling and 
foreman's cottage; all built in the year 1920 on land reclaimed from a 
swamp in 1915. The farmyard contains many farm creatures and it provides 
habitat for over 50 wildlife species. The beautifully constructed 
California ranch house, built in 1934, rests half way between the 
founding of Sacramento and today.

		It is a learning facility, where children enjoy hands-on 
experience of farm life of the era. It provides an attractive place for 
visitors and adult events; with its stable museum and collection of 
antique tools and implements.

		The farm is located at 3480 Witter Way, Sacramento, 95834; 
ten minutes from downtown Sacramento near Arco Arena. For current hours, 
etc. please call Ed or Elen Witter (916) 925-4116.

---

The Bookshelf

We have no new L-AGS library books to review this time, but there is a 
lot to report on related matters.

********************

The Alameda County Library online catalog system (called Al E. Cat, for 
ALameda Electronic CATalog!) finally went into use in May. We care 
because our L-AGS books are intershelved with the county books at the 
Pleasanton branch of the county library system. Our books are also 
cataloged on an equal footing with county books. Up until now, the 
catalog has been on CD-ROM disks, which were played on readers located in 
the branch libraries. These disks had to be updated periodically.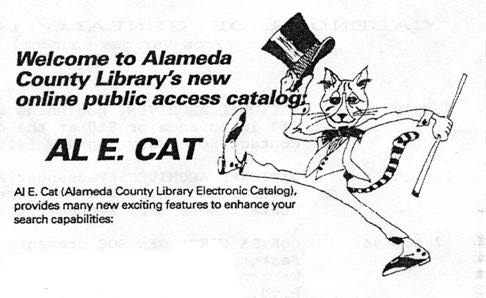 Now the catalog is accessed from terminals connected directly to a 
mainframe computer in Fremont. The terminals are located exactly where 
the CD-ROM readers used to sit in the branch libraries. As they say in 
computerese, "The changeover was transparent to the user," except the 
user now sees a big improvement in the amount and timeliness of the 
information available from the catalog.

When you go to the Pleasanton Library to use the new catalog (I can't 
bring myself to write Al E. Cat), look for a yellow handout sheet of 
instructions, and for the little easel of instructions on the counter 
next to the terminal. As before, anything you bring up on the terminal 
can be output onto a printer, if there is one adjacent to your terminal.

One major upgrade in the catalog: you can now find out at which branch a 
given book is located, and can even tell the catalog to show you only 
books located at Pleasanton, for example. The new system will also tell 
you whether the book is checked out or not, although it had better not 
tell you a L-AGS book is checked out, because all of our books are for 
library use only!

One drawback of the new system for L-AGS members is that all of our books 
are now cataloged and shelved by the beloved Dewey system, instead of by 
our own common sense method. It is a necessary evil that we will have to 
learn to live with to gain the other benefits of having our collection 
housed in a modern library, side-by-side with Pleasanton's own 
substantial genealogy holdings. To help alleviate the confusion of the 
Dewey system, we are working on a new version of our "Bookshelf" 
publication that will list all of the L-AGS and Pleasanton genealogy 
books in one handy guidebook.

New L-AGS members may not know that the Pleasanton and Dublin libraries 
are members of the county system, but the Livermore library is not. 
Livermore has been out in front in electronic technology for libraries, 
having put its catalog on line for dial-up from home years ago. To log in 
to their catalog from your modem, dial (510) 373 5519 and then type:

 "Hello[space]public.library"

Dial-up is also planned for the Alameda County system, but the date has 
not yet been announced.

********************

The Pleasanton and Livermore public libraries were among 182 (out of 800) 
California public libraries recently winning grants to install Internet 
terminals for public use. Some of the money comes from the federal 
Library Services and Construction Act, administered by the state library. 
The grants include a computer, modem, printer, and communications 
software, all with on-site warranty; 100 hours of dial-up connect time, 
and 5 days of training for two persons.

The terms of the grant require that one of the persons involved in the 
project be a library staff member and the other a local community 
representative. I am the community rep for Pleasanton. My job is to find 
out who in Pleasanton could benefit from public access to Internet at the 
library, and what kind of services they would require. Doug Mumma has 
also been involved, in an unofficial way, with the Internet project at 
the Livermore Library. There is a great deal of traffic about genealogy 
on Internet, so we are obviously happy to see these facilities coming. 
The terminals will not be opened to the public until November, but 
experimental use through the community rep is possible before then.

Those of you who have a modem on your computer and subscribe to one of 
the commercial online services - such as America Online, CompuServe, or 
Delphi - can already get on the vaunted Internet information 
superhighway. I have been doing so recently through the Internet gateway 
on AOL. I have yet to strike any paydirt, but it can be a heady 
experience. I read one evening in the genealogy Usenet of a man in Norway 
offering help to genealogists, so I sent him an E-mail question, and the 
next morning had a reply, giving me the answer, and telling me he was 
happy to help! That's the way the Internet used to be, and the way it is 
supposed to be, but there are worries that it won't stay that way as it 
gets commercialized.

********************

L-AGS now has a new publication for sale. It is our "New Members' 
Handbook," free to anyone who has joined since January this year, but for 
sale to other members at $4.00. The handbook has been completely revised 
since its last incarnation some years ago. Although its purpose is to 
help our new members get started, it has a lot of information valuable 
for all of us.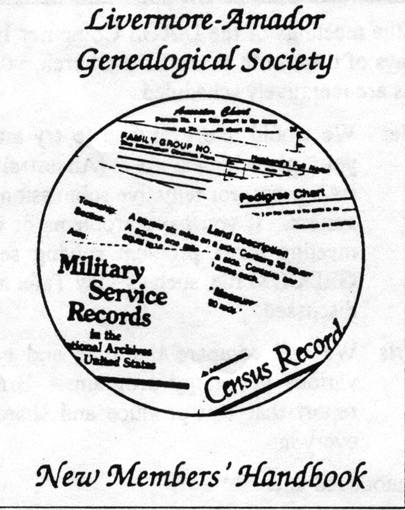 Included in the 24 pages of the New Members' Handbook are a list of 27 
Bay Area libraries, with short descriptions and hours of operation; 
detailed descriptions of the LDS Family History Centers in Livermore and 
Oakland; a detailed description of the Sutro Library; seven pages of 
helpful tips about genealogy from our experienced members and experts 
from afar; a glossary of genealogy terms in six languages; and a 
graphical illustration of terms used in land transactions. Also included 
is a membership list and ("worth the whole price!" as the pitchmen at the 
Alameda County Fair are saying this week) a copy of our by-laws.

The handbook is contained in a nifty folder, along with some reproducible 
masters for a pedigree chart, a family group sheet and a research check 
list. New members also receive a handful of National Archives booklets, 
but since these are government freebies, we can't include them with the 
for-sale packages.

Another L-AGS publication, the Surname Book, is also being updated and 
expanded, as all members know from having been pestered by yours truly, 
the editor of the book. It may be in print by the time you read this, but 
if not, it will be shortly thereafter. Some new features are being added, 
as a surprise. The price has not yet been set.

********************

"Print, Publish, Preserve" is the alliterative title of a dandy little 
book recently compiled by the San Ramon Valley Genealogical Society. It 
is a how-to book for self-publishers, not much different from others of 
its kind except for one invaluable feature for us: it tells how to do 
your publishing here in the Bay Area. That is not trivial information - I 
once tried very hard and failed to find a local company to do "Perfect" 
binding of a book in small quantities. In this book are listed two, with 
addresses, phone numbers and typical prices. Similar lists are given for 
printers, hard-cover binders and archival materials suppliers. There are 
many anecdotes about the actual experiences of SRVGS members in getting 
their work into print.

Two familiar names were on the committee to compile this book: Shirley 
Terry, our former L-AGS president and current member, and Marilyn Fullam, 
former member. The dedication of the book is amusing: "To the San Ramon 
Valley Genealogical Society for sponsoring and supporting the Publishing 
Interest Group, which compiled this book, even though the Society didn't 
believe it would ever be published."

"Print, Publish, Preserve" promises purchasers palpable payoffs. It will 
probably be in the L-AGS Library someday, but I suggest that anyone 
planning to publish a genealogy book should buy his or her own copy. (The 
fine print: 53 pages, 4x6 inches, soft cover, with index, glossary, 
bibliography and detailed colophon. $8.50 postpaid from: SRVGS, P.O. Box 
305, Diablo, CA 94528-0305.)

---

Computer News
by Doug Mumma

Tentative Agendas for Upcoming Meeting of L-AGS Computer Interest Group

Unless otherwise announced, the meetings of the L-AGS Computer Interest 
Group will be held at 7:30 p.m. on the third Thursdays of the month at 
the LDS Church, 905 Mocho Street, Livermore. The following meeting 
agendas are tentatively scheduled.

July 21	GEDCOM files - We would like everyone to try and make a 
GEDCOM file of your genealogical data (Ancestral File submission choice 
for PAF users) for tentative submission to the LDS Ancestral File system. 
If you have problems or questions, bring them to the meeting for a 
problem solving session. Other uses of your GEDCOM file, such as Tiny 
Tafel name matching, will be briefly discussed.

Aug. 18	Printed Reports - We will compare the style and type of 
reports produced by various genealogy programs. Bring a copy of your 
favorite report that you produce and share it, and your reasons, with 
everyone.

Sept. 15 - To be announced later

Oct. 20	Software Help/Tricks/Shortcuts - We will split into small 
interest groups and everyone will share the various tricks, shortcuts, or 
other information that they have learned about their favorite genealogy 
program. The tentative interest groups will be PAF-Mac, PAF IBM, 
Brother's Keeper, Family Tree Maker, and/or other programs as there is 
interest. This will be an interactive help session as always.

Nov. 17 INTERNET	Several of us will discuss our experiences with the 
INTERNET, how you can access it with or without a modem or computer of 
your own (i.e. the public library), and what it can do to help you with 
your genealogical research.

Dec. 15 No meeting scheduled

********************

L-AGS Computer programs are still available

The special L-AGS computer disk containing a collection genealogy 
programs, utilities, and information are still available for a donation 
of $ 2.00 to L-AGS. After the July meeting, we will be requesting a 
donation of $5.00 for the disks. There are different disks for both the 
IBM and Mac users. See the Spring 1994 issue of the "Tracer" for a more 
detailed listing of the programs available for the IBM machines. See me 
or George Anderson if you want to obtain a disk.

********************

PAF/GEDCOM Utility Programs Lending Library

On the L-AGS computer disk, Mike St. Claire's program, "PAF Review", 
describes 141 PAF/GEDCOM utility programs that are available for the IBM 
system. Run that program to see if there are any programs of interest to 
you. These programs can be downloaded from various BBS's or they can be 
obtained from several sources by mail. To make it more convenient for our 
members, I have obtained a copy of all the programs and will make them 
available for anyone to borrow, review, and/or copy. All of the programs 
are either "freeware" or "shareware." The programs are contained on 9, 
high density, 3 1/2" disks. If you only have 5 1/4" disk drives, I can copy 
a few programs to that disk size for you. If interested call me at 447-
5164.

********************

Macintosh Notes (by George Anderson)

Macintosh users of PAF seem to have been treated as second class citizens 
by the Kings of PAFdom, since we have had only one version of our program 
since the beginning, while DOS users have had a number of upgrades, each 
with new goodies to please the users. The situation is not as bad as this 
history makes it seem, since the Mac version of PAF, with its graphical 
interface, was far ahead of the first DOS version. It could be said that 
the DOS users are just now catching up. Never the less, Mac users are due 
for an upgrade, and it may be coming. At a recent meeting of the Silicon 
Valley PAF Users Group, we were told that Bryan McGhie, a professional 
programmer, was under contract to produce a new version of PAF for the 
Macintosh "sometime soon." Volunteers for beta-testing the new version 
were solicited and I signed up. That was two months ago and I'm still 
waiting for something to test.

********************

Past Meetings

At the May meeting, Bill Wilson and Tim O'Hare from the Pleasanton "Home 
and Business Computer Center" demonstrated three different Macintosh 
computers, including a PowerBook laptop. Several of these machines will 
run both Macintosh and IBM software at fairly good speeds. It was an 
interesting and informative meeting.

Macintosh users met separately from the non-Mac users at the June meeting 
to allow hands-on demonstrations on equipment that is too hard to tote to 
the regular meeting site. Among the demonstrations was one on Ancestral 
File exporting. We set a goal to have at least some of our Ancestral File 
submissions completed by the July meeting.

The non-Mac users had a general round table discussion of a wide variety 
of subjects. Creating a GEDCOM or Ancestral File for the next meeting was 
suggested and discussed. We learned that you can obtain census records at 
the Livermore Library (and presumably any library). They have a microfilm 
index to the census, so you can determine which ones are of interest. The 
films are then transferred by inter-library loan from Sutro Library and 
are available for your use for about three weeks. Keep this in mind if 
you find it inconvenient to go to the Oakland Family History Center or 
the Sutro Library in San Francisco.

********************

L-AGS-CIG CALENDAR

July	GEDCOM Ancestral Files
August	Printed Reports
September	To be announced
October	Software Help/Tricks/Shortcuts
November	INTERNET
December 	No Meeting

---

UMBILICAL LINES AND THE mtDNA PROJECT
Contributed by Thomas H. Roderick, Ph.D.*

The umbilical line refers to a single, very specific, matrilineal line-
that is, the mother's mother's mother's mother's, ad infinitum. In an 
ancestral table, it comprises individuals numbered 1, 3, 7, 15, 31, 63, 
255, 511, etc. It is analogous to the sequentially paternal line that 
follows a specific surname over generations. Although genealogists have 
long been obsessed with patrilineal-surname research, increasing 
attention has been given to umbilical lines since the early 1970s.

Each human inherits equal portions of nuclear DNA (deoxyribose nucleic 
acid, the "building blocks" of life) from his or her mother and father. 
But there are exceptions. One is the tiny but very important 
mitochondrial DNA (mtDNA), which lies outside the nucleus and is usually 
transmitted only through the umbilical line. Both males and females 
inherit it, but only females pass it on. This fraction, vitally important 
to life, is now the subject of considerable genetic research.

While all humans ultimately derive their mtDNA from the most recently 
known common umbilical ancestress - dubbed Eve in the popular press - slight 
changes have occurred through time. Thus, most modern individuals have 
slightly different mtDNA. Distinctions can be precisely described using 
today's technology, through analysis of the mtDNA's molecular structure. 
One aspect of interest to geneticists - one that has not been precisely 
understood or measured - is the relative change (mutation rate) of mtDNA 
over generations. Present knowledge suggests a mutation rate low enough 
that any person should have the same mtDNA as a relative with the same 
umbilical ancestor as far as fifteen to twenty generations removed.

Genealogists have much to offer in mtDNA research. Long and well-
documented umbilical lines, coupled with small blood samples from living 
individuals with connected lines, can begin to provide information on 
mutation rates or the rate of change of mtDNA over generations and over 
time.

Another understandable and fascinating aspect is that, through time, 
specific changes have developed in specific wedges of Eve's tree of 
descendants - that is, in racial and ethnic groups. Thus, the mtDNA of 
racial groups is different, and much information is now being accumulated 
to describe these ethnic differences. So, for the genealogist, an 
analysis of the mtDNA of anyone living would reveal the racial and 
perhaps ethnic background of his or her umbilical line, information well 
before the time of printed records. A particularly interesting example is 
that of a woman from Yorkshire who has mtDNA similar to that in some 
Middle East countries. A significant genealogical and population-genetic 
question would be "How prevalent is this type of mtDNA in Yorkshire or 
elsewhere in England, and what does it imply about early migrations and 
admixture?"

A project is underway to help the geneticist with mutation and ethnic 
studies and to help the genealogist verify umbilical-line research and 
determine ethnic origins of umbilical ancestors. Well-documented 
umbilical lines, eight or more generations in length, will be the most 
useful; but those of lesser length may also be valuable, depending on the 
nature of other submissions.

Contributors will be asked to have a small portion of blood taken 
professionally for analysis, if the line can be shown to connect with 
another contributed line or if it presents an ethnic origin of interest. 
DNA analysis will, through the study of similarities, show with high 
probability whether the ancestral research is genetically valid and will, 
through the study of differences, provide data on mutation rates. Ethnic 
origins can be determined in most cases; this is valuable to both the 
geneticist and the genealogist. Participants will be kept fully apprised 
of the study as it progresses.

This program began in 1992. Thus far, nearly three hundred pedigrees have 
been submitted. Most are of New England origin, but a significant portion 
treats French Canadian background. As of this writing, one solid 
connection in Massachusetts in the 1600s has been made between two 
umbilical lines, and blood samples have been drawn for analysis. Another 
connection linking two people to an umbilical ancestor in early Quebec is 
under study. Also, several umbilical lines have been established to 
Priscilla (Mullins) Alden of the Mayflower, and efforts are being made to 
obtain blood samples.

Individuals interested in assisting with this project should submit their 
documented umbilical lines to the following address:

mtDNA Project Center for Human Genetics, Municipal Building, Post Office 
Box 770, Bar Harbor, ME 04609-0770 

********************

* Adapted from presentations by Dr. Roderick at the 1992 NGS Conference 
in the States at Jacksonville, Florida, and the 1993 convocation of the 
American Society of Genealogists at Portsmouth, New Hampshire.

This article was copied in its entirety from the National Genealogical 
Society Quarterly (NGSQ), Special Issue, Vol. 82, No. 2, June 1994, 
entitled Your Family's Health History, An Introduction. Copyright 
restrictions are waived upon this article in order to make this vital 
project more widely known to the genealogical community. 

---

EDITORIAL COMMENTS

George Anderson, in his review of the above noted publication, indicated 
that this entire special issue is dedicated to "medical genealogy". 
George had several questions which he posed to the author of the article 
via E-Mail. These questions and a summary of the answers from Dr. 
Roderick have been reproduced below.

G.A.: What constitutes "well-documented" lines?

Dr. R.: Cite sources of information connecting each set of generations 
such as vital records, deeds, probate records, court records, etc. If 
secondary sources are used, such as published genealogies, site them as 
well with page numbers where information is found. If further 
documentation is needed, we will contact the submitter for further help.

G.A.: What are some examples of "an ethnic origin of interest", and 
others not of interest?

Dr. R.: Ethnic origins of particular interest may be Basques, 
Laplanders, French Canadians, some Amerindians. But we do not want to 
discourage people with typical early colonial British or European lines. 
I don't mean to emphasize this point too much. If we want Basques, 
Laplanders or French Canadians, we can go after them directly. Please 
minimize this point. All ethnic origins are really of interest. 
Ultimately we will have a good sampling of many different ethnic groups 
and will have a good idea of what specific mtDNA lines (if any) go with 
which groups.

G.A.: If a participant is asked to submit a blood sample, how much will 
it typically cost the participant?

Dr. R.: We send the blood kits to the submitters who in turn can take 
them to their hospital blood laboratory. In our experience, when a blood 
sample is needed for scientific purposes, hospital labs will usually do 
it for nothing. Sometimes a submitter will have a physician in the 
family who can do it. In any case, if there is a charge, the project 
will pay for it. Mailing the kit back to California is all prepaid. 
There should be no expense to the submitter.

---

CONFERENCE NEWS AND NOTES
Shirley Siems Terry

Genealogists and family historians should be encouraged to attend 
genealogy seminars and conferences whenever possible. They are always 
informative, educational and inspirational. We have just returned from 
the National Genealogical Society Conference in Houston where we had ten 
choices per session for four full days, totaling 213 presentations by 139 
of the very best genealogical speakers!

Start planning now to attend next year's conference: May 3 - 6 in San 
Diego. In the meantime, you might consider the Great Lakes Conference 
August 4 - 6 in Fort Wayne, In, and /or the Federation of Genealogical 
Societies' conference October 12 - 15 in Richmond, VA. For further 
information on them, write to the Indiana Genealogical Society, P. O. Box 
10507, Fort Wayne, IN 46852 and the FGS, P. O. Box 3385, Salt Lake City, 
UT 84110-3385.

In addition to the very best speakers on genealogy related topics and 
methodology, a conference has three more considerations: they syllabus 
which includes handout material from all the speakers at that conference; 
an exhibit hall with an unbelievable offering of books, charts, 
publishers, and the latest genealogical technology; and professional 
cassette tapes of almost all sessions.

Most conferences are taped and available to conferees within a few hours 
of taping. The last few NGS and FGS conferences have been taped by 
Repeat Performance, 2911 Crabapple Lane, Hobart, IN 46342. Write to them 
for available listings. The tapes in L-AGS tape library are from pat 
conferences. Use them and let your Board know ones you'd like to see 
added.

---

CATHOLIC RECORDS

Your editors recently received a letter from William O. Vierra, long-time 
member of L-AGS, with a copy of a letter Wilma at St. Michael's Church in 
Livermore sent him. Wilma stated in her letter that the Church has: 

"...... run across some old marriage licenses and certificates among the 
records here at St. Mike's. I seem to recall you are related to the 
Azevedo family. Do you know any descendants of the following two couples 
who might like to have these certificates?

"Joao de Souza VIERRA (age 28) and Guerhlemina Lennor da SILVEIRA (age 
16) who were married here November 20, 1879. They had at least 2 sons, 
Manuel born 1880 and Joseph born 1881.

"Jose Peter AZAVEDA or AZAVEDO and Rosie Lawrence (aged 42 and 23) 
married here October 23, 1897."

In his letter to us, Mr. Vierra stated that he was not related to this 
family. If these records are of interest to the reader, please contact 
Wilma at St. Michael's, 458 Maple St., Livermore, CA 94550, telephone 
510-447-1585.

---

NOTES FROM ALL OVER

ANCESTRAL DOLLARS

Before Congress passed the Subsidiary Coinage Law in 1850, much of 
American domestic business was transacted with Spanish or other foreign 
coins. Accounts, however, were kept in either U.S. or British reckoning. 
The following table of values is valid for all American and British pound 
systems.

	1 q.	(farthing)	= $0.0027
	4 q.	(farthings)	= 1d.	(penny)	= $0.0111
	12 d.	(pence)	= 1s.	(shilling)	= $0.1333
	20 s.	(shillings)	= 1 pound	= $2.667

The value of our ancestors dollars as compared to the 1991 ones is enough 
to make one weep! These figures were compiled by Matt Conner of the U.S. 
Dept. of Labor Statistics and the Bureau of Living Conditions Statistics. 
They appeared in the Nov. 25, 1991 issue of Forbes Magazine.

	1820 - 1850...$13.28
	1850 - 1875....13.14
	1875 - 1900....11.38
	1935............9.91	
	1945............7.56
	1955............5.08
	1965........... 4.31
	1975............2.53
	1985............1.26


From Diablo Desc., CCC GS (CA) Vol. 7:10, via CSGA Newsletter, Vol. 11, 
No. 5, May 1993

********************

CONVERSION OF TIME

This is the formula for determining the birth date of anyone whose date 
of death and years, months and days of age are known.

Example 1	John Jones died 21 Oct 1879 age 69y, 8m, 14d

Death Date   21    10     1879
Age          14     8       69
              7     2     1810    = 7 Feb 1810

Example 2	Tom Smith died 17 Feb 1842 age 55y, 1m, 6d

Death Date   17   2     1842
Age           6   11      55

Note that the months of the death date must be larger than that of 
the age. Therefore, in this case you must convert one year of the 
death date to 12 months:

Death Date    17     14     1841
Age            6     11       55
              11      3     1786     = 11 Mar 1786

Contributed by Helen Narver Smith, from Linn County Heritage Hunters 
(Iowa) Vol. 2, #3, July 1987, via G.A.S. LITES 17:3 

********************

MEDICAL TERMS

CAMP FEVER           typhus
CANINE MADNESS       hydrophobia
CHLOROSIS            iron deficiency anemia
CORRUPTION           infection
CORYZA               a cold
COSTIVENESS          constipation
CRAMP COLIC          appendicitis
DROPSY               edema (swelling) sometimes caused by kidney or heart diseases
DYSPEPSIA            acid indigestion
EXTRAVASTED BLOOD    rupture of the blood vessel
FALLING SICKNESS     epilepsy
FLUS OF HUMOUR       circulation
FRENCH POX           venereal disease
GREEN SICKNESS       anemia
HIP GOUT             osteomylitis
JAIL FEVER           typhus
KING'S EVIL          scofula
LUES VENERA          venereal disease
LUMBAGO              back pain
LUNG FEVER           pneumonia
LUNG SICKNESS        tuberculosis
MANIA                insanity
MORTIFICATION        infection
NOSTALGIA            homesickness
PUTRID FEVER         diphtheria
QUINSY               tonsillitis
REMITTING FEVER      malaria
SANGUINOUS CRUST     scab
SCOFULA              tubercular infection of lymph glands in throat
SHIP'S FEVER         typhus
STRANGERY            rupture
SUMMER COMPLAINTS    infant diarrhea caused by spoiled milk
VENESECTION          bleeding

From the Connecticut Nutmegger

********************

SURVEYORS' MEASUREMENTS

Ever wonder what form of measurement the early surveyors used? The basis 
was the Gunther chain, invented by Edmund Gunther in 1620. Gunther's 
chain was 66 feet long and was 100 links of 7 92/100 inches each, made of 
6 or 9 wire. The present day rod is 16 1/2 feet, or 1/4 of a chain. The 
mile is 80 chains. The acre is ten square chains, or 43,560 sq. ft. The 
old linear measure, so often called the surveyor's measure, was as 
follows:

	7 92/100 inches	=	1 link
	25 links	=	1 pole
	100 links	=	4 poles	=	1 chain
	10 chains	=	1 furlong
	8 furlongs	=	80 chains	=	1 mile

From several sources; last found in The Root Digger Newsletter, Jan. 1993

********************

FACTS AND FUNNIES

A BIRTH CERTIFICATE SHOWS THAT YOU WERE BORN
A DEATH CERTIFICATE SHOWS THAT YOU DIED
A FAMILY HISTORY SHOWS THAT YOU LIVED!!!

From several sources, via The Root Digger Newsletter, Jan 1993

********************

BEATRICE BAILEY CALLS AGAIN

Another questionable genealogical offer seems to have arisen. The 
original scam from Beatrice Bailey was blocked by the Postal Service's 
refusal to deliver mail. To circumvent this, the persons behind the 
scheme have shifted to other names and addresses to continue their 
deceptive offers and others have tried similar scams. The latest scheme 
is SOLICITING the sale of surname genealogies BY TELEPHONE, with payment 
only by credit card or direct withdrawal from a bank account. The 
company will not accept a personal check. In addition, the price has 
risen from $29.95 to $69.95. The offers seem to be coming from Elmar 
Real Estate/Investment Corporation, Phoenix, AZ.
From Orange Co CA GS Newsletter, 27:7, p. 2, via Contra Costa 
Genealogical Society, Vol. 8 No. 9, Sep 1993

********************

SO YOU'VE WRITTEN A FAMILY HISTORY, WHAT NEXT?

The Family History Library in Salt Lake City will microfilm your family 
history free of charge if the material is organized and indexed. Your 
original copy and one copy of the microfilm will be returned to you. 
Write Vick Munson, acquisition-Patron Microfilming, 50 East North Temple 
ST., Salt Lake City, UT 84150. (SLOCGS Bulletin, 26:2 p. 63)

You should also consider placing your genealogy in the Library of 
Congress. To get your genealogy into the Library of Congress, you need 
only pay the postage to get it there. Your genealogy does not have to be 
copyrighted. Some research expenses can then be deducted from income 
taxes. They will, send an acknowledgment describing your gift. Send 
your completed genealogy to: Library of Congress Exchange and Gifts 
Division, 10 First ST., S.E., Washington, DC 20540.
From Zichron Note, XIII:3, p. 19, via Contra Costa Genealogical Society, 
Vol. 8 No. 9, Sep 1993

********************

ATTENTION: GERMAN RESEARCHERS

There will be several thousand Germans coming to America to locate their 
unknown relatives. Meeting will be arranged between the visitors and the 
American descendants of German immigrants who share the same names. The 
German delegation will be in Hayward, CA in mid-September. Interested 
people should write to Staedte-Bruecke/City Bridges, P. O. Box 760, 444-
22054, Hamburg, Germany.
From San Ramon Valley GS IX, No. 10, May 1994, via CSGA Newsletter, Vol. 
12, No. 6, June 1994.

********************

FAMILY HISTORY LIBRARY

You may be interested in knowing that the latest PAF Update 2.3 is no 
longer being issued from Salt Lake City due to some reported glitches. A 
new "new" update will be coming out in October. For more information, 
you can call 801-240-2584.
From the CSGA Newsletter, Vol. 12, No. 6, June 1994.

---

ADDENDUM TO "CEMETERIES OF PLEASANTON AND DUBLIN, CALIF. (1990)"
JUNE, 1994

ST. AUGUSTINE'S CATHOLIC CEMETERY

SECTION A, ROW 7E - page 66 - Damiao

Damiao		Manuel Jose, 1836 - Jun 27 1917
Damiao		Eugenia A. Silveira, Oct 2 1850 - Mar 23 1935 (wife)
			Antonio (Tony) Webster Silveira, (brother of Eugenia) 
nd
			Franklin Joseph, Mar 24 1918
			Thomas Damiao Joseph, (son of Manuel), Dec 6 1877 - Dec 
26 1954
			Manuel Damiao Joseph, (son of Manuel), Dec 6 1877 - Aug 
24 1955

Submitted by Gloria Stahlnecker, 474 Amaral Circle, Pleasanton, CA 94566

SECTION B, ROW 4E - Page 74

Freitas Plot
	Josef Francisco Freitas, Sr., Sep 15 1849 - Mar 2 1923
	Grandmother, died Jun 2 1912
	Mary Isabelle King Freitas, wife, Nov 22 1860 - Sep 2 1915
	Annie Lemos King, Grandmother, Mar 1839 - Mar 8 1912
	Edward (Eddie) Freitas, son, Mar 14 1902 - Apr 29 1905
	Manuel Joseph Freitas, son, Jul 20 1881 - Apr 10 1907
	George Freitas, son, Feb 21 1890 - Apr 3 1919
	Frank F. Freitas, son, Apr 9 1884 - Jun 5 1923
	Antone Freitas, son, Jun 13 1896 - Aug 11 1942
	Annie Regello Freitas, dau-in-law, Sep 3 1896 - Mar 31 1914
	Serafine Enos, family friend, Apr 1847 - Sep 28 1919

Submitted by Mildred E. Freitas, 607 Diablo Road, Danville, CA 94526-2801

SECTION C, ROW 3W - Page 81 After Amaro Plot

Apperson, Frances b. 7 Nov 1900 - d 26 Dec 1961
Smith, Marcy Katherine, mother of Frances Apperson, nd

---

"LIVERMORE CEMETERIES", LIVERMORE, CALIFORNIA 94550
ADDITIONS AND ERRATA


ROSELAWN MEMORIAL PARK
1240 North Livermore Avenue
Livermore, CA 94550

Area K, Jewish Section
July, 1993

Memorial stones listed from East to West

Cohen	Patricia J.	1932 - 1991
Gordon	Michael Bruce	Jun 6, 1938 - Jan 30, 1985
Robins	Sam	Mar 6, 1904 - Mar 6, 1991
Klanfer	Sidonia K.	Jun 26, 1910 - Dec 8, 1989
Whitten	Clifton L.	Mar 11, 1922 - Jan 13, 1989
	Sylvia K.	Jan 1, 1922 - Aug 24, 1989
Cohen	Hannah R.	Nov 30, 1896 - Aug 1, 1981
Jobrack	Hyman Aaron	Sep 13, 1907 - Jun 1, 1990
Koltun	Isadore E.	Oct 6, 1906 - Sep 5, 1971
	Esther	Dec 14, 1899 - Oct 7, 1988
Gasten	Burt R.	Jan 6, 1933 - Mar 12, 1980
Gasten	Felicia Ann	Jun 9, 1965 - May 23, 1981
Geller	Herbert	1926 - 1975 WWII
Lynn	Lillian	Apr 17, 1903 - Jan 6, 1981
Fink	Janet	Jun 30, 1927 - Jul 26, 1983
Friedman	Benjamin	1910 - 1972
Stern	Joseph	Sep 29, 1895 - Apr 16, 1971

Submitted by David Abrahams, 737 El Caminito, Livermore, CA 94550

* * * * * * * * *

ST. MICHAELS' CEMETERY

Index to St. Michael's - Page 17: name - Beraudlere to Beraudiere
Index to Memory Gardens - Page 43: name - Hohn to Holm
Page 31 of St. Michael's: name - Beraudlere to Beraudiere
Page 28 of Memory Gardens: name - Hohn to Holm
Editor

---

RESOURCE NOTES

PASSENGER ARRIVAL RECORDS

Researching U.S. Passenger Arrival Records: You can learn the general 
background of United States passenger records by studying selected 
sources. You can read Philip Taylor's THE DISTANT MAGNET, for example, 
to discover how many immigrants came from your native land during a 
certain era and what ports they favored, or how long the voyage took on 
certain modes of transportation. Also remember, Ellis Island records are 
after 1892 and avoid the expenses of time and money finding Galveston 
lists that were destroyed in the Great Hurricane.

The records known as customs passenger lists were filed by the masters of 
ships with the Collectors of Customs. The National Archives and FHL have 
microfilm of the original customs lists (1820 - 1902), copies and 
abstracts (1820 - 1875) and transcripts of the lists (1819 - 1832). The 
National Archives has copies of the immigration passenger lists or ship 
manifests for the years 1883 - 1954.

The Family History Library has the most popular passenger lists among its 
collection of 1.4 million microfilms. The National Archives staff will 
conduct a search of the microfilmed records if a researcher completes 
form NATF 81.

Remember, hundreds of thousands of immigrants arrived at smaller ports. 
You may want to investigate arrival lists for ports such as Key West, 
Passamaquoddy, New Bedford, Providence, Gulfport, Savannah, and 
Galveston. An index from 1820 - 1874, M-334, includes some of the minor 
ports as well as Baltimore, Boston, Philadelphia and New Orleans (to 
1850).

Remember, since you are dealing with immigrants and unusual names, try to 
consider every spelling variation of the surname when using an index. 
Also, don't ignore the index or lists if you had a stowaway.

Also, the Passenger and Immigration Lists Index, by P. William Filby, 
does not index the non-published passenger lists which you find on 
microfilm. (by J. R. Roberts, SLC, Genealogical Computing, April 1994)
From CSGA Newsletter, Vol. 12, No. 6, June 1994.

********************

A SOURCE OF MAIDEN NAMES

DEEDS: In the lower left hand corner of most deeds, you will find 
signatures of two to four witnesses. The first one is from the husband's 
side. The next one is always from the wife's side. That is to protect 
her 1/3 dower right under the law. Nothing you ever use will give 
greater clues to maiden names than witnesses to old deeds.

MORTGAGES: In the 1800's and before, it was traditional when the 
daughter got married, as a part of her dowry, for the father to either 
cover the loan or carry the note for his son-in-law. If you know the 
husband's name but not the wife's maiden name, find out to whom they are 
making their mortgage payment. About 70% of the time, it will be her 
father.
From Santa Clara County H & G Society, July 1992.

********************

NEWSPAPERS

The local newspaper is another often overlooked resource. In order to 
determine what newspapers were functioning in which towns, and when, 
simply go to the reference desk at the library and ask for GALE DIRECTORY 
OF PUBLICATIONS, and look up the state and the town; it will give you the 
name of the newspaper and what library has it now. Then you fill out an 
interlibrary loan form and order the specific reel of film for the month 
and the event you are researching.
From H.A.G.S. Informer, Vol. 15, No. 11.

********************

VOTER REGISTRATION

Voter registration information is public information, so use it with 
impunity. Call 1-800-367-8683 in New York with the first three digits of 
the zip code in the are in which you are searching, and the interactive 
telephone system will give you the address and telephone number of the 
applicable voter registration office. You may ask for the birth date, 
address, and listed occupation of the person you seek, and no one will 
think you are weird. Note: in Suffolk County, inquires must be made by 
filling out a Freedom of Information Act inquiry. It takes a little 
longer, but because it is public information, they must give you the 
information you seek.
From Gen. Club of Albuquerque Pub. Lib. 11-92.

********************

GREAT BRITAIN

Searching ancestors in unindexed British Isles census returns is 
frustrating unless you know the street address. The returns were 
recorded on a house by house, street by street basis. Just as in the 
United States, directories are frequently the best way of discovering an 
address to lead to other records.

The British Isles Directories Projects make a search of these directories 
possible. For a fee of 7.50 pounds (US$12) a search will be made of three 
directories for any given name, a report provided of all entries found, 
plus up to 3 photocopies of original pages. More extensive searches will 
be made on request for which the fee will be 10 pounds (US$15) per hour plus 
the cost of any photocopies specifically requested. The directories 
themselves are available for libraries an societies at nominal costs.

Send your request to:
GWEN KINGSLEY, LYDON, QUEEN ST., KINSWINFORD, WEST MIDLANDS, ENGLAND DY6 
7AQ.

Checks should be made payable to "Gwen Kingsley". US dollar checks 
accepted. For inquiries only, send 2 International Reply Coupons.
From CSGA Newsletter, Vol. 12, No. 2 (Feb. 1994).

********************

HISPANIC RESEARCH

A key resource for any researcher in Hispanic genealogy (especially a 
neophyte in the field) is the set of sacramental registers maintained by 
every Catholic parish. After the end of the Franciscan mission era, 
parish outposts were frequently termed missions, but they maintained no 
records of their own. The parish registers are referred to as the Book 
of Baptisms, Book of Marriages and Book of Deaths. Use of these 
registers may not be restricted, but there probably is a copying cost. 
(Dr. R. Bruce Harley, Archivist Diocese of San Bernadino)

********************

SPANISH GIVEN NAMES

In the Spanish culture, the name of a person identifies him/her as a 
unique individual, giving the mini family tree instantaneously. The name 
of the individual is composed of his given name, his father's surname and 
his mother's surname. The first name of the person is referred to as the 
"nombre de pila" (name given at the baptismal font) or "nombre propio" 
(name given to the individual for himself).
From CSGA Newsletter, Vol. 12, No. 2, (Feb. 1994).

********************

MICROFILM SOURCE

Since 1952, Library Microfilms, a division of Bay Microfilm, Inc.. 
(located at 1115 E. Arques Ave., Sunnyvale, CA 94086, has been dedicated 
to preserving the heritage of the Pacific Coast, covering the Western 
states, cities, counties and cultures. The company has one of the most 
extensive and growing collections, including the largest collection of 
newspapers on film of the Western states. The company has just completed 
a major project in conjunction with the California State Library where 
pre-1950 city and county directories for almost every area of California 
and Nevada have been microfilmed. They have also microfilmed Pacific 
Bell phone books from 1899 - 1993 for every city and county in California 
and Nevada.

For additional information and a catalog, contact Jan Hawley, Director of 
Library Microfilms at the above address, or call her at 800-359-FILM.
From CSGA Newsletter, 11:8, p. 5, via Contra Costa Genealogical Society, 
Vol. 8 No. 9, Sep 1993

********************

RAGAS REQUEST FORMS

Family history researchers wising to request information fro the archives 
of the former Soviet Union through RAGAS, the RUSSIAN-AMERICAN 
GENEALOGICAL ARCHIVAL SERVICE, must obtain a request form from RAGAS, P. 
O. Box 236, Glen Echo, MD 20812.

For a search for a single archival record or certificate, such as the 
record of a birth, death or marriage, request and complete the "Specific 
Record Form". Return the form to RAGAS with a nonrefundable fee of $22.

For a fuller genealogical search that may involve linking generations, 
linking family members within a generation or confirming several events 
in the life of an individual, request and complete the "Fuller Genealogical Search Form". A nonrefundable fee of $50, payable to RAGAS, must accompany this form.
From NGC Newsletter, 19:2, p. 42, via Contra Costa Genealogical Society, 
Vol. 8 No. 9, Sep 1993

********************

RECORDS DISCOVERY

Pension records discovery of 105 boxes relating to the Revolutionary War, 
War of 1812 and Seminole War have been found by Craig Scott, certified 
Genealogical Record Searcher, who specializes in military records. He 
says archivists have know about the records, but they were used 
infrequently because it took two different and inadequate indexes tin 
order to locate a specific record. He cautioned that some of the files 
contain nothing more than a final record of payment while others contain 
detailed letters from the pensioner, his widow or children. The 
approximately 10,000 file abstracts are being published in a box-by-box 
listing of each file with pensioner name, account number and the location 
of the pension office involved by the American Genealogy Magazine 
starting with its March - April issue. 
Send $22.50/yr. to American Genealogy Magazine, Datatrace Systems, P. O. 
Box 1587, Stephenville, TX 76401.
From The Genealogist, pg. 3, May 1994, via CSGA Newsletter, Vol. 12, No. 
6, June 1994.

********************

COOK COUNTY CIRCUIT COURT ARCHIVES

Clerk of the Circuit Court announced the opening of a Reading Room of the 
Cook County Circuit Court Archives. The Archives possess court records 
that are valuable resources for genealogists and historians alike.

The Archives staff welcomes phone or written reference requests from both 
the Clerk's staff and the general public, Monday - Friday, 8:30 - 4:30, 
excluding court holidays. Since many of the records are stored in off-
site locations, it is strongly encouraged that public patrons schedule an 
appointment with the Archives staff before visiting. Also, certain 
records are available for viewing in alternate formats (such as 
microfilm). The Archives reproduction costs are based on a court 
mandated schedule.

To contact the Archives, phone 312-629-6601 or 312-629-6628, or write to: 
Clerk of the Circuit Court of Cook County, Archives Dept., Rm. 1113, 
Richard J. Daley Center, Chicago, IL 60602.
From several sources, via Judy Person.

---
Return to the L-AGS Home Page
Last modified: 16jan03.0045