---
The Roots Tracer is a quarterly publication with articles of interest to the genealogist. It is published in February, May, August and November. Members are encouraged to submit articles of general interest. The deadline for each quarterly issue is the 15th of the previous month. Submissions must contain the name of the submitter, as well as the name of the author, publication and date of any published article that is being quoted. Send material to: The Roots Tracer, P. O. Box 901, Livermore, CA 94551-0901 or e-mail rootstracer@l-ags.org.
Queries are free. Please send your queries to querymaster@l-ags.org.
---
Table of Contents
---
Welcome to Our New Members
| | | |
| --- | --- | --- |
| Susan Johnston | Beth Twogood | Richard and Ginnie Smith |
| | | |
We are grateful for the generosity of these members of L-AGS:
Patron
David Steffes
Benefactors
James Bahls, Lois Barber, Sandy and DeLynn Clark, Philip and Deborah Eckert,
Ted and Gail Fairfield, and Robert Paulsen
Membership Report As of January 4, 2005
| | | |
| --- | --- | --- |
| Membership Types and Number | | Total Individuals |
| | | | |
| --- | --- | --- | --- |
| Individual Members | 131 | | 131 |
| Family Members | 40 | | 80 |
| Life Members | 9 | | 12 |
| Benefactors | 6 | | 9 |
| Honorary/Charter Members | 5 | | 5 |
| Honorary Members | 2 | | 2 |
| Patron | 1 | | 1 |
| Total Memberships | 194 | | 240 |
---
| | |
| --- | --- |
| | A Message from President Jane Southwick |
I entered this job with trepidation, feeling that I might not measure up to the extremely capable presidents we have had in the past. However, I find that there are so many helpful people in this organization who have made me feel comfortable and I will try my best to do a good job for you.
The Bylaws have been updated due to the work done by David Abrahams, Frank Geasa and Leo Vongottfried. They were read to the members at our November and December Meetings and voted on and passed by the membership at the December meeting. Doug Mumma has put them on our Web site so they are now available to the membership at http://www.L-AGS.org in the "About L-AGS" section. Many thanks to David, Frank, Leo and Doug for their hard work.
David Abrahams and his volunteers have recently added three new databases to the L-AGS Web site at http://www.l.ags.org/databases.html. The titles are Early Livermore, California Obituary Information; Records of the Callaghan Mortuary, Livermore, California; and Pre-1905 Death records for Alameda County, California. George Anderson and David have had copies of these three databases printed and these have been added to our list of Publications.
We are sorry to report that Robbie Robinson and his wife Paula have moved to Idaho. We will miss them and the work they have contributed to our Society.
I am impressed by the number of jobs being done by so many members of L-AGS. It is due to so many of you that our Society runs as well as it does. Please feel free to get involved. I think you will find a certain satisfaction in doing so.
---
Finding Ancestors Is Fun!

By Marie Ross
The Daughters of the American Revolution Josefa Higuera Livermore Chapter group from Livermore just returned from a week of researching at the Family History Library in Salt Lake City. Eighteen diligent genealogists pored over books, fiche, films and files 8 a.m. to 9 p.m., some with great success. L-AGS members Barbara Huber, Mary Dillon, Clarice Sisemore, Glynis Pomykal, Pat Moore, Jane Everett, Suzanne Wade, Mary Jane Maberry-Hall, Linda Garrett, Barbara Wills, Jane Southwick and Marie Ross were part of the group. They celebrated Linda's birthday one evening enjoying the lights of downtown SLC from a rooftop restaurant.
There was misty fog and chilly wind occasionally but the hotel is only about 100 steps from the Library door. The docents were very available and helpful and there were many more computers. It is amazing the resources that are available. The Library now has a different floor plan. You can see it on their Web site if you Google Family History Library Floor Plan.
Resources at the Family History Library

2.4 million rolls of microfilmed genealogical records
742,000 microfiche
310,000 books, serials, and other formats
4,500 periodicals
700 electronic resources
202 patron computers
509 microfilm readers
36 microfiche readers
28 microfilm and microfiche copiers
4 microfilm scanners
15 book copiers
Orientation and research classes
Currently 125 full-time and part-time professional staff
Approximately 400 trained volunteers
The Library has gone through an extensive remodeling. The Family History books are no longer in the Joseph Smith Building but right on the main floor. The histories are easily accessible or may be ordered from the vault, though the latter take a couple of days to be received. The two lower floors house the International and the British collections. Films and census documents are on the second floor. The town and county books, the maps, and CDs are on the third floor. An abundance of computers and copiers are available.
Glynice Pomykal hired a local genealogist to help with German records so that she could go further back in the generations of her family. Jane Everett and Glynice helped other members of the group with their research. Jane Southwick was pleased with the able assistance with films she received in the British Area. Help in using the computer search was a boon for Marie Ross. Linda Garrett researched her daughter-in-law's family by combing the census records and using queries on GenForum. Barbara Wills discovered a CD that had information about her ancestor, Arajaentie Cuvilje, who was in New Amsterdam in the early 1600s. Everyone made new discoveries and learned different ways to find people. You need to take advantage of all the help you can get, and listen for ideas on further ways to find answers.
At the Library, Barbara Huber bumped into her cousin, and Jane Southwick found her cousin's wife. Serendipitous! We had a real surprise when we waited in the line at the airport to board for the return flight and found L-AGS member David Steffes in line too! He had also been working at the Library. Small world!
Why does this group make a yearly trek to Salt Lake City? It's fun to work and share information!
---
Food for Thought
Once upon a time there were four people; their names were NOBODY, EVERYBODY, SOMEBODY and ANYBODY. One day there was an important task to do. EVERYBODY was sure that SOMEBODY would do it. The task was so simple that ANYBODY could have done it, but NOBODY did it. EVERYBODY got angry because it was EVERYBODY'S job. EVERYBODY thought that SOMEBODY would do it, but didn't realize that NOBODY would do it. Consequently, EVERYBODY blamed SOMEBODY when NOBODY did what ANYBODY could have done.
Anonymous
From The Livermore Roots Tracer, Volume XIII, Autumn 1994, Number 5
---
Exciting Times for Peggy Norman
and Her Daughter, Beth Twogood!

By Marie Ross
In December, Peggy's daughter, Beth, was invited to the White House by First Lady Laura Bush because Beth's beautiful Norwegian rosemaling decoration on her entry of a pair of maracas for the music theme White House Christmas tree was accepted along with 299 other artists' creations in a contest organized by The Society of Decorative Painters. Six ornaments were chosen from each state's submissions.
Beth was very surprised to be invited to the White House. Lucky Peggy was invited to accompany her daughter! Mrs. Bush was most welcoming and they have received a picture taken in front of the tree with her. They enjoyed all the other wonderful decorations as they wandered through the rooms, and feasted on delicacies from laden tables. The visit made wonderful memories.
Beth told us about her visit at the December L-AGS meeting. We were all thrilled right along with our local ladies
---
Google Search:
Tips, Tricks & Misconceptions

Refining Your Genealogy On-line Research

Study Group topic for February 2005

By Kay Speaks
Google has recently released new features for its search engine that will help make your online research more concise and effective. We will review the many Google commands, called "operators," and use them in an online demonstration. A "cheat sheet" of these commands will be provided to attendees and members of the L-AGS Study Group list. This will be a fast-paced night of fine tuning your online search skills!
Did you know?
Over 258 million people access Google every day.
Google recently released its 32-word search capability, but in some instances only 10 words still apply.
Google now has a beta test site for Users Groups and a number of genealogy related groups have already been created.
You can now search for Google images.
In order to get the most effectiveness from any search engine you need to know how it works – did you know Google searches only a certain portion of some documents, not the entire document?
Do you know the difference between sponsored and non-sponsored search results? Can you identify a sponsored site?
You can search for specific words in URLs, exclude specific words, search for synonyms, limit your search to one Web site, exclude words and phrases, and more.
---
L-AGS Family Tree Maker Group

By Dick Finn
Most of the L-AGS Family Tree Maker (FTM) Group are FTM users (from beginners – even those who have not yet installed FTM – to experts) who discuss problems and solutions, share successes, answer questions, and in general help each other with the Family Tree Maker genealogical software. At recent meetings we have talked about generating different types of charts and reports that show specific information and generations; what is new with Version 2005; and generating PDF and GEDCOM files.
All persons interested or potentially interested in Family Tree Maker are invited to attend. For information on our group, please e-mail Dick Finn at ftm.chair@L-AGS.org.
Contact Dick for information about topics to be discussed. Visitors are welcome and there is no charge to attend. Bring your questions, comments and handbook, and if you have a laptop with FTM loaded, you might bring it also.
---
LAGS

+DIGS

ROOTS

Addition Puzzle

George Anderson

The challenge this issue is to find numbers, 0 to 9, that make this addition correct, where each different letter represents a different number, and the first number on each line is greater than zero.

There are 36 correct answers. See if you can find at least one. The answer is farther down this page.
---
Tri-Valley TMG Users Group - Customizing the Data

By Kay Speaks
We continue with Chapter 5 of Leo Hoffman's Getting the Most Out of the Master Genealogist—Customizing the Data, by John Cardinal. Mr. Cardinal is a TMG beta tester and has developed several TMG companion programs – Second Site, TMG Utility 5, and On This Day. These programs can be located at http://www.johncardinal.com/tmg.
Our topic differs from last month's Customizing the Program, which covered changes to the behavior of the program. In Chapter 5, we discuss customization specific to a particular project and/or data set. Why customize your data set? Mr. Cardinal believes it improves consistency, efficiency, practicality and cultural and personal suitability. He suggests you review TMG's standard methods to make certain you aren't reinventing the wheel and take advantage of the knowledge of TMG's designers and beta testers. A summary of Chapter 5 can be located at http://www.whollygenes.com/images/GMOTMG%20Ch05.pdf.
One of our new members has been instructing us and it has been a joy. Sue Johnston recently moved to Fremont from Maryland and joined our TMG user group. Sue was one of the original beta testers of TMG. Maryland's loss has certainly been our gain! Thank you, Sue.
A digital projector will be available for ease of viewing our session. We use a hands-on method to learn TMG's features by actually entering samples of the lesson into TMG's sample database.
Guests are always welcome at our meetings. Accommodation for laptops will be available. If you have a laptop, bring it with you to the meeting. However, a laptop is not a requirement, as the lesson will be projected. If you can't stay for the entire 3 hours, come and leave early. TMG questions not specific to all attendees will be addressed in the later part of our meeting. Please bring samples of your problem if possible. We hope to see you at this month's meeting!
TMG Version 6.0 is now available as an upgrade to the software. You can find out what's new in 6.0, purchase the upgrade and download the new users manual at http://www.whollygenes.com/tmg.htm.
The manual is a large file so it requires a lengthy download. We will have it available on CD for those attending.
A free demo version of the software can be downloaded at http://www.whollygenes.com.
For additional information contact me at mailto:tvtmg.chair@L-AGS.org.
"Any genealogy software will help you organize your family history, but TMG stands out for its ability to record every detail, properly cite many kinds of sources, track your correspondence, maintain a research log, and produce the most professional books," Family Tree Magazine, January 2005
---
Life in the Past Lane

By Jon Bryan
In the May issue of Roots Tracer we asked:
PUZZLE: Why do you think I chose this Marchino obituary for Roots Tracer? I planned to reveal the answer in a future Roots Tracer.
If you looked up the rare (at least for the USA) surname "Marchino" before we had this obituary in Roots Tracer, you would have found no matches with Google on our L-AGS Web site (in May). Now "Luigi Marchino" is not only indexed on our L-AGS Web site and but also under Google if you search for Marchino + obituary. We hope additional information will be found beyond this obituary about Luigi Marchino (d 1894).
****************
This quarter, our article comes from the front page of The Livermore Echo of Thursday, August 19, 1909. It sounds as if two balloonists got more than they bargained for in our valley winds.
For the record, Orville and Wilbur Wright made their historic propeller driven airplane flight on December 17, 1903. Balloon flights were earlier than 1903. Stationary balloons were used for distant observation by both the north and the south forces during the Civil War. "History of the Airplane" at http://www.first-to-fly.com/History/History%20 of%20Airplane/history.htm gives us this additional perspective: "Beginning in 1783, a few aeronauts made daring, uncontrolled flights in lighter-than-air balloons, but this was hardly a practical way to fly. There was no way to get from here to there unless the wind was blowing in the desired direction."
Recently I heard on TV that hot air balloons were used as much as about a century earlier, which would be about 1803.
"Balloon Lands Near Dublin, Dragging Aeronauts.
"Clinging with desperate strength to ropes that threatened every moment to part and hurl them down to death. A. Vander Naillen and Captain P. A. Van Tassel, the Oakland Aero Club balloonists, were dragged for more than 2,000 feet over the rugged surface of the Livermore valley Saturday afternoon, while their unmanageable balloon skimmed along across the hills and through trees and fences at the mercy of the perverse winds.
"The big balloon, bearing in giant letters the legend "City of Oakland," soared across the steeple of the First Presbyterian church from a lot at the corner of Fourteenth and Franklin streets, shortly after 11 o'clock Saturday morning, while a crowd of several thousand people cheered its departure.
"Death lurked in every jolt and bound of the giant gas bag, but the two men, both past the prime of life, managed through superhuman efforts, to retain their grip on the ropes until the derelict finally sank to earth in a field seven miles north of Pleasanton. Both men were so bruised and exhausted that they were scarcely able to stand erect, and their hands and clothing were torn by the straining ropes and by contact with barbed wire fences and thickets.
"The great basket in which they rode was smashed to shreds, and the solid oak ring from which the cage was suspended was demolished.
"Assisted by a rancher who had followed them in their perilous flight across the fields, the two bleeding men succeeded in making fast the anchor and loading the balloon, which was uninjured, upon the wagon. Then, after bandaging their wounds, they drove to Pleasanton and took the evening train back to Oakland, arriving there that night." – The Oakland Tribune.
What may have happened to these two balloon adventurers later? We don't know for certain. For the first name, the California Death Index (1940-1997) lists one possibility – an Albert Vandernaillen (born 1858 and died 1956) died in Alameda County at age 97. Albert's Mother had an interesting maiden name – Herladeberpen. For the second, the California Death Index (1930-1939) lists a Park A Vantassell who died at age 77 in 1930 in Alameda County.
---
G. R. O. W.

(Genealogy Resources On the Web – The Page That Helps Genealogy Grow!)

Compiled by Frank Geasa
We hope you have no compelling need to use this site offering Genealogical Databases of Old Prison Records both in this country and elsewhere. The site does offer many interesting online search lists.

This site with transcriptions of slave names in wills of slaveholders in Fayette County, Tennessee, while of value to those who might find ancestors, also offers some interesting comments. See Isaac Mercer's will:

If your genealogy includes connections to San Francisco, California you will want to visit this site, which offers extensive and diverse online search lists as well as many excellent links.

If your ancestry includes the south west or south central areas of Missouri, you may want to visit this site by 2 ladies dedicated to transcribing and listing the cemetery records in that region. There are listings for over 100 cemeteries plus more.

Those with Pennsylvania Mennonite ancestry will want to examine the following site. It gives the history of the establishment of the Waterloo Township area, Ontario, Canada by Mennonite families who migrated from Pennsylvania.

If any of your ancestors might have attended the University of Wisconsin, that institution's library has a digital directory of alumni from the years 1849-1919 online. Home address information of those listed is included.

The city of Rochester, New York has an online index of the approximately 170,000 marriages performed in that city during the years 1876 – 1932.

Jeanne Johnson provides an 1859 City and Business Directory of Nashville, Tennessee at this site.

The Maine State Archives offers an online search list of marriages indexed by both bride and groom (1892-1996) and deaths (1960-1996)

Online are indexes for the 1881 Ontario census, immigration, naturalization, land records and other areas of genealogical interest.

This Madison County Records Center (Alabama) site has many online search lists including probate records, professional medical certificates, naturalizations (1818-1906) as well as marriage licenses and a bride index (both 1809 –1904).

If one of your ancestors was a New England seaman, this site contains an online list of Seaman Protection Certificates issued at several ports. The story of these certificates makes for interesting historical reading in itself.

If you are of Dutch Jewish descent you might want to visit the Dutch Jewish Genealogical Collection site of Levie Kanes with over 170,000 names listed alphabetically.

The Catholic Record Society of the Diocese of Columbus, Ohio has digitized and made available online over 100 issues of their monthly Bulletins with transcribed records and other articles of historical and genealogical interests.
---
Do-it-yourself Calculation of Easter

By George Anderson
The date on which Easter falls seems to many of us to be mysterious and capricious, jumping from year to year to any time between March 22 and April 25. The church definition is, "Easter Day is the first Sunday after the full moon that occurs next after the vernal equinox." The date of Easter is of practical importance to genealogists, because many old church books in Europe give dates not in month and day, but in so many "Sundays past Easter."
Thanks to some simplifying assumptions about astronomy made by early church authorities, it is easy to calculate the date with paper and pencil. You might enjoy conquering the mystery and caprice of the date by checking your arithmetic against the table at the end of this article. A pocket calculator will help prevent human error.
Important: all calculations are to be made with whole numbers only. The result of any division must be a whole number; any remainder is discarded. To remind you of this, the division sign is a backward slash: " \". Multiplication is indicated by an asterisk "*".
Pick a year and call it Y. Then do the following calculations. Always do the operations inside of parentheses first.
C=Y\100

N=Y–19*(Y\19)

K=(C–17)\25

P=C–C\4–(C–K)\3+19*N+15

P=P–30*(P\30)

P=P–(P\28)*(1–(P\28)*(29\(P+1))*((21–N)\11))

J=Y+Y\4+P+2–C+C\4

J=J–7*(J\7)

L=P–J

Month=3+(L+40)\44

Day=L+28–31*(Month\4)
For example, if the year (Y) is 2005, the calculated date of Easter is March 27, which agrees with my calendar. If you can't get agreement with the table below, send an e-mail to gwajr@comcast.net and I will attempt to determine why.
Of course, the equations themselves are mysterious: they give the right answers but do not give any hint as to why. Without going into the derivation of the equations, suffice it to say that they solve the problem posed by the fact that the date of Easter depends on three incommensurable time cycles: the sidereal cycle (the vernal equinox), the lunar cycle (the full moon) and the seven-day weekly cycle (the Sunday). The equations are taken from the Web site of the U. S. Naval Observatory at http://aa.usno.navy.mil/faq/docs/easter.html.
This site contains an interesting history of the struggle of Western Christian churches to arrive at an agreed-upon and easily determined date for Easter. You can also find there an interactive page for getting the date of Easter for any year, without doing a bit of arithmetic!
Date of Easter - 1876 to 2008
| | | | | | | |
| --- | --- | --- | --- | --- | --- | --- |
| 1876-4-16 | 1895-4-14 | 1914-4-12 | 1933-4-16 | 1952-4-13 | 1971-4-11 | 1990-4-15 |
| 1877-4-01 | 1896-4-05 | 1915-4-04 | 1934-4-01 | 1953-4-05 | 1972-4-02 | 1991-3-31 |
| 1878-4-21 | 1897-4-18 | 1916-4-23 | 1935-4-21 | 1954-4-18 | 1973-4-22 | 1992-4-19 |
| 1879-4-13 | 1898-4-10 | 1917-4-08 | 1936-4-12 | 1955-4-10 | 1974-4-14 | 1993-4-11 |
| 1880-3-28 | 1899-4-02 | 1918-3-31 | 1937-3-28 | 1956-4-01 | 1975-3-20 | 1994-4-03 |
| 1881-4-17 | 1900-4-15 | 1919-4-20 | 1938-4-17 | 1957-4-21 | 1976-4-18 | 1995-4-16 |
| 1882-4-09 | 1901-4-07 | 1920-4-04 | 1939-4-09 | 1958-4-06 | 1977-4-10 | 1996-4-07 |
| 1883-3-25 | 1902-3-30 | 1921-3-27 | 1940-3-24 | 1959-3-29 | 1978-3-26 | 1997-3-30 |
| 1884-4-13 | 1903-4-12 | 1922-4-16 | 1941-4-13 | 1960-4-17 | 1979-4-15 | 1998-4-12 |
| 1885-4-05 | 1904-4-03 | 1923-4-01 | 1942-4-05 | 1961-4-02 | 1980-4-06 | 1999-4-04 |
| 1886-4-25 | 1905-4-23 | 1924-4-20 | 1943-4-25 | 1962-4-22 | 1981-4-19 | 2000-4-23 |
| 1887-4-10 | 1906-4-15 | 1925-4-12 | 1944-4-09 | 1963-4-14 | 1982-4-11 | 2001-4-15 |
| 1888-4-01 | 1907-3-31 | 1926-4-04 | 1945-4-01 | 1964-3-29 | 1983-4-03 | 2002-3-31 |
| 1889-4-21 | 1908-4-19 | 1927-4-17 | 1946-4-21 | 1965-4-18 | 1984-4-22 | 2003-4-20 |
| 1890-4-06 | 1909-4-11 | 1928-4-08 | 1947-4-06 | 1966-4-10 | 1985-4-07 | 2004-4-11 |
| 1891-3-29 | 1910-3-27 | 1929-3-31 | 1948-3-28 | 1967-3-26 | 1986-3-30 | 2005-3-27 |
| 1892-4-17 | 1911-4-16 | 1930-4-20 | 1949-4-17 | 1968-4-14 | 1987-4-19 | 2006-4-16 |
| 1893-4-02 | 1912-4-07 | 1931-4-05 | 1950-4-09 | 1969-4-06 | 1988-4-03 | 2007-4-08 |
| 1894-3-25 | 1913-3-23 | 1932-3-27 | 1951-3-25 | 1970-3-29 | 1989-3-26 | 2008-3-23 |
| | | | | | | |
---
The Great Airship Project

By Gary Drummond
Charles Tolliver turned up in the Livermore Valley in 1903 with great plans to build an airship. He founded a construction site on the east side of what is now I-680 below Castlewood. He managed to convince Phoebe Hearst of the feasibility of his design to the tune of $20,000.
The construction site was on the ranch land of E. F. Frick, who gave Tolliver permission to use it in exchange for having an artesian well drilled on the property. If Mrs. Hearst had invested money in Tolliver's project, Frick concluded he could get in on the ground floor, and he put up $10,000 more.
Tolliver had a ravine on Frick's property enlarged to a length of 270 feet to create a basin and lined it with boards to create a "birthplace" for his airship. Tolliver was somewhat quiet about what he was up to, and it was not until 1904 that the Livermore Herald carried its first news item about Tolliver's venture. The details described an airship 250 feet long, 44 feet high and 40 feet wide, to be propelled by special engines of Tolliver's design. Lift was to be provided by hydrogen gas. It was reported that the first flight would take place in the fall of that year. In 1905, nothing happened. In 1906, nothing happened. The explanation was "unforeseen technical difficulties."
In February 1907 the Herald headlined, "Tolliver's Aerial Craft Ready for First Flight." Everything was ready. But on the morning of the planned ascension, the airship envelope was found to have been mysteriously slashed in several places.
The project suffered a few other accidents—a hydrogen generator exploded, and a wooden wall collapsed during a storm causing serious damage to the hull of the airship. Mrs. Hearst became disillusioned. E. F. Frick sued Tolliver for $50,000 for failure to have a well drilled in exchange for use of his land.
Tolliver and his operation left the valley in 1910 for greener pastures in San Diego. There he found another ravine and started construction of a new airship. This time, Tolliver was more open about his plans. The new site was to be equipped with the most modern hydrogen gas generators each holding 1850 cubic feet of gas. Tolliver's agent, Bert Lewis, was buying enormous quantities of iron filings and sulfuric acid to generate the 250,000 cubic feet of gas to fill the envelope of the airship.
In November 1911, the San Diego Union reported that Tolliver's airship was being filled with gas. November 9, 1911 was announced as the flight date. The shed walls were removed and, for the first time, the public got to see Tolliver's airship in all its glory. Tolliver announced he was having trouble generating gas, not because of generating equipment failure, but because San Diego water was too pure.
At 10:00 a.m., Tolliver inspected the whole outer skin of the airship. He gave his ground crew instructions on handling the mooring lines. The order was given to rev up the engines. Tolliver called to the ground crew, "Let's go!" Nothing happened. Tolliver said that the day was too cold and the sunshine hadn't warmed up the gas enough.
It occurred to the City Gas Inspector that where there was an airship, there was gas. "Sounds like a public safety problem." So he evacuated two 1.5 cubic foot glass containers and proceeded to take a sample of gas from the airship. Returning to his lab with the samples, he attached a rubber hose with a pipette to the end of one of the containers, lit a match, and promptly blew up his laboratory.
Now Tolliver's airship was declared a public menace. The City Fathers ordered him to empty his airship immediately and remove it from the city limits. Now, how was one to remove a "beached whale"? The problem was solved when a big windstorm came up and scattered the "whale" across the landscape, blocking traffic. The remains of Tolliver's airship project were loaded on trucks and hauled to the city dump.
All this time Tolliver had kept Bert buying iron filings and sulfuric acid. Bert's wife, Ellen, was a young Swedish girl. And after Bert's latest buying trip, Ellen confessed that Tolliver had "had his way" with her. One night in May 1912, Bert waylaid Tolliver and his wife as they were returning from the theater and shot them both dead.
Bert was arrested, and after a year-long trial, was acquitted on grounds of temporary insanity, but meantime Ellen had divorced him. After he left town, Bert joined a circus.
When finishing up Tolliver's affairs, his executors found 800,000 shares of un-issued stock in the "Tolliver Aerial Navigation Company."
---
She calls to me from long ago;
through sunlit skies; through drifts of snow.
In clouds that dance upon the sea,
I call to her, and she to me.

So real was she. She laughed; she cried.
She loved; she lost. She lived; she died.
She hoped and dreamed; so real was she.
She lived a life that I may be.

The blood through which my veins does flow
is the same as hers from long ago.
So it will be that when I'm gone,
in an unborn child it will flow on.

I'll live my life and when it's done
I'll live again in those to come.
For I'm a bridge from she to me;
from those that were, to those to be.
Written by Darlene Caryl-Stevens, Ddstevens@aol.com, of Spokane, Washington, in August 1998, about her great-great-grandmother, Ellen Ring. Permission to reprint obtained from the poet by Eileen Redman.
---
Seminars

Compiled by Eileen Redman
February 26, San Francisco. The African-American Genealogical Society of Northern California, Inc. (AAGSNC) announces an all-day conference.
February 15, Santa Clara. Santa Clara County Historical and Genealogical Society. Preserving Your Family Treasures. Eric Narveson, Archivist. http://www.rootsweb.com/~cascchgs/
March 11, National Archives, San Bruno. Census Records Research 1790-1930. To register call Rosemary Kennedy at 650-238-3485.
April 16, Sacramento Genealogical Society will sponsor an all-day seminar featuring Dr. George Schweitzer. The information will be posted soon on http://www.rootcellar.org.
April 22, National Archives, San Bruno. Passenger Arrival and Naturalization Records. To register call Rosemary Kennedy at 650-238-3485.
April 23, Santa Rosa. Sonoma County Genealogical Society all-day seminar with Sandra Luebking as featured speaker. Details at http://www.rootsweb.com/~cascgs/luebking.htm.
May 1, California Genealogical Society Genealogy Cruise to the Southern Caribbean. Details at http://www.calgensoc.org/.
May 13-14, Burbank. 36th Annual Genealogy Jamboree and Resource Expo will feature a cadre of outstanding speakers. Details at http://www.scgsgenealogy.com/.
June 1-4, Tennessee. NGS and GENTECH Conference. Nashville, Tennessee. Details at http://ngsgenealogy.org/Nashville.htm.
July 22, National Archives, San Bruno. Military Service Records Research. Part l: Revolutionary War to The Civil War. To register call Rosemary Kennedy at 650-238-3485.
August 19, National Archives, San Bruno. Military Service Records Research, Part II: Spanish American War to Vietnam. To register call Rosemary Kennedy at 650-238-3485.
---
Decoration Day as It Used to Be

By Lois Barber
Decoration Day, a day to remember those who have died in our nation's service, was officially proclaimed on May 5, 1868 and celebrated on the 30th. In 1967, the name was changed to Memorial Day, honoring soldiers who had died in other wars. In 1971 Memorial Day was declared a national holiday to be held on the last Monday in May to ensure a three day weekend for federal holidays. Several southern states have an additional separate day for honoring the Confederate war dead.
In the area where I grew up, people seemed to think that Decoration Day was for honoring any and all dead and not just those fallen in service to our country. When I was a youngster my family always made a big thing about Decoration Day. A couple of days before the 30th my Mother gathered lilacs, peonies, and iris from the flowerbeds. She might even go to the woods for some ferns and anything else growing there that she could use. We would make up generous bouquets and go to the two cemeteries where we had ancestors buried. Other members of the family might also have left a remembrance.
When we went to the Bear Creek Cemetery located on the hill outside La Farge, Wisconsin, Mother would always tell us the story of her Father. Whenever he and my Mother would go to town with the horses and a buggy, the cemetery was about half way and a good place to let the horses rest. Grandpa would go to the gravesite of his parents, take out his jackknife and poke in the grass until he found a stone. They did not have a headstone but a fieldstone had been placed at each corner of their lot. Because the cemetery was on a hillside the soil kept sloughing down hill and covering over the stones. After many years the grandchildren of this couple purchased a headstone to mark their graves.
On Decoration Day our town would have a little parade; the band and a few veterans would march to the bandstand. There would be some prayers, a speech or two, and then we would drive by the cemetery and congratulate ourselves on how nice it looked.
My Mother says that her in-laws never went back to their family's graves and they thought that she was unusual in the way that she observed Decoration Day.
My maternal and paternal grandparents are all buried in the same cemetery. Each set of great-grandparents is buried in a separate cemetery. A few years ago when I was home I decided that I would make a note of all the stones in the cemetery on the hill that I thought had any relation to my family. Much to my surprise I found the headstone for my paternal great-great-grandparents. The information on their headstone confirmed the information I already had in my file. The family had never known where they were buried and until that time we always supposed that they did not have a headstone.
Things are different today. My brothers, sister and I take turns decorating the graves twice a year now. We decorate for Memorial Day and again for the winter holidays. In the frozen tundra of Wisconsin there is no lawn maintenance in winter, so, in addition to a Christmas wreath, we sometimes put up a decorated Christmas tree for age-appropriate deceased. Although I have not seen any in Livermore cemeteries, in the Midwest solar lights are becoming a popular grave ornament. Today one can also purchase plastic or silk flowers, or an arrangement already prepared that lasts longer than fresh flowers.
I never go home that I don't visit the graves of my ancestors. I think it pleases my Mother very much to know that we are carrying on the tradition she started.
Cemeteries can be excellent sources of genealogical information. Using tombstones, you could find an individual's birth and death dates, and perhaps information about military service. Sometimes you will discover epitaphs that give you insight into the individual's sense of humor, cause of death, or even the way other people felt about him or her.
---
| | |
| --- | --- |
| | Record Children's Memories |
I only have one sibling, a sister, eighteen months older than myself. I know that we often remember our childhoods differently - each from our own perspective. We each only had one child. There is only a ten-month difference in their ages, and they grew up more as brother and sister rather than cousins. Recently we all got together, and the "Remember when's...." started flowing.
In the rush to record the memories of the "oldsters" before it is too late, don't forget to record the memories of the "youngsters" before their clear memories of their childhood starts to fade.
My sister and I were pleasantly surprised to hear memories of our children that made strong impressions on them that we didn't even remember. Often events that are routine or everyday for the adults become pivotal moments for our children. I've started recording their memories for our grandchildren. They are too young now, but hopefully when they are older they will enjoy the memories of their parent's childhood.
My sister and I found that listening to the kid's memories sparked our own memories of those events.
From Rusty Macon Weber, "Ancestry Daily News,", 7 Dec 2004, as quoted in Logan FHC Newsletter - 29 Dec 2004.
---
| | |
| --- | --- |
| | Starting the Year out Right |
Those of you who are not subscribers to The Valley Times may be interested to learn that one of our L-AGS members, Isabel Nolte, had an article written about her participation in an aerobics class along with a photo showing her enjoying this great exercise in the January 4, 2005 issue.
Every Tuesday and Thursday, Isabel and her daughter, Betty Fallon, drive from their homes on opposite ends of Livermore to meet at class. They exercise for about an hour with a regular group. When class is over, they head for the cafe with their friends for a cup of coffee and a gab session.
Isabel and Betty talk on the phone every day, but they also know that they will see one another every Tuesday and Thursday
---
The Koopmann and Rein families, early settlers in Dublin

Tri-Valley History Council

By Dick Finn
L-AGS is a member of the new Tri-Valley History Council; in fact we helped start it. We think our members might find it interesting to learn a little about the Council and what it does.
The Tri-Valley History Council is a network of local history centers, historic sites, libraries, museums and genealogical societies whose fields of interest include the Amador-Livermore and San Ramon Valleys.
Our Mission
Our mission is to:
Encourage and assist the study and research of local history in the Tri-Valley region.
Support and advise members, local history groups, and societies.
Organize training and development classes.
Maintain a calendar of local events.
Advertise members' needs and interests.
Support communication between researchers and member organizations.
Encourage school history projects
Member organizations are:
| | |
| --- | --- |
| Blackhawk Museum | Camp Parks History Center |
| Dublin Heritage Center | Dublin Historical Preservation Association |
| Dublin Library | Eugene O'Neill (TAO House) National Historic Site |
| Forest Home Farms Historic Park | Lawrence Livermore National Laboratory |
| Livermore Public Library | Livermore-Amador Genealogical Society (L-AGS) |
| Livermore Heritage Guild | Los Positas College |
| Museum on Main Street (Pleasanton) | Museum of San Ramon Valley |
| Pleasanton Library | Ravenswood Historic Site |
| San Ramon Valley Genealogical Society | Tri-Valley Convention & Visitors Bureau |
The Tri-Valley History Council has embarked on a new project that we believe will be of potentially great benefit to all Valley history centers, genealogical groups, museums, libraries, historians, journalists and other interested researchers.
We are creating a series of binders that will contain a descendant's chart for each of the pioneer Valley families. Following each chart will be a few pages of history for that family: when and why they came to the Valley, exactly where they lived, what they did for a living, etc. Our hope is that a descendant or local historian will write these pages.
Following the history pages, we will have pages of photographs of the pioneers. Not too far in the future, we plan to have the information available on computers at Valley museums and libraries.
We already have information on over 300 pioneer Valley families (over 6200 individuals) in our database, so we are off to a good start. We are in contact with descendants of a number of pioneer Valley families and all have given their support and have promised more information.
What we need from you: If you descend from one of the early Valley families, please contact us so we may include your information in our database. If you know descendants of these families, please have them contact us so we can work with them. If you are none of the above, you can still help, and learn Tri-Valley history at the same time, as a volunteer helping to input data, match photos to families, contact families for histories, etc.
Interested parties in the Tri-Valley region are welcome to attend our quarterly meetings.Please contact Dick Finn for more information.
---
Margaret Catherine Groshong Kirkwood, Marion County, Oregon, 1875 – 1961

Four questions I should have asked when I had the chance

By Mildred Kirkwood
My paternal grandmother, Margaret Catherine Groshong Kirkwood, was born February 7, 1875 in Abiqua, Marion County, Oregon. Abiqua is more of an area than a town. She married Henry Matheny Kirkwood on August 30, 1893 in Dallas, Polk County, Oregon. At the time of their marriage, she was 18 and he was 45. Both of them lived with their respective parents until they married. He died January 16, 1932, long before I was born, so I did not know him.
Now that I have a deep interest in family history, I realize that there are four questions about Grandma Kirkwood that I am sorry I did not ask when there were relatives around who knew the answers:
Why did her husband live with his parents for so long? He was unmarried all that time. It was unusual and there must have been a reason for it.
How could she and Henry Kirkwood have met? She lived in Marion County, and he lived in Yamhill County, with the Willamette River dividing the counties. I don't think that they traveled much between the counties in those days, and the only way to cross the river was by ferry. After they were married, they lived in Gervais, in Marion County.
What was her real birth name? I have found various census records and her name is always listed as Margaret C. But, when I found her marriage record, she gave her name as Catherine Margaret. Her oldest son, Joseph Henry Kirkwood, gave the information for her death certificate and also listed her name as Catherine Margaret. My cousin, Barbara Kirkwood Marshall, thought her name was Catherine and named her oldest daughter Catherine after Grandma. However, I remember Grandma's brother and sister-in-law, William and Josephine Groshong, calling her Maggie and she had a friend, Scotty, who called her Mag. So now we're confused about her birth name. I guess I just always thought her name was Grandma.
What was the cause of her crippling disability? In my mind, this is the most important question. Grandma Kirkwood's legs were quite bowed and it was very difficult for her to walk, even with a cane. It never occurred to me to ask why she was crippled. She had two sisters who were about the same size she was. I did not know her sister Anna Groshong Oakley, but her other sister, Amelia Jane Groshong Martin, also was crippled and used a cane. Based on what I learned during my career in health care, I now think she may have had congenital hip dysplasia. I don't think there is any way for me to find out now for sure if it was hip dysplasia or not, but I would like to know, especially since it could be inherited by a future generation.
Since my interest in dysplasia was aroused by the question of Grandma's disability, I did some research on the Internet to understand the disease. Other genealogists may be interested in this case history as an example of how they could research diseases in their ancestral history.
A comprehensive and authoritative resource for medical questions is Medline, http://www.nlm.nih.gov/medlineplus/ , a Web site operated by the National Institutes of Health. Just putting the phrase (including the quotes) "hip dysplasia" in Google gave 137,000 hits! Two that I used in the description below are:
http://www.healthatoz.com/healthatoz/Atoz/ency/congenital_hip_dysplasia.jsp
http://www.betterhealth.vic.gov.au/bhcv2/bhcarticles.nsf/pages/Developmental_hip_dysplasia_explained?Open
Congenital hip dysplasia, also called developmental dysplasia of the hip (DDH), is a disorder in children that is either present at birth or shortly thereafter. During gestation, the infant's hip should be developing with the head of the thighbone (femur) sitting perfectly centered in its shallow socket (acetabulum). The acetabulum should cover the head of the femur as if it were a ball sitting inside of a cup. In the event of congenital hip dysplasia, the development of the acetabulum in an infant allows the femoral head to ride upward out of the joint socket, especially when weight bearing begins.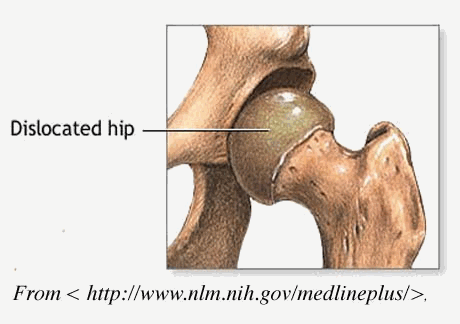 There are many causes of DDH, both genetic and environmental, including:
Family history - around one-third of babies with DDH have a blood relative who also had the condition.
Congenital disorders - DDH is more common in babies with disorders including cerebral palsy and spina bifida.
Breech delivery - being in an abnormal position in the womb can put considerable stress on the baby's hip joints.
Multiple babies - crowding inside the womb may dislocate the hip.
First time mother - the inexperienced uterus and vagina may cause a difficult or prolonged delivery.
Most DDH babies are female and it is supposed that the female hormones may have something to do with it. There is no prenatal test for hip dysplasia. The doctor must test for it at birth and during later exams by moving the baby's legs and listening for a "clunk" sound. No sound – the hip is OK. If there is a clunk, the baby may be put into a brace to hold the hip in place. If it isn't diagnosed and treated during the first 3 to 6 months, surgery may be necessary and may not always be successful.
---
What's in It for Me?

By Terry Berry
L-AGS member and Executive Director for the Museum On Main Street
[Editor's note: This is the first in a series of articles outlining volunteer opportunities for L-AGS Members.]
A little over a year and a half ago I took on a volunteer project with the Museum On Main Street in Pleasanton. It had been awhile since the Museum had conducted a full inventory of their archival files and, having just received a donation of a new computer and a collections management program, it seemed like a good time to initiate the project. I quickly realized, however, that the task was way too large for one person and began looking for help.
It was then that L-AGS walked into my life in the persons of Dick Finn, Mary Dillon, George Anderson and David and Jolene Abrahams. They, like I, were enthusiastic about promoting cooperation among local history and genealogy groups. Together we helped found the Tri-Valley History Council, a guiding body that now includes representatives from 18 organizations.
Even more important to me was that L-AGS has a policy, even written into its bylaws, encouraging it to undertake genealogy-related public service projects. Dozens of these projects in the past have involved cataloging, indexing, transcribing and publishing local records for use by genealogists worldwide.
Just what I needed!
Now let me state up front: I am not a genealogist. My personal interests lie in the examination of broader historical trends and I have never had any serious desire to do research at the individual level. Nevertheless, in spite of my heretical attitudes, my new L-AGS friends quickly offered to help me find volunteers for the inventory project. In return they only asked that I give as much public access to the Museum's files as possible. Since I honestly believe that knowledge is supposed to be shared I struck the deal, convinced that I was getting the better end of the bargain. And I was right: Genealogists are wonderful volunteers! They come to an organization already familiar with an historical orientation; they are comfortable with archival methodology; most of them are computer savvy; and they actually enjoy looking at all that old stuff. No question about it—genealogists are "found gold," and among the nuggets have been L-AGS members Anne Homan, Beth Rauch, Pam Lewis, and Elliott and Jean Healy.
I must admit, however, to some twinges of guilt. These volunteers were doing amazing work for the Museum but, to be honest, I wasn't really sure that they were getting much in return. And then, as these things tend to go, George Anderson came to me asking for an article about how genealogists profited by being volunteers in an historical museum. Oops! But, as I pondered the great philosophical question "What's in it for me?" I realized that genealogical volunteers really do gain something from their association with an organization like the Museum On Main Street. First and most obviously, they gain intimate access to archival materials. Secondly, genealogists influence the types of materials that the Museum collects and thus create the possibility that future additions to the collection may be of use to them. For example, it was because of conversations with L-AGS that I realized the importance of "lists" and began including lists of names that I might have thought less important to preserve. In addition, because of their special interests, genealogists seem willing to do research that no one else will do. Museums can often provide both access to this kind of information and a safe environment in which to work and preserve the data. And, last but not least, genealogists seem to get unbelievably excited about sharing their information and, through this enthusiasm, impact the openness of an organization. In the process, they create history centers that can be of even more benefit to them and, just as a side benefit, gain halos to hang over their heads.
Of course, our archival inventory is not finished. We have begun two projects that I hope will interest L-AGS volunteers. One is to make scanned images of some 3,000 historical photographs in our collection. The job can be split up among several or many volunteers or even teams of volunteers. We have a fancy new HP see-through scanner that should make the job easy and provide training for those who would like to learn more about scanning. The other project is research on historical trends in the ethnicity of our local population, as revealed in census records. If L-AGS volunteers have a personal subscription to Ancestry.com or ProQuest (through the Godfrey Library), work on the project can be done from home. Otherwise, the census records can be accessed online or on film at a Mormon Family History Center or at the Pleasanton Library.
The Museum On Main Street is grateful for past help from L-AGS volunteers. We hope the synergism will continue. If you think you might like to join in, e-mail me at valleymuseum@sbcglobal.net, or give me a call at 462-2766 Monday through Friday, or stop in at 603 Main Street in Pleasanton, Wednesday through Friday from 11 a.m. to 5 p.m.
---
Thank You for Alameda County Fair 2004 Volunteers

By Jon Bryan
"Thank you very much" to our nearly 60 genealogy volunteers who served at Alameda County Fair 2004 at our Genealogy Booth! This effort would not have been possible without all of you. We had the Genealogy Booth staffed from 11 a.m. to 8 p.m. for all of the 17 days of the Fair. Our volunteers are:
| | | | |
| --- | --- | --- | --- |
| David and Jolene Abrahams | George and Harriet Anderson | Lois Barber | Sandra Burns |
| Sharon Clay | Marilyn Cutting | Michael Davis | Nan Dawson |
| Pat Denton | Barbara Dittig | Bob Dougherty | Nancy Douglas |
| Jane Everett | Dick Finn | William and Carolyn Fletcher | Linda Garrett |
| Frank and Sonia Geasa | Ron and Marilyn Griffeath | Barbara Hempill | Barbara Huber |
| Laura Jacoby | Jan James | Paul and Ann Kasameyer | Dick and Jean Lerche |
| Pam Lewis | Scott Gagnon and Mary Ann Loss | Mary Maenchen | Craig Mann |
| Maggie Maryon | Pat Moore | Doug Mumma | Isabel Nolte |
| Dolores Olness | Sue Overturf | Connie Pitt | Glynice Pomykal |
| Kip Richards | Virginia Rood | Marie Ross | Nile Runge |
| Max Schell | Sandy Sinwald | Clarice Sizemore | Jane Southwick |
| Kay Speaks | Leo Vongottfried | Suzanne Wade | James Waldron |
| Martha Wensel | Arleen Wood | Kathleen Young | Gail and Jon Bryan |
Also special recognition should go to both Larry Renslow and Eileen Redman who were behind-the-scenes volunteers with our Genealogy Booth in 2004. Did I forget any of our volunteers?
---
Solutions to Addition Puzzle
| | | | |
| --- | --- | --- | --- |
| 9240+6340=15580 | 6340+9240=15580 | 9530+8230=17760 | 6790+5490=12280 |
| 9230+8530=17760 | 7460+5860=13320 | 4560+8760=13320 | 5790+6490=12280 |
| 8230+9530=17760 | 6490+5790=12280 | 3570+8670=12240 | 4760+8560=13320 |
| 6240+9340=15580 | 5490+6790=12280 | 8530+9230=17760 | 7860+5460=13320 |
| 6340+5940=12280 | 5460+7860=13320 | 8670+3570=12240 | 6870+5370=12240 |
| 6370+5870=12240 | 8570+3670=12240 | 7690+4590=12280 | 5870+6370=12240 |
| 9340+6240=15580 | 8560+4760=13320 | 4690+7590=12280 | 5860+7460=13320 |
| 5340+6940=12280 | 7590+4690=12280 | 3670+8570=12240 | 6940+5340=12280 |
| 5370+6870=12240 | 4590+7690=12280 | 8760+4560=13320 | 5940+6340=12280 |
---
| | |
| --- | --- |
| | Livermore Roots Tracer Staff |
| | |
| --- | --- |
| Editors | Marie Ross, Lois Barber, Eileen Redman, Harriet Anderson, Mildred Kirkwood |
| Web Editor | Vicki Renz |
| Compositor | George Anderson |
| Printing/Distribution | Eileen Redman |
| Staff Contributors | |
| G.R.O.W | Frank Geasa |
| Family Tree Maker Group | Dick Finn |
| Study Group | Kay Speaks |
| Tri-Valley TMG User Group | Kay Speaks |
| Life in the Past Lane | Jon Bryan |
| Local History | Gary Drummond |
| | |
---
[ Roots Tracer Menu ] [ L-AGS Home Page ]
Last modified 17 February 2005 vlr