[ L-AGS Home Page ] [ About L-AGS ] [ The Roots Tracer ] [ Local Records ] [ Internet Links ]
[ Students ] [ Past Events ] [ eBulletins ] [ Publications ] [ Libraries/FHCs ] [ Members' Publications ]
A public service project of
The Livermore-Amador Genealogical Society
P.O. Box 901
Livermore, CA 94551-0901
Web page: L-AGS
E-mail: L-AGS President

Transcriber and Project Leader: Richard Finn
History Consultant: Anne Marshall Homan
Publisher: George Anderson

St. Bartholomew's Episcopal Church
678 Enos Way
Livermore, CA 94551
Web page: St. Bartholomew's
e-mail: St. Bartholmew's e-mail
Rector: The Reverend Carol L. Cook
Records from 1900 through 1916 of the Grace Episcopal Church of Livermore have been transcribed, including baptisms (with additional information added), communicants, confirmations, marriages, burials, and families. This online publication is also available in print. See Early Records of the Grace Episcopal Church of Livermore, California
Note that the information was read from the original handwritten records. No attempt to correct spelling errors was made. Therefore, the names and dates in the Episcopal records may not match exactly those in other local records.
The records were transcribed by Richard Finn as a part of an ongoing project of the Livermore-Amador Genealogical Society (L-AGS) to transcribe and publish early historical records of Eastern Alameda County.
The history of the Grace Episcopal Church, and its successor, St. Bartholomew's Episcopal Church, is recounted on pages 417-418 of Historic Livermore, California: A-Z, by Anne Marshall Homan. Anne is a member and past president of L-AGS. Her book is available in local libraries and at local and online bookstores.
If you have information on pioneer families you would like to share as part of the Tri-Valley Heritage Families Project, please contact Richard at (925) 447-9652 or Richard's e-mail.
Further information about the St. Bartholomew's Episcopal Church of Livermore can be found at: St. Bartholomew's.
Information about L-AGS can be found at: L-AGS. Also at that address are the local history databases published online by L-AGS.
---
History
from Historic Livermore, California: A-Z, by Anne Marshall Homan
Grace Episcopal Mission was organized on 26 August 1900 by archdeacon John A. Emery; Charles F. Mess, Livermore drugstore owner, was named warden. The 11 o'clock Sunday services were first held in the Masonic Hall. On 12 January 1901, the congregation purchased a lot on Fifth Street from M. H. Wright for $240. The little church, modeled on one built in Capitola for a 135-member congregation, was built in 1902 and consecrated on 23 September of that year. The Wagoner, Mess, Mally, Bernal, and Barker families were among those in the original congregation, but they never had enough members contribute sufficient income for a permanent full-time rector.
---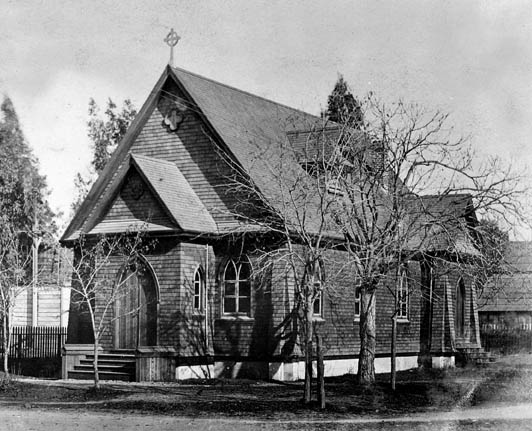 The Grace Episcopal Church on the northeast corner of Fifth and J Streets, Livermore, California. Built in 1902 and sold in 1936, it is now used by the Good Shepherd Lutheran Church. Photo #0697 from the archives of the Livermore Heritage Guild, donated to the Guild by Mrs. Grace Sweeney. Used with permission.
Contents
Communicants
Baptisms
Confirmations
Marriages
Burials
Families
Index
---
[ L-AGS Home Page ] [ About L-AGS ] [ The Roots Tracer ] [ Local Records ] [ Internet Links ]
[ Students ] [ Past Events ] [ eBulletins ] [ Publications ] [ Libraries/FHCs ] [ Members' Publications ]
16 Apr 2010, 22:17:23